Gypsy Marpessa Dawn Menor, was an American-born French actress, singer, and dancer
Born in Pittsburgh, Pennsylvania of African-American and Filipino heritage.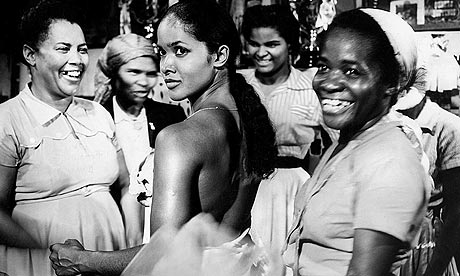 She is best known for her role as 'Eurydice' in the film Black Orpheus.
Trailer
she worked as a laboratory technician in New York before migrating to Europe as a teenager.[2] She began acting in England, with some minor TV roles. Then, in 1953, she relocated to France and while occasionally working as a governess also sang and danced in nightclubs, where she met director Marcel Camus.
At the age of 24 she won the role of "Eurydice" in his film Black Orpheus.[3] The film won the Palme d'Or at the 1959 Cannes Film Festival[4] and the 1960 Academy Award for Best Foreign Language Film.[5] She married Camus, but divorced him soon after and married Belgian actor Eric Vander. Considered a great beauty,[6] she was featured in November 1959 by Ebony and has been hailed as "one of Ebony magazine's prettiest cover girls, along with the likes ofDandridge, Halle Berry, Vanessa Williams and Lena Horne"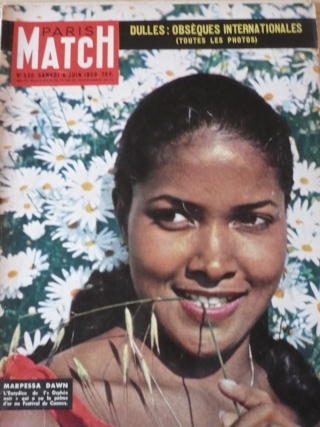 Dawn remained in Europe, working without great success in French films and television. She also had several theatrical parts, including starring in Chérie Noire, a stage comedy that toured France, Belgium, Switzerland, Tunisia, Algeria and Morocco.[8] She appeared in a 2005 documentary about Vinicius de Moraes, who wrote the original play from whichBlack Orpheus was adapted
Full Movie
http://youtu.be/dGEVUHkJG1o
The stars of that movie, Dawn and actor Breno Mello, died just 42 days apart in summer 2008. Dawn died of a heart attack on August 25, 2008, in Paris, aged 74. She left five children and four grandchildren.
Filmography
Above is Lena Horne and Marpessa Dawn.