Princess Ariana Austin Makonnen of Ethiopia is an American writer, arts manager and philanthropist. She is a member of the Ethiopian imperial family and the House of Solomon through her marriage to Prince Joel Dawit Makonnen, the great-grandson of Emperor Haile Selassie I.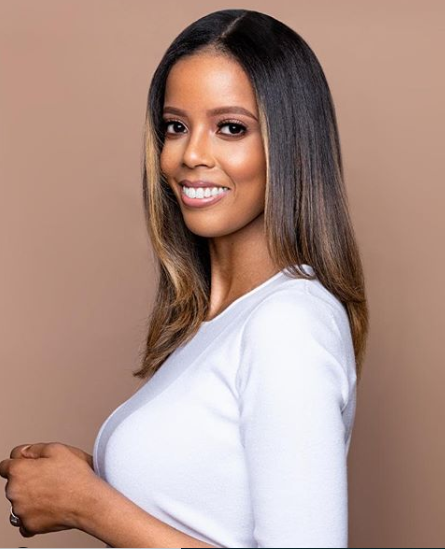 Mr. Makonnen, known as Prince Yoel, is the 35-year-old great-grandson of Haile Selassie, the last emperor of Ethiopia. And Ms. Austin, 33, is of African-American and Guyanese descent; her maternal grandfather was a lord mayor of Georgetown, the capital of Guyana.
Read More: https://www.nytimes.com/2017/10/13/fashion/weddings/she-met-her-prince-the-great-grandson-of-haile-selassie.html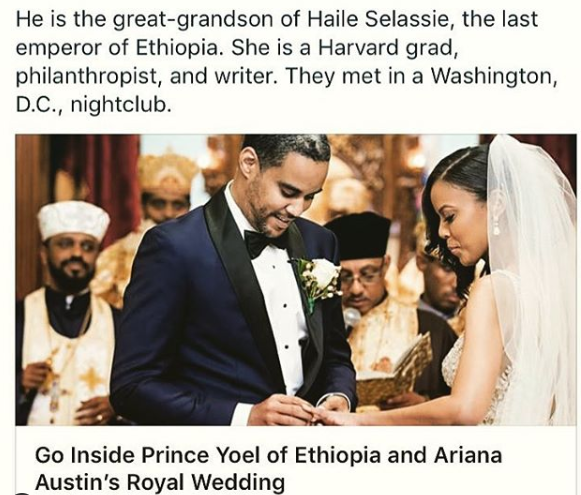 Prince Yoel of Ethiopia—the great-grandson of Haile Selassie, the last emperor of Ethiopia—was finishing up his law degree at Howard University when he bought a diamond ring to propose to then-girlfriend Ariana Austin, a Harvard grad, philanthropist, and writer. He arrived at her parents' house with a jewelry box and a bunch of balloons. Perhaps feeling overly excited, he may have knocked a little too exuberantly. Hearing what she interpreted as banging, Ariana feared there might be an intruder trying to break in and called her parents who were on their way home from a night out. Luckily, once she realized what was happening, the life-changing occasion went off much more seamlessly.
Read More: https://www.vogue.com/article/inside-prince-yoel-ethiopia-ariana-austin-royal-wedding-maryland