http://www.guardian.co.uk/books/2012/apr/22/hannah-rothschild-nica-jazz-thelonious-monk-interview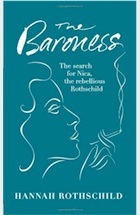 Book Description
Part musical odyssey, part dazzling love story 
The Baroness
 traces Nica's extraordinary, thrilling journey – from England's stately homes to the battlefields of Africa, passing under the shadow of the Holocaust, and finally, to the creative ferment of New York's 1950s jazz scene.
From the Back Cover
Rothschild by birth.
Baroness by marriage.
Rebel by choice.
 About the Author
Hannah Rothschild is a freelance director and writer. Her feature documentaries, including the Jazz Baroness, have been shown on the BBC and HBO. She has written newspapers and magazines including Vanity Fair, Vogue, The Independent, The Spectator, Bazaar and House and Gardens. Vice President of the Hay Literary Festival, Trustee of the National Gallery and Waddesdon Manor, this is her first biography.
Thelonious Monk and Baroness Nica de Koenigswarter get into her Bentley.