Nationality: (Detroit, Michigan) American.
Ethnicity: African descent.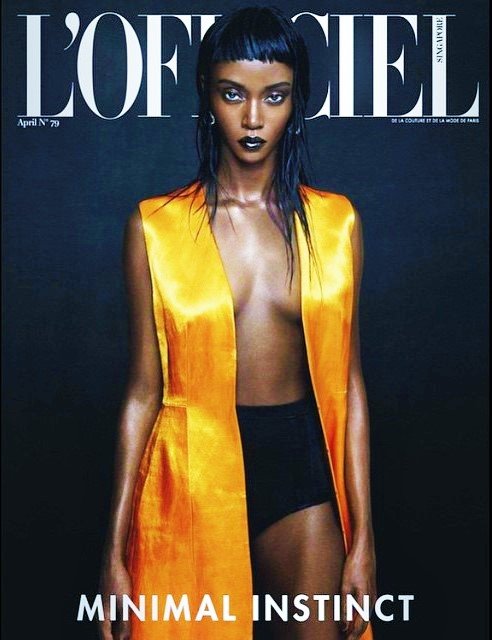 Got her big break when she was cast in Givenchy's spring campaign and pre-fall look book. "Riccardo [Tisci] took a chance on me," she said. "I was brand new. He supports diversity and I love that about him. He doesn't care about what people think." Since then, the New York-based newcomer has scored editorials in W, Vogue Paris, V, Harper's Bazaar U.K., i-D, Love, Numéro and CR Fashion Book.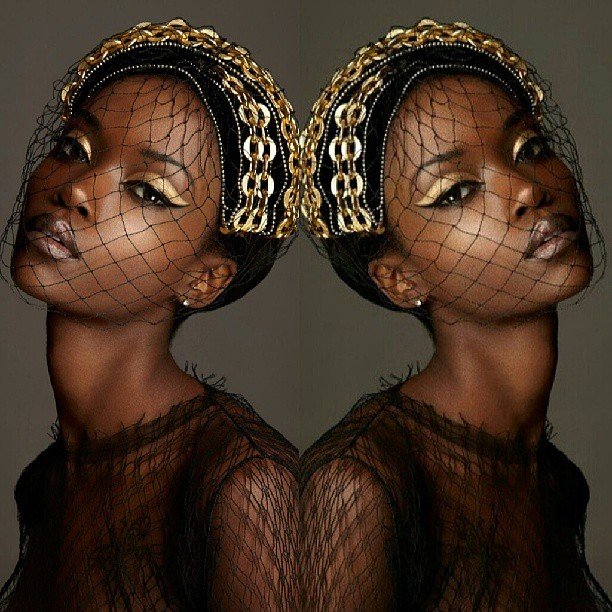 Though Montana celebrated with friends the night she found out she scored Givenchy, she also admitted that the gig put the pressure on. "I was really overthinking fashion week," she said. "I thought I had to do this big, huge runway debut because I did Givenchy. But then I realized that I had to relax and enjoy myself. I'm happy. I'm blessed." That's not to say that her runway résumé is lacking — this past fall season, she walked Oscar de la Renta, Rodarte, Balmain, DKNY, Bottega Veneta, Nina Ricci, Tory Burch and Rochas, among others.
Here, Montana talks about her idols Naomi and Kate, her Instagram addiction and meeting Anna Wintour.
WWD: Did you ever look at yourself growing up and think, "I could be a model"?
Riley Montana: I heard it occasionally, but I never really thought that they were serious. I was insecure. I was a dark-skinned girl and extra skinny. I never, ever imagined it. I wanted it, but I never imagined it.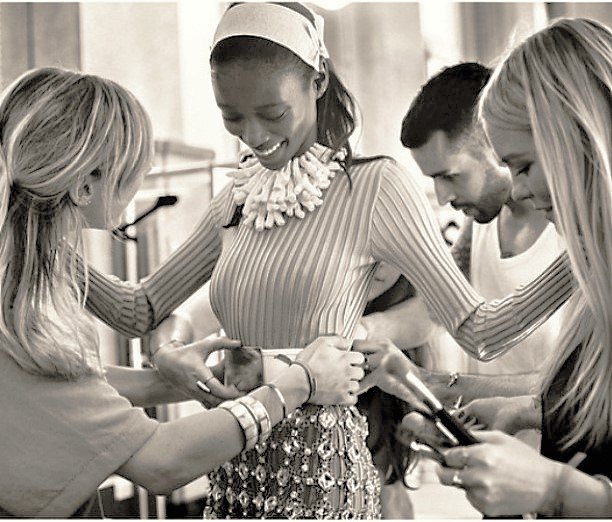 With her modeling agents in L.A. for her Birthday.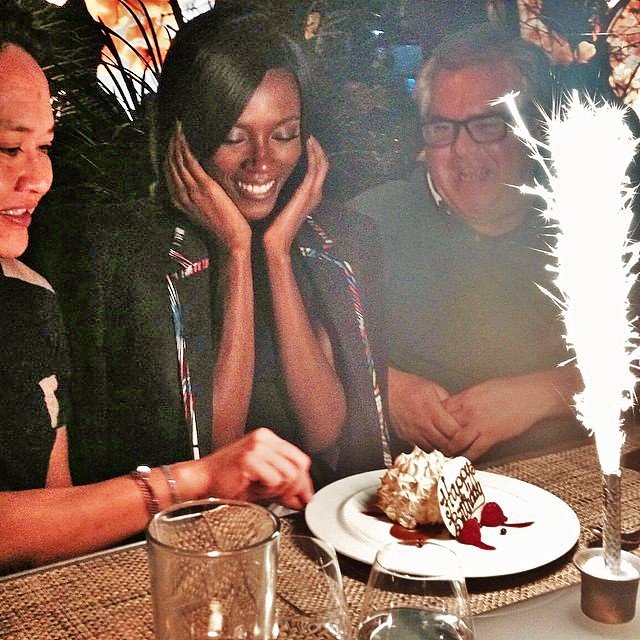 WWD: What steps did you take to get your career off the ground?
R.M.: I did a lot of test shoots in L.A. just to prepare myself to get to New York. I thought, "I'm fresh, I'm new, let's get a book together." Then I was finally like, "Please let me go to New York." I actually lied [to my agency in L.A.] and told them I booked my flight already and I hadn't. And then I moved here [last October], and it was the best decision of my life.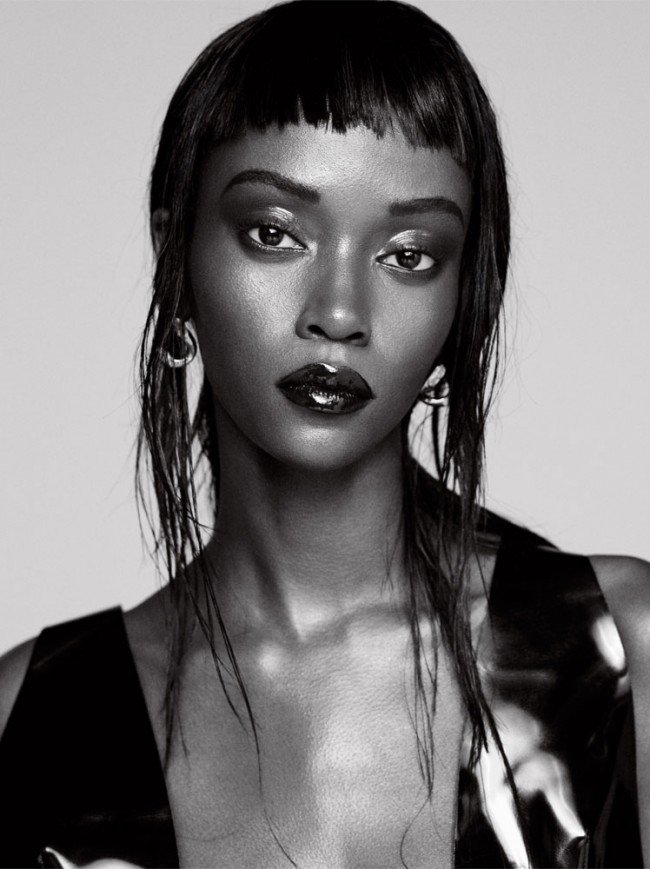 With the other sun-kissed beauties
With her pretty girl crew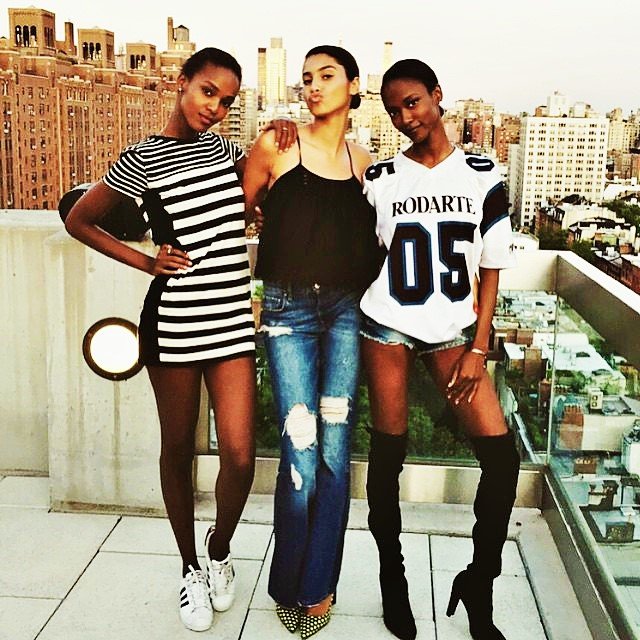 WWD: When did you feel like things really started taking off for you?
R.M.: Booking Givenchy was amazing. I found out within my second week of moving to New York. I walked into this room — it was a big table with bookers on this side and agents on this side — and they were all looking at me. I was like, "What, am I in trouble?" And they said, "You booked the Givenchy campaign." I literally cried. I fell on the floor. I had already done my research as far as who I wanted to work with, and for this to have happened so soon, it was like, shut up! Quit playin'!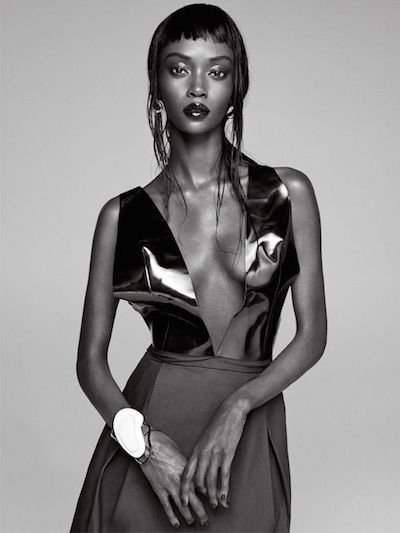 Dancing with Naomi Campbell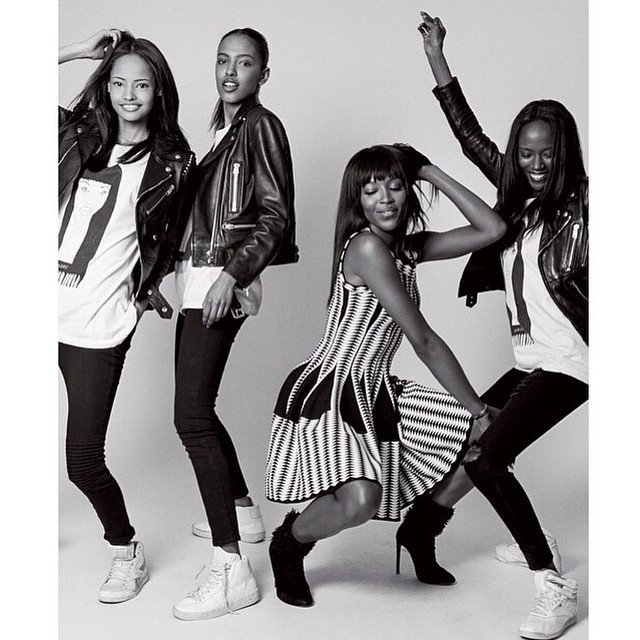 Naomi Elaine Campbell (born 22 May 1970) is an English model, actress, singer, and author. Recruited at the age of 15, she established herself among the top three most recognizable and in-demand models of the late 1980s and the 1990s, and was one of six models of her generation declared "supermodels" by the fashion industry
WWD: You've worked with Riccardo Tisci twice now. What was that like?
R.M.: Riccardo was so nice. You go into this place with these icons so you're nervous. You want them to like you. But finally, I realized they're normal people. You just gotta be yourself, and they made me comfortable to be myself around them. It was a good first experience.
Olivier Rousteing (below) is a French fashion designer. Born September 13, 1985 in Bordeaux France, Rousteing was adopted by a couple at age 1. Rousteing′s mother is an optician, while his father is a seaport manager. He grew up in Bordeaux and moved to Paris to study at ESMOD, the Ecole Supérieure des Arts et Techniques de la Mode. In 2003, he graduated and began his career as a designer at Roberto Cavalli and became the head of the women's division.
On April 26, 2011, at 26 years old, Olivier Rousteing replaced Christophe Decarnin as the creative director for Balmain. Rousteing says his age, initial anonymity, and especially race led to grumblings amongst the fashion establishment. "People were like, 'Oh my God, he's a minority taking over a French house!' " Rousteing told Out magazine in 2015.
With Fashion Designer Zac Posen
Posen was born and raised to a Jewish family in New York City, residing in the SoHo neighborhood of lower Manhattan. He is the son of Susan (née Orzack), a corporate lawyer, and Stephen Posen, an artist. His interest in fashion design started early, and as a child he would steal yarmulkes from his grandparents' synagogue to make ball dresses for dolls.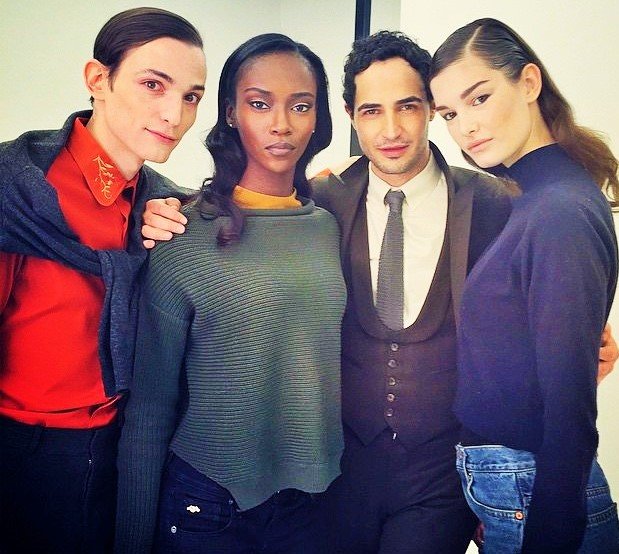 He attended Saint Ann's School, a private school in Brooklyn and in his sophomore year interned with fashion designer Nicole Miller. At age 16 he enrolled in the pre-college program at Parsons The New School for Design. He graduated from Saint Ann's in 1999. For three years, Posen was mentored by curator Richard Martin at The Costume Institute of The Metropolitan Museum of Art. At age 18, he was accepted into the womenswear degree program at London's Central Saint Martins College of Art and Design at the University of the Arts London. In 2001, Posen constructed a gown entirely made from thin leather strips and dressmaker hooks and eyes that was displayed by the Victoria and Albert Museum and featured in their "Curvaceous" exhibition.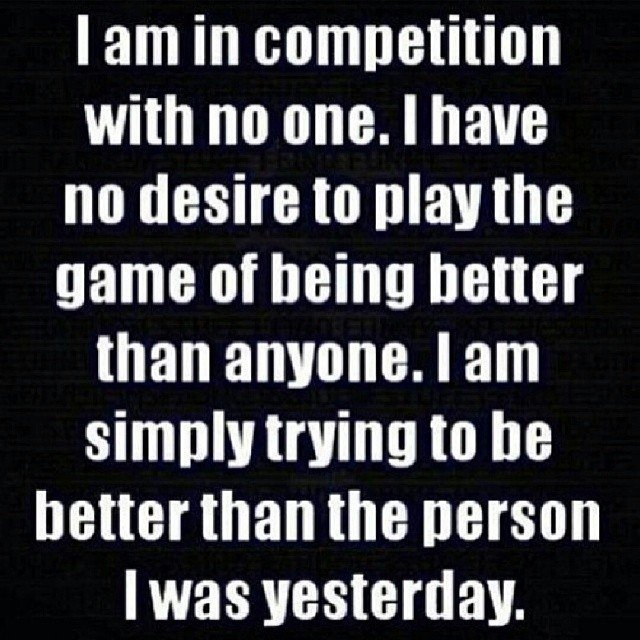 WWD: Do you ever think about what you would do if you weren't modeling?
R.M.: I want to get back into school eventually because I want to start a nonprofit for foster kids because I was in foster care growing up. I want to have a place where girls and boys can come and feel good about themselves. I'm trying to jot down my whole business plan, but I don't want to rush it. And I want to act, too. I love theatrics. I love to create stuff. I think I would've made my way to L.A. eventually.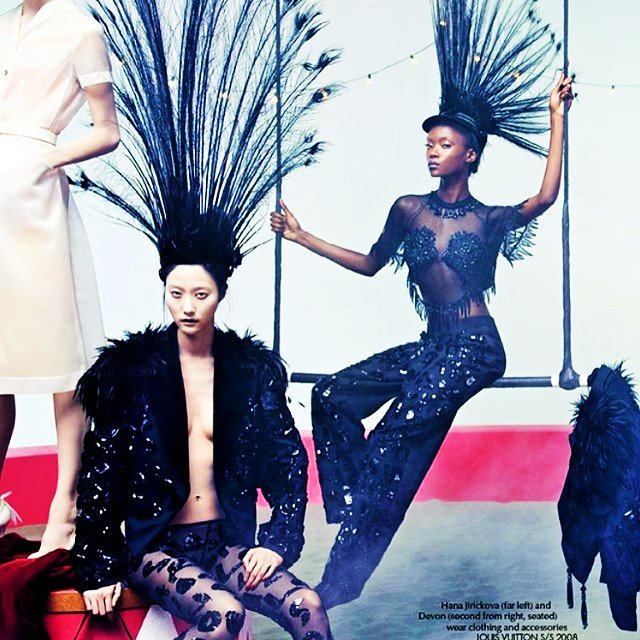 WWD: Do you ever feel a sense of competition between the other models you meet?
R.M.: I can't tell. There aren't a lot of African-American girls at each show, so it probably is a little competitive — 45 looks and there aren't that many black girls. But I don't like to look at it as competition. At the end of the day, we don't make the decision. I do my part, you do your part. They're gonna pick who they want, regardless. Some girls probably do look at it as competition, but I think you have to support one another because at the end of the day, it's hard for all of us.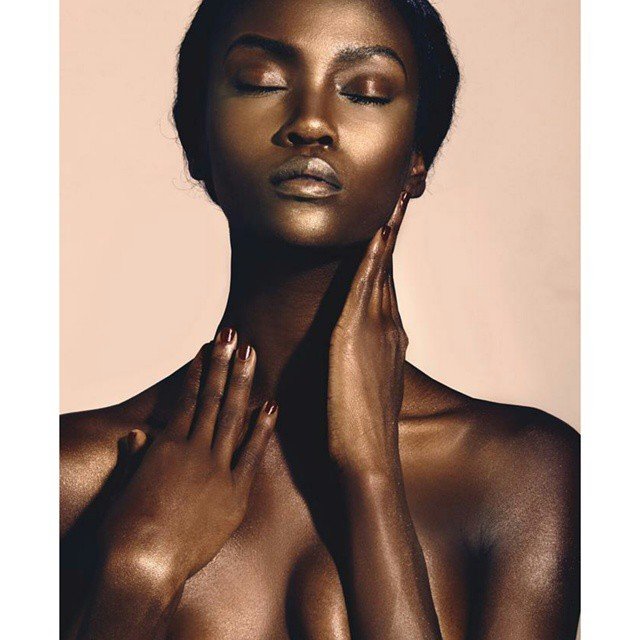 WWD: Are there any models you look up to?
R.M.: I do have some model friends that I talk to and they give me advice. I like Joan Smalls. She's really humble. I met her at a couple of the shows. I've met some girls where they may not say, "You can't sit with me," but they give off that vibe where it's like, you're new, I don't know you, don't talk to me. But Joan was really chill and sweet. That's why she is where she's at today. And of course, I'll always look up to Naomi — she's the boss. She's the baddest! And Kate Moss, she's still killin'. She's 40 and still taking all the covers. She is bomb. Give me magazine covers at 40 years old.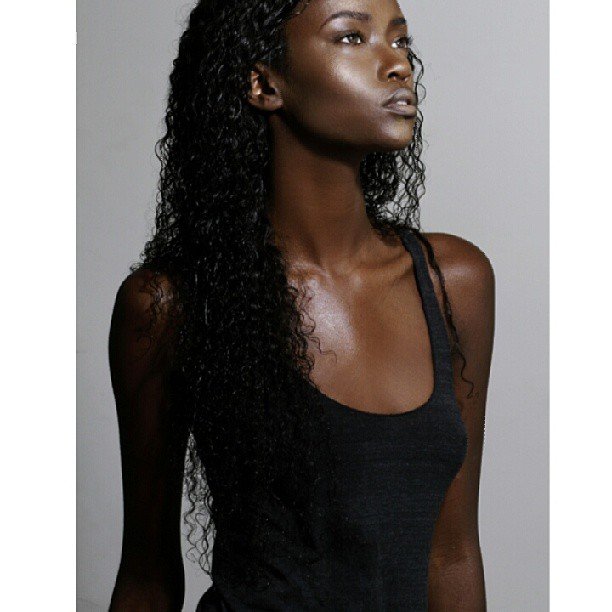 WWD: What are some of your modeling goals?
R.M.: Hm, let's pull out the list. I really want an American Vogue cover. Because we [African-American girls] really don't get it that much. I want it so bad. I dunno what I'd do [if I got it] 'cause I lost it when I met Anna Wintour.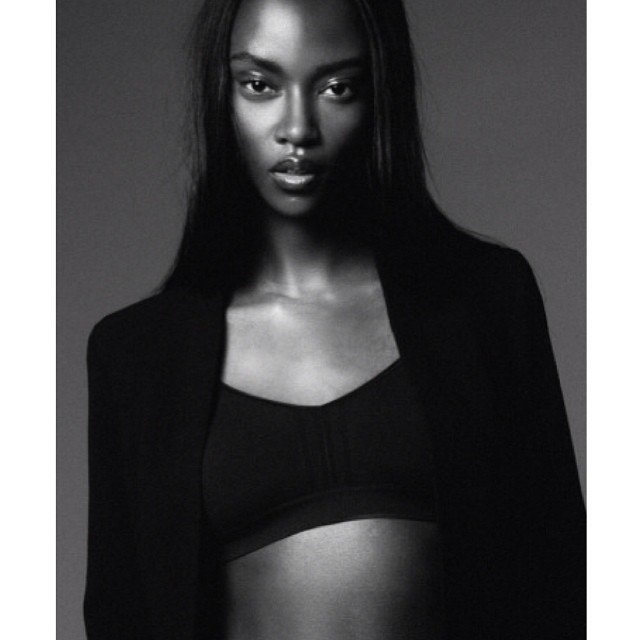 WWD: Tell me about that encounter.
R.M.: It was really quick and brief. At Rochas, the designer [Alessandro Dell'Acqua] said my look was one of his faves, so he brought me over to her and I was like, Oh my God. She said hello and I said hi — that's it. It was still pretty amazing. I've seen her at different shows, but that was the first one where I met her. She looked so bomb (good) in her fur coat.
source: Model Call: Riley Montana | WWD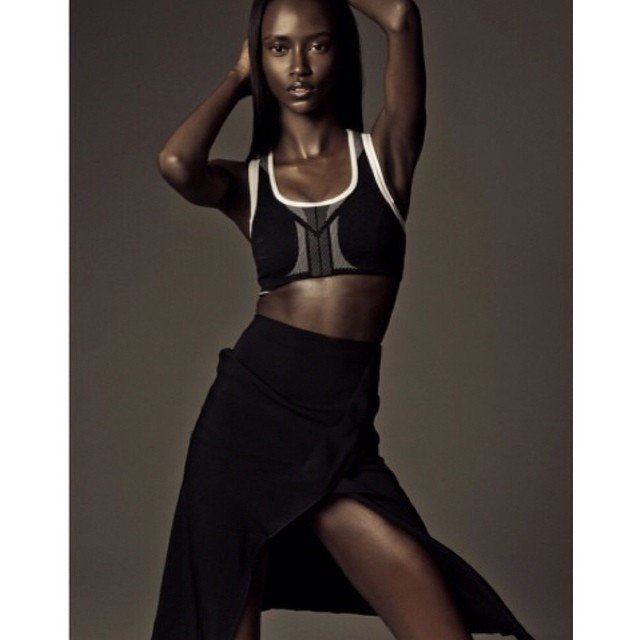 Riley Montana Might Be Fashion's Next Black Supermodel …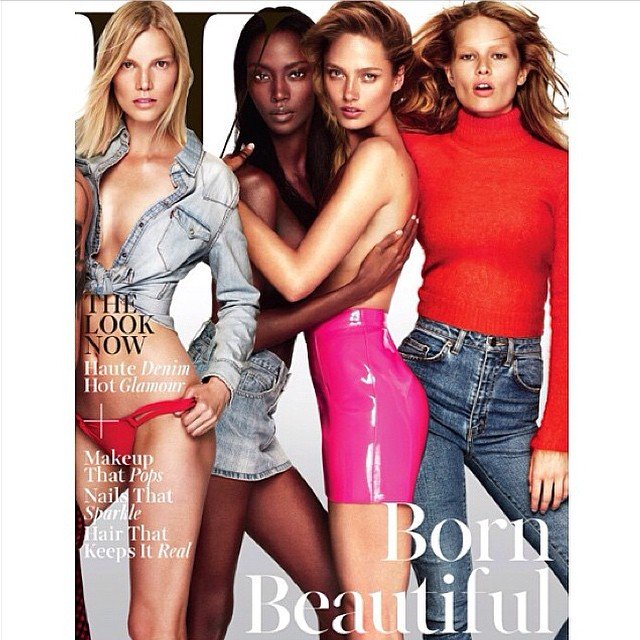 Riley Montana Interview – Model Riley Quotes About …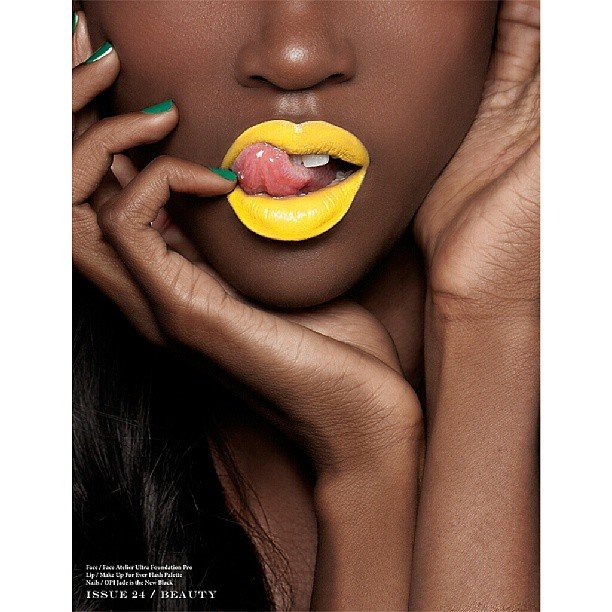 Detroit is the largest city in the midwestern state of Michigan.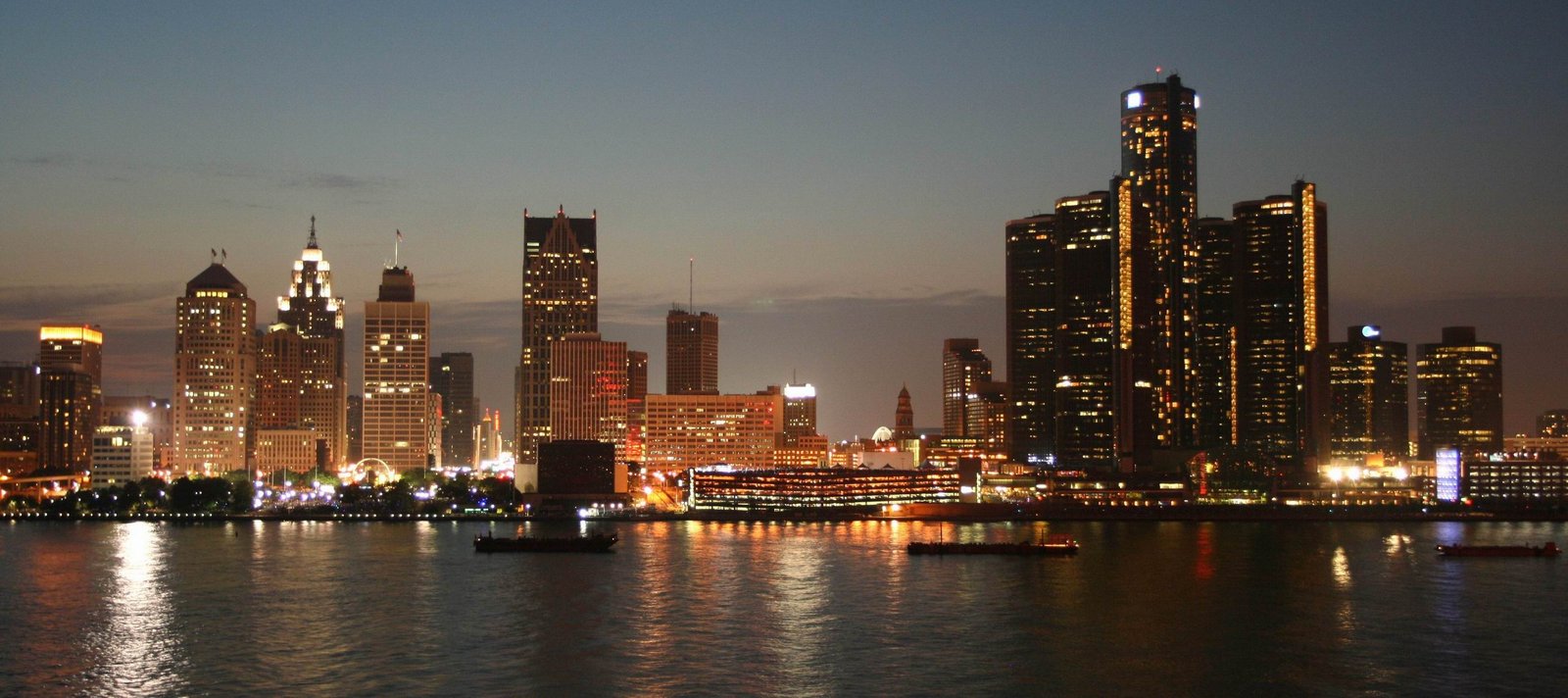 Near Downtown, the neoclassical Detroit Institute of Arts is famed for Diego Rivera murals inspired by the city's long-standing ties to the auto industry, which earned it the nickname "Motor City." Detroit is also the birthplace of Motown Records, whose chart-topping history is on display at Hitsville U.S.A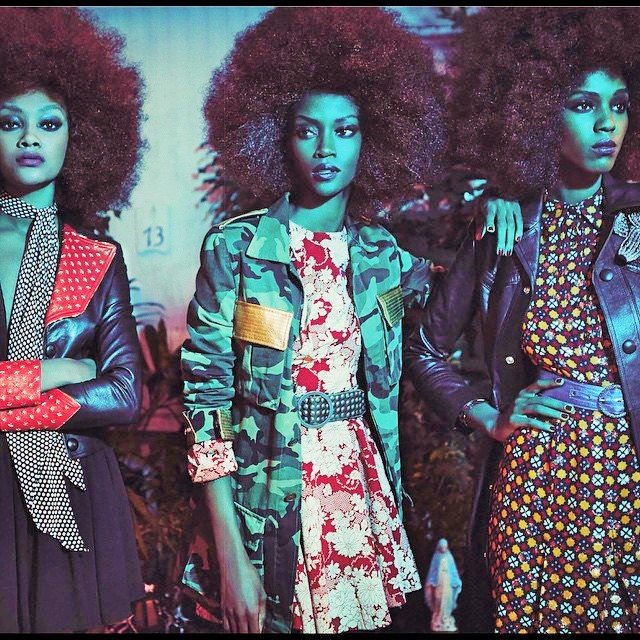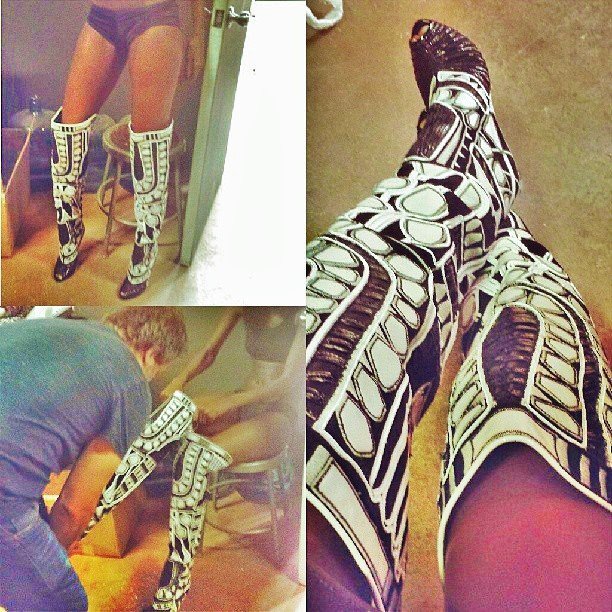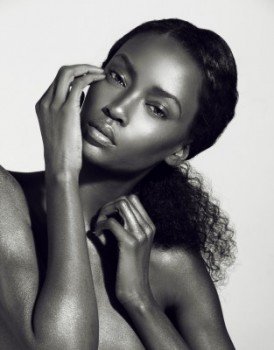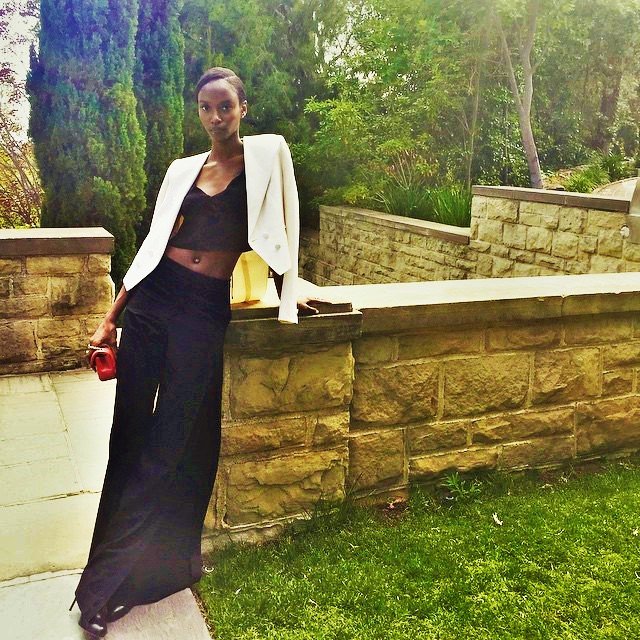 Travels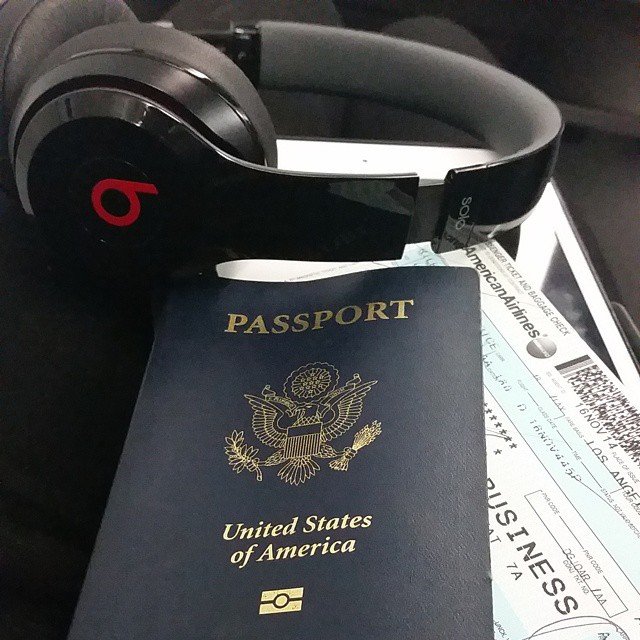 Paris, France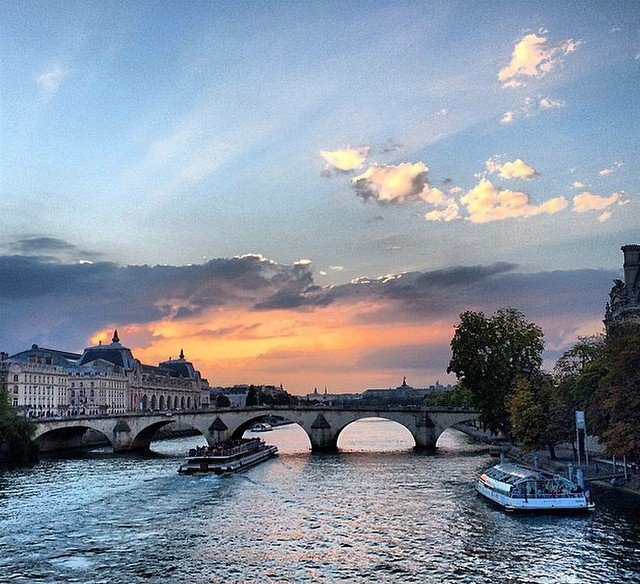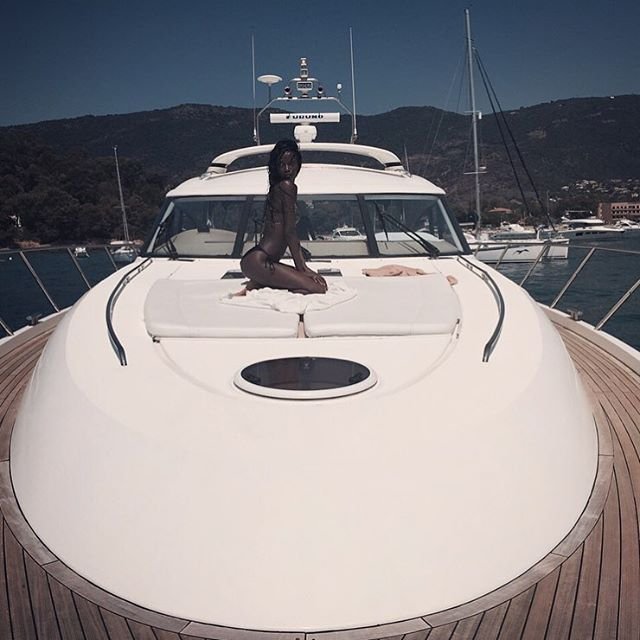 St. Tropez, France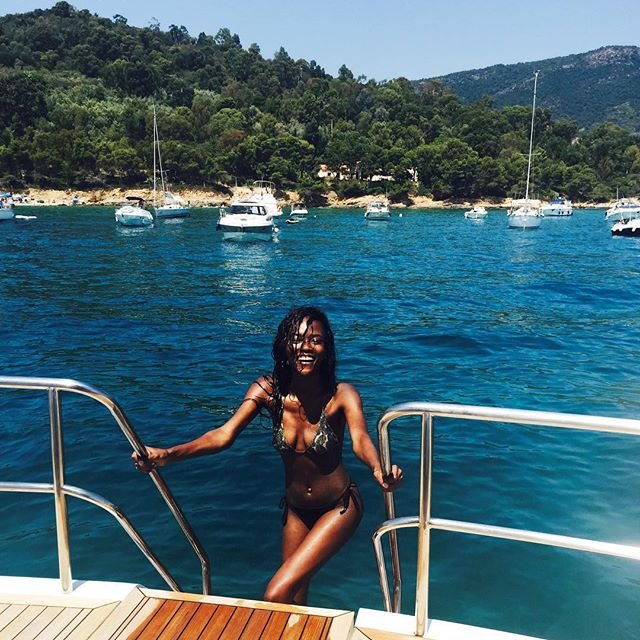 Cannes, France
Germany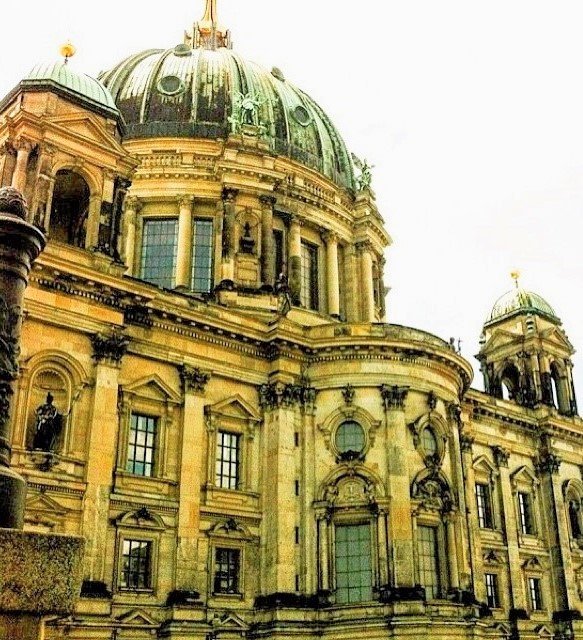 New York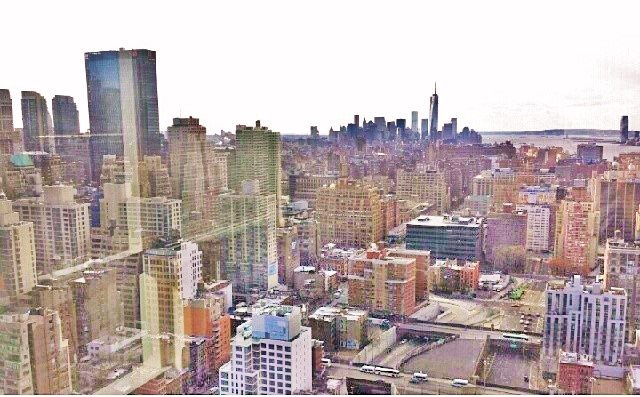 Love the lipstick color.
An artist rendition of her.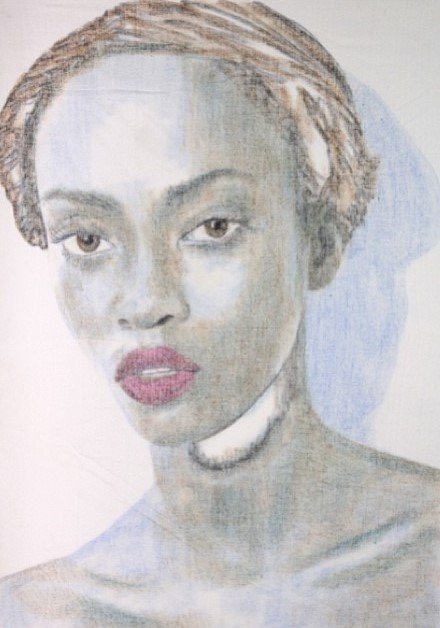 Beautiful sketch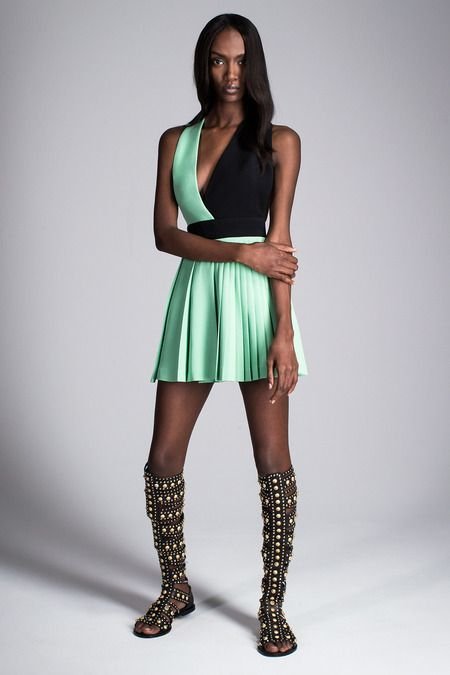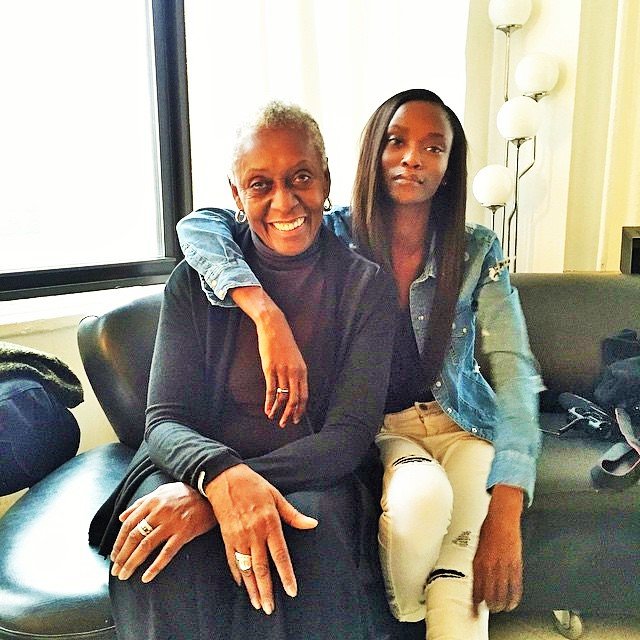 Bethann Hardison, Among her Mementos – The New York …
With her beautiful mother below.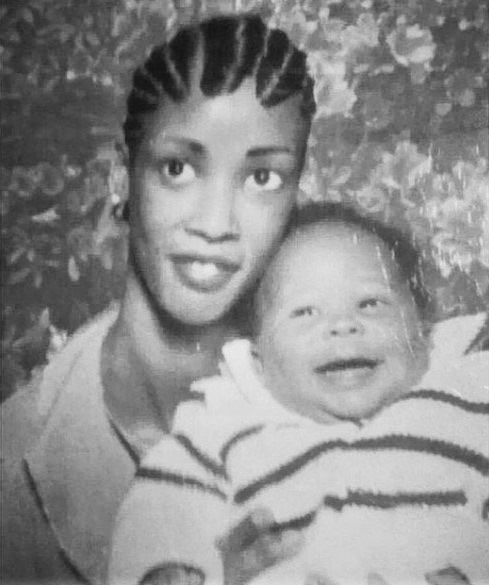 Love the hair!