Drawing of Cleopatra made by Michelangelo between 1533 and 1534.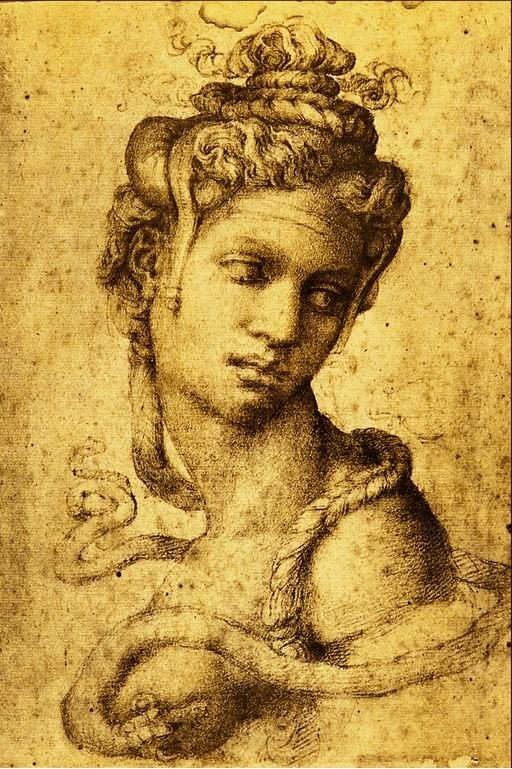 –Wiki
This is one of the few authenticated drawings of Michelangelo and was drawn for Tommaso de' Cavalieri, a young artist that Michelangelo passionately loved. This is the only drawing, of what Michelangelo claimed many drawings presenting to Cavlieri, that we have left. The drawing is a study for a bust of Cleopatra and possibly represents the conflicted nature of Michelangelo's love for Cavalieri since Cleopatra was widely understood in the Renaissance as immasculating Caesar and later Marc Antony with her beauty.
–Michelangelo Buonarotti, Cleopatra
Much of history is chronicled and understood in terms of myth and legend. Such "historiography" certainly applies to Cleopatra, whose supposed beauty and tragic death have been immortalized in art and media across centuries. In this lesson, students consider whether or not Cleopatra actually died from a self-inflicted snakebite through evaluating the reliability of various types of secondary, historical sources.
–Cleopatra | Stanford History Education Group
Showing the way an image viewed by crowd–the Romans who might not have known Egyptian religious symbols, etc. seeing the image of Cleopatra as a priestess of Isis–could give rise to the snake bite story, and then contrasting that with the S.African article that considers the types of snakes readily available seems like a very valuable lesson. Good stuff! I also like the inclusion of the two hand maidens' names–suddenly they are people with identities rather than silent, two dimensional figures.
–Comment by Hathawas