"The biggest change of our time?" he tweeted. "Africa's increase from 1 to 4 billion people!" Four billion people before 2100, meaning that Africa will have a population on par with Asia.
–Africa's population explosion will change humanity – Business Insider
The last 100 years have seen an incredible increase in the planet's population. Some parts of the world are now seeing smaller increments of growth, and some, such as Japan, Germany, and Spain, are actually experiencing population decreases.
The continent of Africa, however, is not following this pattern. Now home to 1.2 billion (up from just 477 million in 1980), Africa is projected by the United Nations Population Division to see a slight acceleration of annual population growth in the immediate future.
By 2100, Africa will contribute 82% of total growth: 3.2 billion of the overall increase of 3.8 billion people. Under some projections, Nigeria will add more people to the world's population by 2050 than any other country. The dynamics at play are straightforward.
–Population growth in Africa: grasping the scale of the challenge …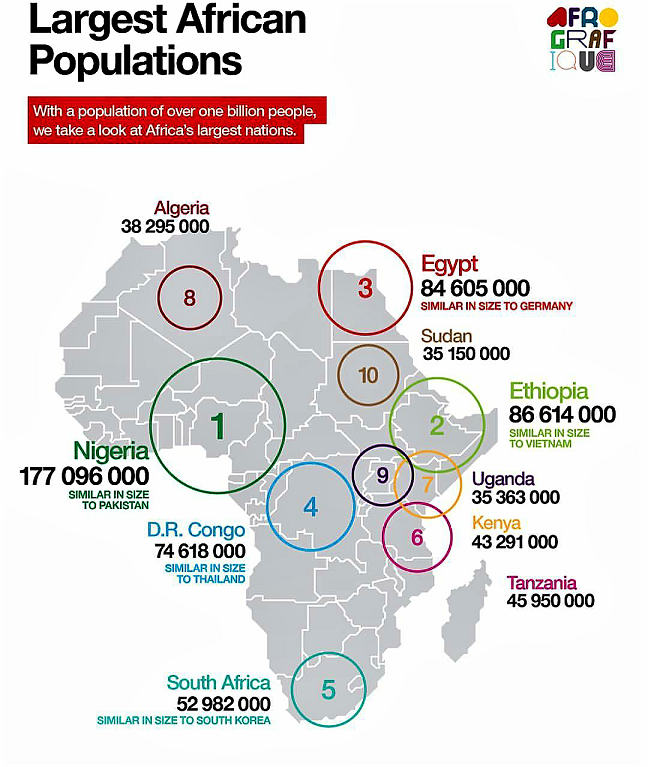 –an-infographic-mapping-the-largest-african-nations
Rank
Country
(or dependent territory)
July 1, 2015
projection
 % of
pop.
Average
relative
annual
growth
(%)
Average
absolute
annual
growth
Estimated
doubling
time
(Years)
Official
figure
(where
available)
Date of
last figure
Source
1
 Nigeria
182,202,000
15.98
2.91
4,731,000
24
173,000,000
2013
Official estimate
2
 Ethiopia
99,391,000
7.81
2.41
2,424,000
29
99,391,000
2015
Official estimate
3
 Egypt
94,274,751
7.68
2.29
1,981,000
31
92,300,000
December 24, 2016
Official population clock
4
 Democratic Republic of the Congo
77,267,000
6.70
3.13
2,390,000
22
77,267,000
July 1, 2015
Official estimate
5
 South Africa
54,957,000
4.77
1.61
873,000
43
54,956,900
July 1, 2015
Official estimate
6
 Tanzania
51,046,000
4.23
2.97
1,416,000
24
51,046,000
2015
Official estimate
7
 Kenya
45,533,000
3.84
2.87
1,196,000
24
45,533,000
2015
Official estimate
8
 Sudan
40,235,000
3.33
3.07
912,000
23
40,235,000
2015
Official estimate
9
 Algeria
40,100,000
3.46
2.07
768,000
34
40,100,000
January 1, 2016
Official estimate
10
 Uganda
37,102,000
3.10
3.09
1,206,000
23
34,856,813
August 28, 2014
Preliminary 2014 census result
11
 Morocco
34,380,000
3.33
1.24
412,000
56
33,337,529
September 1, 2014
Preliminary 2014 census result
12
 Mozambique
28,013,000
2.23
2.74
702,000
26
28,013,000
2015
Official estimate
13
 Ghana
27,414,000
2.40
2.48
621,000
28
27,043,093
2014
Official estimate
14
 Angola
25,326,000
2.20
3.43
839,000
21
24,383,301
May 16, 2014
Preliminary 2014 census result
15
 Ivory Coast
23,126,000
2.02
2.55
451,000
27
22,671,331
May 15, 2014
Preliminary 2014 census result
16
 Madagascar
23,043,000
2.00
2.71
609,000
26
22,434,363
2014
Official estimate
17
 Cameroon
21,918,000
1.90
2.65
565,000
27
21,917,602
2015
Official estimate
18
 Niger
18,880,000
1.64
3.86
701,000
18
17,138,707
December 10, 2012
Final 2012 census result
19
 Burkina Faso
18,450,000
1.60
3.26
582,000
22
18,450,494
2015
Official estimate
20
 Mali
17,796,000
1.54
3.30
568,000
21
14,528,662
April 1, 2009
Final 2009 census result
21
 Malawi
16,307,000
1.41
3.18
502,000
22
16,832,900
July 1, 2016
Official estimate
22
 Zambia
15,474,000
1.34
3.00
451,000
23
15,473,905
2015
Official estimate
23
 Senegal
14,150,000
1.23
2.92
401,000
24
14,354,690
2015
Official estimate
24
 Chad
13,675,000
1.19
3.57
471,000
20
11,039,873
May 20, 2009
Final 2009 census result
25
 Zimbabwe
13,503,000
1.17
1.17
156,000
60
13,061,239
August 17, 2012
Final 2012 census result
26
 South Sudan
12,519,000
1.09
5.95
703,000
12
8,260,490
April 22, 2008
2008 census result
27
 Rwanda
11,324,000
0.98
2.61
288,000
27
10,515,973
August 15, 2012
Final 2012 census result
28
 Tunisia
11,118,000
0.96
1.04
114,000
67
10,982,754
April 23, 2014
Preliminary 2014 census result
29
 Somalia
10,972,000
0.95
1.54
166,000
45
12,316,895
January 1, 2014
Official estimate
30
 Guinea
10,935,000
0.95
2.30
246,000
30
10,628,972
April 2, 2014
Preliminary 2014 census result
31
 Benin
10,782,000
0.93
3.54
369,000
20
10,008,749
May 11, 2013
Final 2013 census result
32
 Burundi
9,824,000
0.85
2.93
280,000
24
9,823,828
2015
Official estimate
33
 Togo
7,065,000
0.61
2.87
197,000
25
6,191,155
November 6, 2010
Final 2010 census result
34
 Eritrea
6,895,000
0.60
5.49
359,000
13
6,536,000
July 1, 2014
Official estimate
35
 Sierra Leone
6,513,000
0.56
2.57
163,000
27
6,348,350
2014
Official estimate
36
 Libya
6,278,000
0.54
1.13
70,000
62
5,298,152
April 15, 2006
2006 census result
37
 Central African Republic
4,900,000
0.42
2.00
96,000
35
3,859,139
December 8, 2003
2003 census result
38
 Republic of the Congo
4,706,000
0.41
2.98
136,000
24
3,697,490
April 28, 2007
2007 census result
39
 Liberia
4,046,000
0.35
2.09
83,000
33
3,476,608
March 21, 2008
Final 2008 census result
40
 Mauritania
3,632,000
0.31
2.43
86,000
29
3,718,678
2016
Official estimate
41
 Namibia
2,281,000
0.20
2.01
45,000
35
2,280,700
July 1, 2015
Official estimate
42
 Botswana
2,176,000
0.19
1.92
41,000
36
2,024,904
August 22, 2011
Final 2011 census result
43
 Gambia
2,022,000
0.18
3.27
64,000
22
1,882,450
April 15, 2013
Preliminary 2013 census result
44
 Equatorial Guinea
1,996,000
0.17
4.23
81,000
17
1,222,442
July 4, 2015
Preliminary 2015 census result
45
 Lesotho
1,908,000
0.17
0.21
4,000
330
1,894,194
2011
Official estimate
46
 Gabon
1,873,000
0.16
1.85
34,000
38
1,802,278
October 5, 2013
Preliminary 2013 census result
47
 Guinea-Bissau
1,788,000
0.16
2.58
45,000
27
1,530,673
2015
Official estimate
48
 Mauritius
1,263,000
0.11
0.16
2,000
437
1,261,208
July 1, 2014
Official estimate
49
 Swaziland
1,119,000
0.10
1.18
13,000
59
1,119,375
2015
Official estimate
50
 Djibouti
961,000
0.08
2.67
25,000
26
864,618
July 1, 2011
Official estimate
51
 Réunion (France)
853,000
0.07
0.71
6,000
98
840,974
January 1, 2013
Official estimate
52
 Comoros
783,000
0.07
2.62
20,000
27
806,200
July 1, 2016
Official estimate
53
 Cape Verde
525,000
0.05
1.35
7,000
52
491,875
June 16, 2010
Final 2010 census result
54
Western Sahara
509,000
0.04
1.80
9,000
39
510,713
September 2, 2014
Preliminary 2014 census result
55
 Mayotte (France)
229,000
0.02
2.69
6,000
26
212,600
August 21, 2012
2012 census result
56
 São Tomé and Príncipe
194,000
0.02
2.65
5,000
27
179,200
May 13, 2012
Final 2012 census result
57
 Seychelles
97,000
0.01
1.04
1,000
67
90,945
August 26, 2010
Final 2010 census result
58
 Saint Helena, Ascension and Tristan da Cunha (UK)
4,000
<0.01
0.0
0
–
4,255
February 10, 2008
2008 census result
Total
1,153,308,000
100.00
2.68
30,155,000
26
Other statistics seems to vary more or less: