Alek Wek is a Sudanese-British model who first appeared on the catwalks at the age of 18 in 1995, sparking a career lasting to date.
She is from the Dinka ethnic group in Southern Sudan, but in 1991 she and some family members fled to Britain to escape the civil war in Sudan.
She now lives in New York.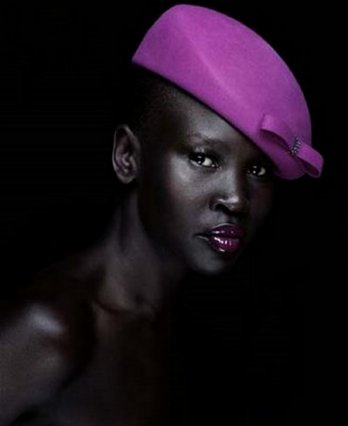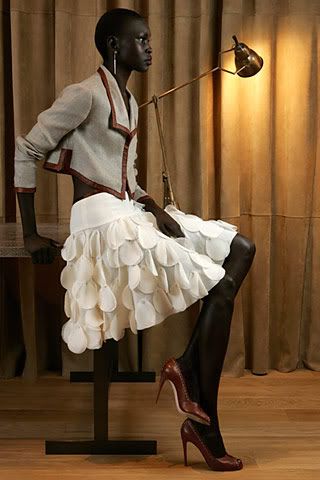 Played a Sudanese princess Aquol in the film "The Four Feathers"
Alek never intended to be a model. At 19, she was approached by an agent while walking in a south London park with an English girlfriend, whom Wek considered much prettier.
Personal Quote: 
"I've been detained so many times," she says. "I've come to realise that, as a successful black woman – and a tall one at that – I represent something that triggers the hostility and suspicion of a lot of people, black and white, male and female."
Wek writes about being constantly harassed and detained by US immigration officials when leaving or returning on international flights, raising suspicions even though – or perhaps because – she travels business class.
Personal Quote: 
"I don't think it's just an American problem. If it only existed here then I wouldn't have accomplished the work I do. Racism was even there in Sudan. It was ridiculous. The conflict has taken people who had gotten along and appreciated the differences in culture and pitted us against each other. Racism is everywhere. Am I going to feed into it? No. Is it everyone? Absolutely not!"
Personal Quote: 
"I learnt just how little it takes to survive," Wek says, "which is why I don't waste things – food, money, friendships or opportunities."
Personal Quote: 
"I had seen so much death and destruction that I could never believe that tomorrow was guaranteed."
Her father Father suffered a stroke.
When Wek was at her father's deathbed he told her: "Alek, you must go to London. Live at peace for once. Get an education. Do well."
Wek was born in the village of Wau, the seventh child to father Athian, a middle-class administrator with the local board of education, and mother Akuol, an entrepreneurial woman who made liquor and raised peanut crops.
Personal Quote: 
"Whenever I'm in town and have down time, I like to just sit here with my cat, have a cup of tea and choose my subjects from whatever's around me, and make it abstract."
Personal Quote: 
"Everyone starting out as a model has his or her own share of criticism. We all hear, 'Her nose is too long. She is too much of a redhead'. If you listen to everybody, you will go crazy. You will stop accepting yourself. And when you stop accepting yourself, what else do you have?
Personal Quote:
"Fashion is an accounting business," she told black fashion magazine Ebony. "It deals with beauty, appearance, products, perfume and clothes. At the end of the day, it's not rocket science or heart surgery. It was not just me, a Sudanese Dinka girl, who was met by an avalanche of criticism when I walked in the door.
Her mother Akuol,  had taught Wek that she should never buy anything she couldn't pay for outright.
Her mother also feared that her daughter's modelling career would lead her to take her clothes off and "put myself in bad situations".
Wek wondered whether her mother's worst-case scenario had come true, as she wriggled in a leopard-print bikini to appear as an "elusive, dark, exotic creature" in a video for Tina Turner's theme song for the James Bond film GoldenEye.
Wek may not be on a first-name basis with fame but the regal, 181cm-tall model has been recognisable since 1997, the year Gilles Bensimon photographed her for the cover of American Elle and proved jet black could be beautiful.
It was a milestone for her and the magazine: a black woman who looked unambiguously African.
Bensimon said the magazine received scores of approving letters: "One woman said, 'I never expected to see someone who looked like me on the cover of the magazine'."
Later, when Oprah Winfrey interviewed Wek on her television show, she said: "If you'd been on the cover of a magazine when I was growing up, I would have had a different concept of who I was."
Personal Quote: 
"You're not going to nourish your body, for what? A picture? The whole weight thing is ridiculous."
Alek with Italian-born boyfriend, property developer Riccardo Sala.
He has been in one celebrity relationship and has never been married.
The conflict not only killed two million people, it created an entire community of refugees, including Wek's family—many of whom fled to London. Here is Wek's incredible, daring story of rising from refugee to international supermodel.