Beautiful Curly Hair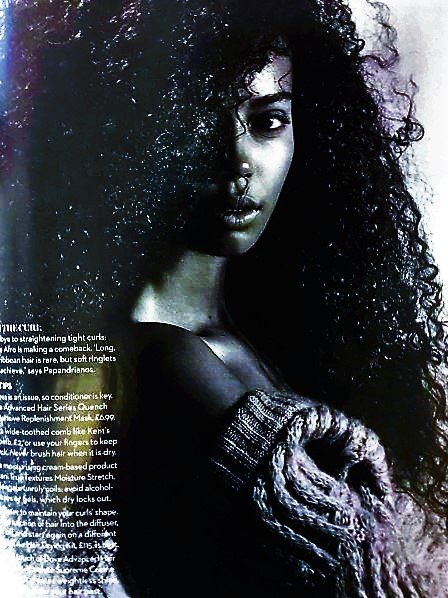 –Model Koumba Toma Mcdonagh with IMG Models London
WHAT DOES SCIENCE SAY ABOUT AFRO HAIR?
Although there are no biochemical differences among black, Caucasian, and Asian hair types, there are differences in the hair morphology (8). Black hair appears elliptical or flattened in cross-section, whereas Caucasian hair is oval, and Asian hair round. The follicle of black hair is curved, in contrast to a straight follicle in Caucasians and Asians.' – Callender, V. D., McMichael, A. J. and Cohen, G. F. (2004), Medical and surgical therapies for alopecias in black women. Dermatologic Therapy, 17: 164–176. doi:10.1111/j.1396-0296.2004.04017.x
Khumalo NP, Doe PT,Dawber PR, Ferguson DJP.What is normal black African hair? A light and scanning electron-microscopic study. J Am Acad Dermatol 2000: 43:814–820.
'African hair is curly and frequently exhibits knots (9)'
'However, increased evidence of wearing with some loss of the cuticular pattern was observed towards the tip of the hair in all 3 racial groups (Fig 3, A-D). The most extreme wearing, with complete loss of cuticular structure, was seen toward the tip of the hairs of the Caucasian subject with the longest hair (Fig 3, B and C). However, the hair shafts of the African volunteers did exhibit structural damage with evidence of longitudinal fissures, resulting in splitting of the hair shafts ( Fig. 3 and Fig. 2). The splitting was also associated with knot formation (Fig 2, B). Longitudinal fissures were not observed in the Caucasian or Asian hairs. It was also observed that many of the black African hairs (approximately 40%) were fractured with no attached root.
–subscribe to this channel
Quote:
My name is Asha. I did my big chop in April 2010 and I'm naturally high on life. sciences. FAQs
1) When did you BC? April 2010 My last relaxer was on the 29th of July 2009.
I now live in the Netherlands where I'm pursuing master's in biomolecular sciences.
2) How long did you transition? 9 months.
3) What was your transition method? Braids, canerows, twist-outs and MOISTURE! I trimmed off an inch every month.
'The African hair shafts were enclosed by a well-preserved cuticle (Fig 3, E) similar to that observed for the other racial groups ( Fig 3, F).'
'The most significant feature was that the majority of the tips of the African hair had fractured ends …Similarly, the basal end also exhibited evidence of breakage in contrast to the Caucasian and Asian samples in which the majority of hairs had attached roots.'
'From these observations it could be proposed that any procedure that reduces knotting of hair and/or the need for combing would result in an increase in the length of the hair by reducing the incidence of breaks in the hair shafts.'
Konishi, S. (2008). tied in rolled knots and powdered with ochre': Aboriginal hair and eighteenth-century cross-cultural encounters. Borderlands, 7(2), 1-20.
Through the influential work of the great taxonomer, Carolus Linnaeus,… Homo europaeus 'yellow, brown, flowing', Homo asiaticus 'abundant black', and Homo afer 'black, frizzled' (cited in Rosenthal, 2004: 2).
This eighteenth-century definition and conceptualization of African hair as 'woolly' intersected with slavery discourses which dehumanized the African body in order to justify its abject treatment. The Oxford English Dictionary indicates that this derogatory term signifying 'the short, tightly-curled hair of Negroid peoples' was first used in a runaway slave advertisement in 1697. This type of hair was also ascribed sexual connotations, for according to Allan Peterkin, 'frizzy' hair was seen as 'demonic, licentious, and pubic'
Beautiful Models of color at a Casting for Curly Hair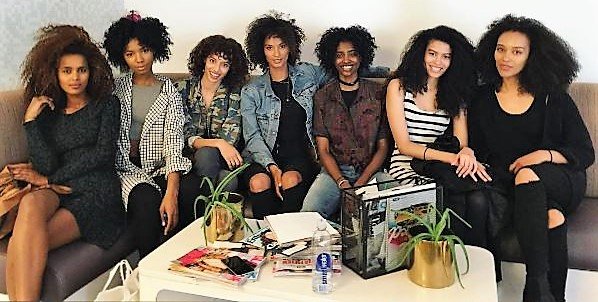 –Dana Tyne
My Hair, a Short Film takes a glimpse into this fascination and how black women, who are often its subjects, feel about it.
Whether it's 7-year old Tiana Parker getting sent home from school for wearing locs or Dante De Blasio's afro being credited for giving his father a boost in the New York City mayoral race, Black hair is consistently subject to unsolicited fascination. As the final extension of a bold public art exhibit held in New York City this summer, You Can Touch My Hair.
The premiere of You Can Touch My Hair, a Short Film is proudly brought to you by Pantene Pro-V.