THE NEW YORK TIMES BESTSELLING DIET PHENOMENON
Dr. Peter J. D'Adamo is a noted naturopathic physician, researcher, and lecturer, and the author of the revolutionary Eat Right series. His extensive research and clinical testing of the connection among blood type, health, and disease has garnered international recognition and led to groundbreaking work on many illnesses.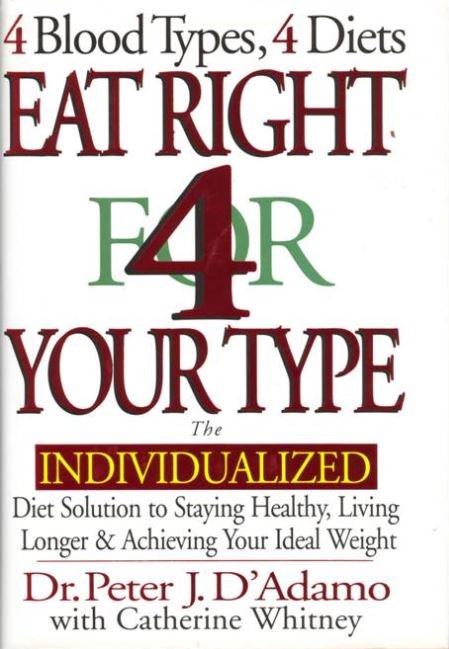 If you've ever suspected that not everyone should eat the same thing or do the same exercise, you're right. In fact, what foods we absorb well and how our bodies handle stress differ with each blood type.
Your blood type reflects your internal chemistry. It is the key that unlocks the mysteries of disease, longevity, fitness, and emotional strength. It determines your susceptibility to illness, the foods you should eat, and ways to avoid the most troubling health problems.
Based on decades of research and practical application, Eat Right 4 Your Type offers an individualized diet-and-health plan that is right for you.
• Which foods, spices, teas, and condiments will help maintain your optimal health and ideal weight
• Which vitamins and supplements to emphasize or avoid
• Which medications function best in your system
• Whether your stress goes to your muscles or to your nervous system
• Whether your stress is relieved better through aerobics or meditation
• Whether you should walk, swim, or play tennis or golf as your mode of exercise
• How knowing your blood type can help you avoid many common viruses and infections
• How knowing your blood type can help you fight back against life-threatening diseases
• How to slow down the aging process by avoiding factors that cause rapid cell deterioration