Quote:
Roman York has multiple people probably from North Africa, but even more people who are of "black/mixed race" ancestry (11-51%).
–Dr. Caitlin Green
The 1,800-year-old face of 'Beachy Head Lady' is revealed for the first time thanks to 3D scanning.
Unusually Beachy Head Lady is from sub-Saharan Africa which was outside of the Roman Empire.
This is the face belonging to an ancient skeleton buried in Roman times, created using the latest 3D reconstruction technology.
The so-called 'Beachy Head Lady' – because she was discovered in the East Sussex beauty spot – had her face recreated using craniofacial reconstruction techniques.
Her skeleton was first discovered in Beachy Head 1953, and she is thought to have lived around 245 AD- the middle of the Roman period in Britain.
Experts are not entirely sure how she ended up in Britain, but researchers believe Beachy Head Lady probably grew up in the area and was possibly the wife or mistress of a local official at a nearby Roman villa.
A note on the evidence for African migrants in Britain from the Bronze Age to the medieval period
The degree to which pre-modern Britain included people of African origin within its population continues to be a topic of considerable interest and some controversy. Previous posts on this site have discussed a variety of textual, linguistic, archaeological and isotopic evidence for people from the Mediterranean and/or Africa in the British Isles from the Late Bronze Age through to the eleventh century AD. However, the focus in these posts has been on individual sites, events or periods, rather than the question of the potential proportion of people from Africa present in pre-modern Britain per se and how this may have varied over time. The aim of the following post is thus to briefly ponder whether an overview of the increasingly substantial British corpus of oxygen isotope evidence drawn from pre-modern archaeological human teeth has anything interesting to tell us with regard to this question.
–caitlingreen.org/2016/05/a-note-on-evidence-for-african-migrants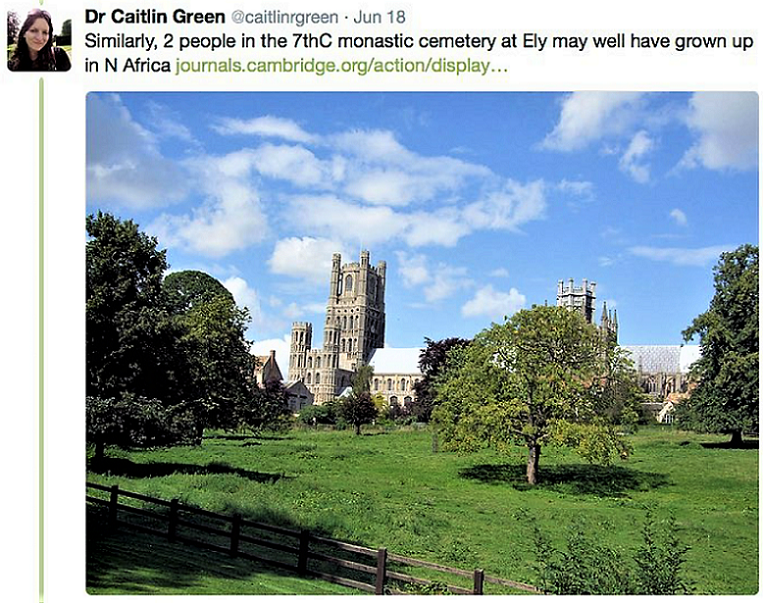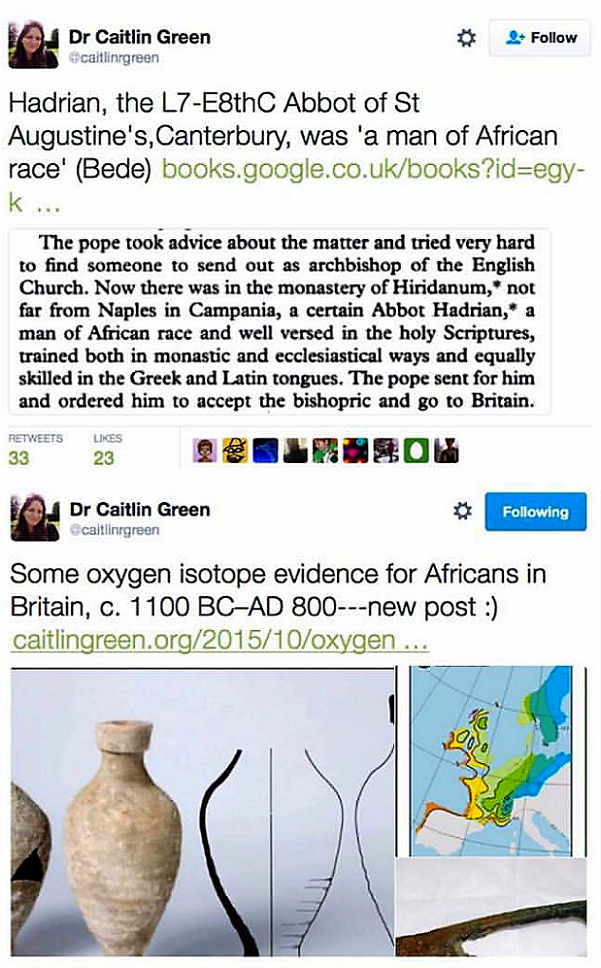 Remains of an African woman who died more than 1,000 years ago during Saxon times in Britain, Europe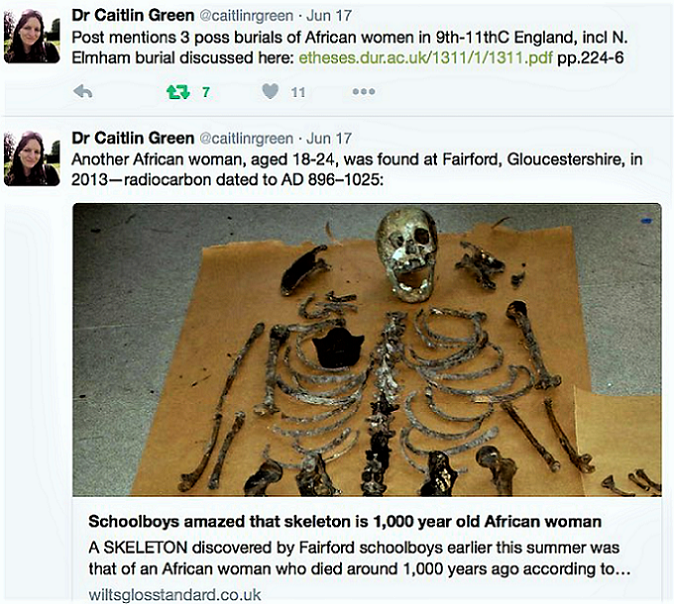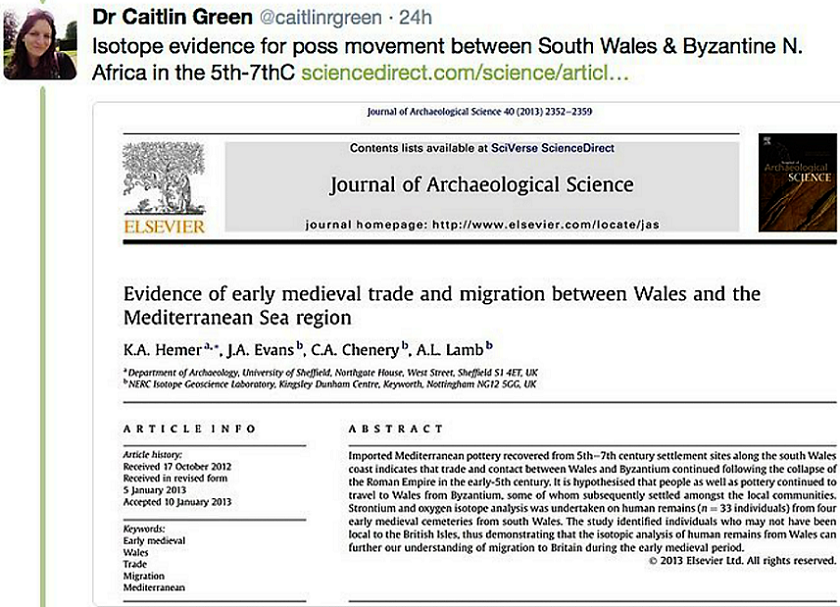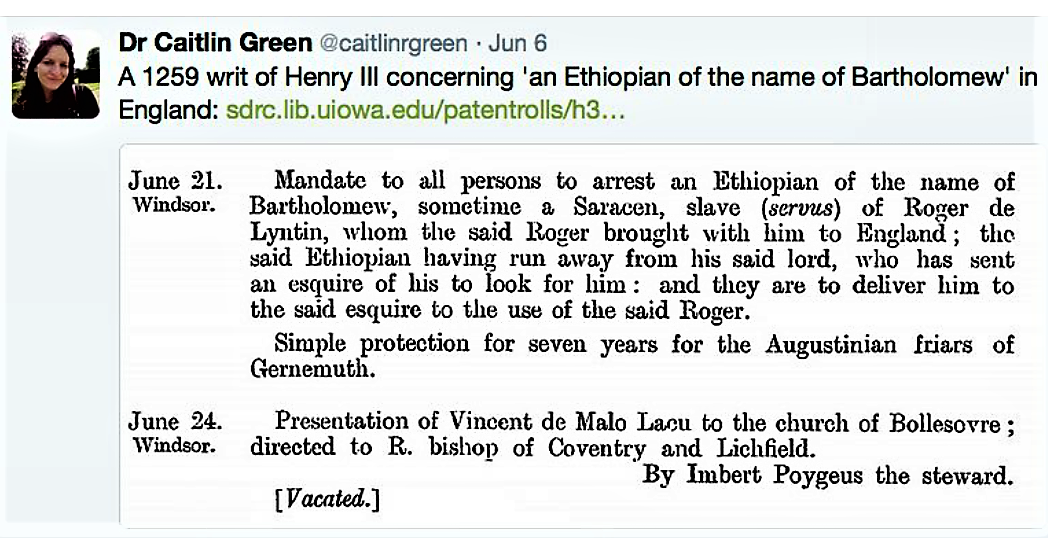 –sdrc.lib.uiowa.edu/patentrolls/h3v5/body/Henry
Historian David Olusoga explores the enduring relationship between Britain and people whose origins lie in Africa.
Black and British A Forgotten History Episode 1 First Encounters.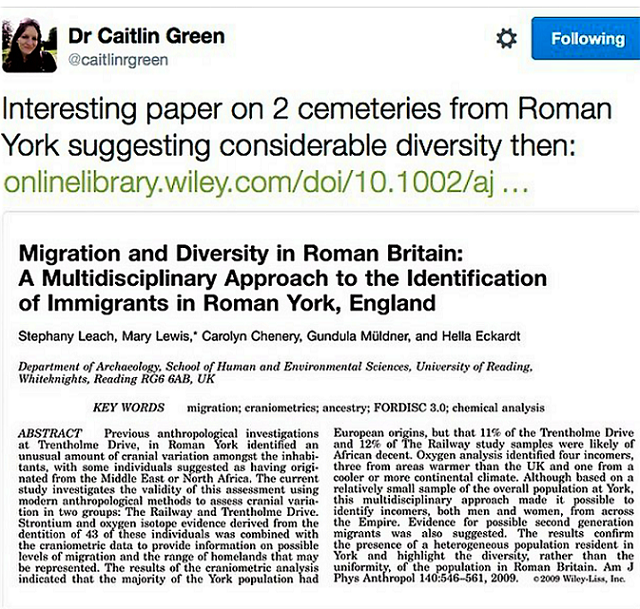 E-V13 DNA originated in Northeastern Africa around 18,000 years ago entered Europe at some time via the Balkans?
–More facts less fiction
Vikings in Morocco and Africans in early medieval Ireland & Britain?
The information contained on this site is intended for educational purposes only.
"Copyright Disclaimer Under Section 107 of the Copyright Act 1976, allowance is made for "fair use" for purposes such as criticism, comment, news reporting, teaching, scholarship, and research. Fair use is a use permitted by copyright statute that might otherwise be infringing. Non-profit, educational or personal use tips the balance in favor of fair use.