Experts say the remains are those of a Sub-Saharan African woman and date from between 896 AD and 1025 AD.
At the time of the discovery, the force said a Roman cemetery had been found near to the site which could explain the findings.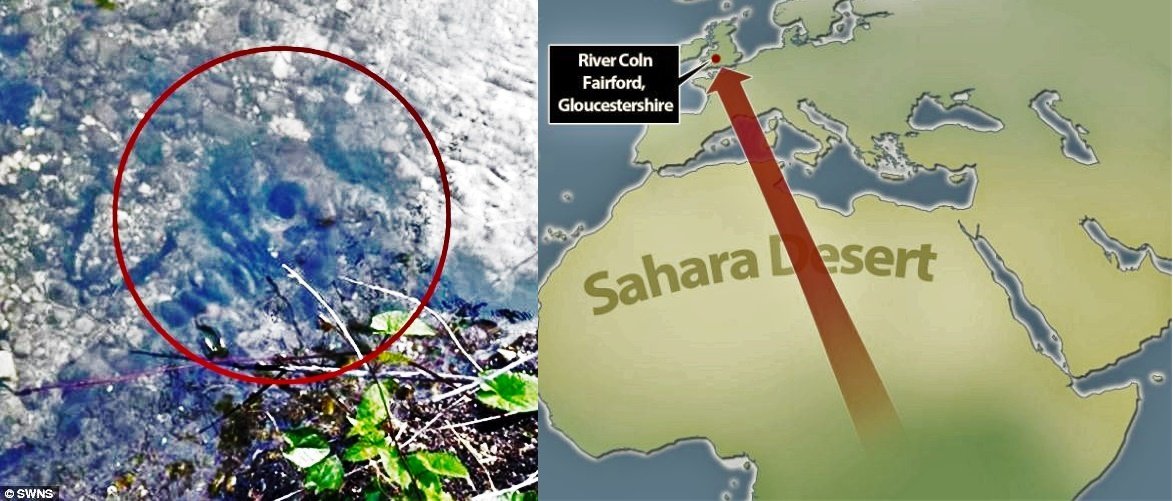 Believed to have traveled more than 3,000 miles from Africa.
Gloucestershire police said they had identified the remains as being from an African woman, possibly from as early as the ninth century.
They added: 'This is, of course, no longer a police matter and it is likely that the remains will be passed on to a museum or University.'
–Teenagers find human remains of African woman in Gloucestershire …
Two English teens found human remains in the Coln River in Gloucestershire
Thank You for sharing!
"I thought someone had got murdered and dumped in here, but then the police rang up on the phone and said it was 700 years-plus old, so I wasn't really worried then,"
Christian Thompson, one of the boys who discovered the remains told the BBC when they were found in July, 2013.
Total population
Black British
1,904,684 (3.0%) (2011 census)
Regions with significant populations
United Kingdom
England
1,846,614 (3.5%) (2011 census)
Scotland
36,178 (0.7%) (2011 census)
Wales
18,276 (0.6%) (2011 census)
Northern Ireland
3,616 (0.2%) (2011 census)
–Black_British#Notable_black_Britons
These dramatic findings, made during police forensic tests, pose several questions for investigators and historians.
The woman was so out of time and place that the discovery defies easy explantion. At the time of her death, people in England who were not of European descent were vanishingly rare. The earliest records of Africans in the country date from the 12th century – nearly 200 years later.
Yet this black woman came to be in feudal England years before the Norman conquest. How strange it must have been to her to be in that place, which was carved up among power-hungry barons, priests and peasants and divided by civil strife.
Richard Martin is a local historian who owns a wool-weaving business in the corner of the Cotswolds near where the remains were found. Her appearance is a mystery because there was so little in Dark Age Fairford to tempt a visitor from so far away, he told IBTimes UK.
"This area would have been hard to travel in and there were no big centres of population after the Romans left. There were Roman roads which were still being used back then, but Fairford is above the navigable River Thames and I do not know of anything in the town which would have been of interest."
–The First Black Briton? 1000 Year Old Skeleton of … – IBTimes UK
More Sources:
–Fairford river skull 'more than 1,000 years old' – BBC News
–Two schoolboys discover Saxon human skeleton while playing in river …
World Map of United Kingdom / Britain / England