The Kingdom Of Kush traded with the rest of the world, all parts of Africa & especially The West African Kingdoms.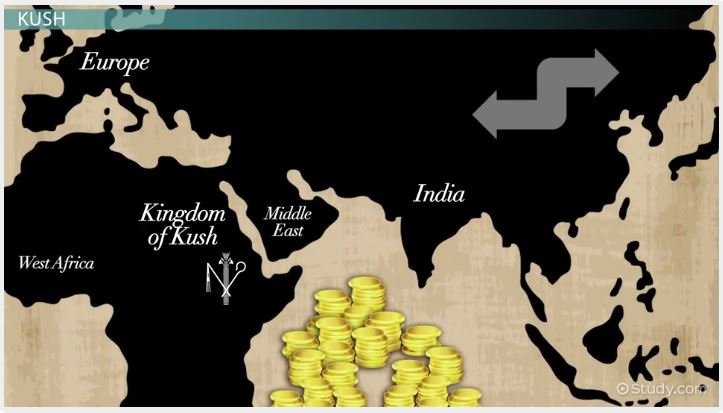 Kush was at the trade center, that linked India, Europe, the Middle East & all parts of Africa. Such wealth made the Kush a temping target & the Egyptians routinely tried to conquer it.
study.com/academy/lesson/the-kingdom-of-kush-location-events-leaders
The Kingdom of Kush or Kush was an ancient Nubian kingdom situated on the confluences of the Blue Nile, White Nile and River Atbara in what is now the Republic of Sudan.
The Kushite era of rule in Nubia was established after the Bronze Age collapse and the disintegration of the New Kingdom of Egypt, and it was centered at Napata in its early phase. After King Kashta ("the Kushite") invaded Egypt in the 8th century BC, the Kushite emperors ruled as pharaohs of the Twenty-fifth dynasty of Egypt for a century, until they were expelled by the Assyrians under the rule of Esarhaddon.
During Classical antiquity, the Kushite imperial capital was at Meroe. In early Greek geography, the Meroitic kingdom was known as Aethiopia. By the 1st century AD, the Kushite capital had been captured by the Beja Dynasty, who tried to revive the empire. The Kushite kingdom with its capital at Meroe persisted until the 4th century AD, when it weakened and disintegrated due to internal rebellion. The Kushite capital was eventually captured and burnt to the ground by the Kingdom of Axum.
The native name of the Kingdom was recorded in Egyptian as k3š, likely pronounced /kuɫuʃ/ or /kuʔuʃ/ in Middle Egyptian when the term is first used for Nubia, based on the New Kingdom-era Akkadian transliteration as the genitive kūsi.
It is also an ethnic term for the native population who initiated the kingdom of Kush. The term is also displayed in the names of Kushite persons, such as King Kashta (a transcription of k3š-t3 "(one from) the land of Kush"). Geographically, Kush referred to the region south of the first cataract in general. Kush also was the home of the rulers of the 25th dynasty.
The name Kush, since at least the time of Josephus, has been connected with the biblical character Cush, in the Hebrew Bible (Hebrew: כוש), son of Ham (Genesis 10:6). Ham had four sons named: Cush, Put, Canaan and Mizraim (Hebrew name for Egypt). The Bible specifically refers to Cush as a Benjamite (Psalms 7:1, KJV). According to The Bible, Nimrod, a son of Cush, was the founder and king of Babylon, Erech, Akkad and Calneh, in Shinar (Gen 10:10).
Some modern scholars, such as Friedrich Delitzsch, have suggested that the biblical Cush might be linked to the Kassites of the Zagros Mountains (modern Iran).
As part of a series looking at some of the lesser seen sides of some of the world's most misunderstood countries, Benjamin Zand heads to Sudan.