The occasion was front-page news in Britain, in Ghana, and many other countries.
Coverage in newspapers around the world ranged from the hostile to skeptical to admiring.
He was born in Kumasi to Nana James Appiah and Nana Adwoa Akyaa, members of the Ashanti imperial aristocracy.
Joe Appiah, a Ghanaian political figure and former diplomat whose marriage to a white British woman attracted wide publicity in 1953. At the Church of England ceremony, the bride wore a gown of mother of pearl-embroidered silk brocade. The bridegroom, a Methodist, wore a tribal ceremonial garment – similar to a toga – of yellow and green striped silk.
They Honeymooned in Paris, France.
Peggy and Joe Appiah took their honeymoon in France and returned to England where Joe was to finish his legal training at the Middle Temple.
Joe Appiah: The Autobiography of an African Patriot
Enid Margaret "Peggy" Appiah, MBE was a British children's author, philanthropist and socialite. She was the daughter of the Right Honourable Sir Stafford Cripps and Dame Isobel Cripps, and the wife of Ghanaian lawyer and political activist Nana Joe Appiah.
Her experiences in Jamaica, Russia, Iran, China, Burma and India, and her family's friendship with people such as the Nehrus, Peggy, who was now in her mid-twenties, knew many people from many countries and also knew much more about life outside England, indeed outside Europe, than most of her contemporaries.
This experience, along with her deep Christian commitments, led her to work for co-operation among peoples; and in the late 1940s she started to work for an organisation called Racial Unity, which had been started by Miss Attlee, sister of the Prime Minister, as well as becoming active in the Youth Department of the World Council of Churches (WCC).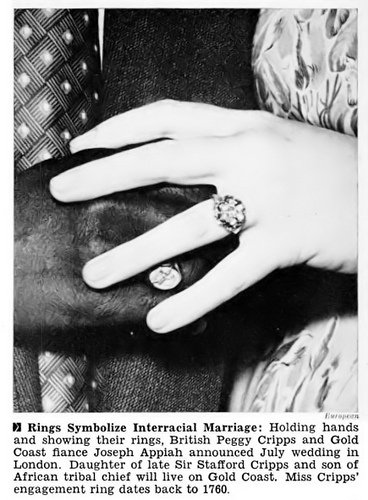 It was through her work for Racial Unity, of which she was secretary in 1952, that she first metJoseph Emmanuel Appiah, who was President of the West African Students' Union. Their friendship grew fast and in January 1952, he proposed and she accepted.
The announcement of the couple's engagement in 1953 produced a firestorm of comment in Britain and around the world; and when Peggy Cripps and Joe Appiah were married at St John's Wood Church, north London, in June 1953, the occasion was front-page news in Britain, in Ghana, and many other countries and the event was one of the social events of the year. George Padmore, the West Indian Pan-Africanist was best man, deputising for Kwame Nkrumah, who was too busy as the new leader of Government Business to attend himself. Hugh Gaitskell, Stafford's successor as Chancellor was there, as were Michael Foot, future leader of the Labour party, Aneurin Bevan, Lady Quist, the wife of the Speaker of the Gold Coast Assembly, and Krishna Menon, India's ambassador to the United Nations. A Jamaican newspaper commented that there were "top-hatted and frock-coated British aristocrats… ex-Cabinet Ministers… as well as several Tory and Socialist members of Parliament." The real attraction, however, was the kente cloth worn not only by the bridegroom but by many of his relatives and friends. Coverage in newspapers around the world ranged from the hostile to skeptical to admiring.
In May 1954 their first son, Kwame Anthony Appiah, was born (amid another flutter of newspaper publicity) and in November the young family arrived in the Gold Coast to begin their new life. During this period, while Joe was developing a legal career and beginning his life as a politician, Peggy focused most of her energy on her young family —- Ama was born in 1955, Adwoa in 1960 and Abena in 1962 —- and on working as a secretary and legal assistant in his law office and for his constituents, supporting her husband as she had supported her father. She learned to wear cloth, started attending funerals, and got to know her husband's family and his father's family as well. They built themselves a home in Mbrom, where their neighbors were Victor Owusu, another senior NLM politician, John Brew, and, across the street, Joe Appiah's father, J. W. K. Appiah and his wife, Aunty Jane.

–zorinco.com/drjoe/Peggy_Appiah
For more than 30 years, beginning in the late 1950s, Peggy Appiah's extensive library at Mbrom was made available to the children of the neighborhood, who could come and read children's books, and, as they grew older, the novels and poetry she had collected. Among her most prized collections were many of the volumes of the Heinemann African Writers Series.
Other frequent visitors to the house included the traders who brought her the gold weights they had acquired on their collecting trips through the villages and towns of Ghana. She also took an interest in the education and welfare of a number of young people, who became part of her extended family, among them Isobel Kusi-Obodom, whose father died in Nkrumah's prisons, and Dr Joe Appiah-Kusi of Seattle.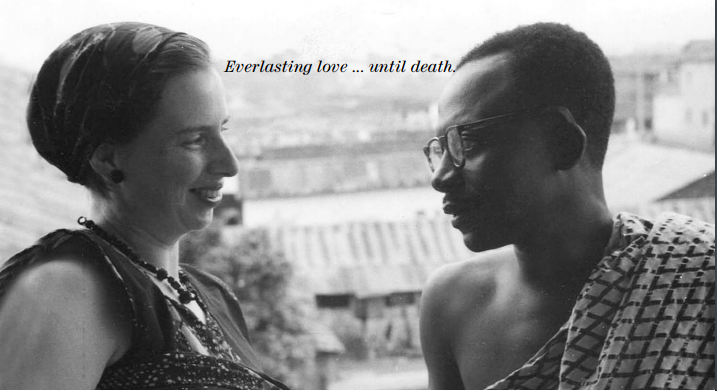 –zorinco.com/drjoe/Peggy_Appiah
In 1990, a widow, Peggy Appiah never considered leaving Ghana, telling anyone who asked her when she was "going home," that she was home already. She moved into a smaller house, which she built in a compound with a house for her daughter Abena, continued to work for her church, and went on studying Akan folklore. She visited her son and her daughters in the United States, Namibia and Nigeria, and was visited in turn by her children and sons-in-law, and her six grandsons, Kristian, Anthony and Kojo, children of Ama (Isobel) and Klaus Endresen; and Tomiwa, Lamide and Tobi, children of Adwoa and Olawale Edun. In the house next to her, with her daughter Abena, were her two grandchildren, Mimi and Mame Yaa.
Joe Appiah died in Accra after an illness and was buried next to his wife at the Tafo cemetery at Kumasi in the Ashanti Region of Ghana.