Fatality is a fictional character, a supervillain in the DC Comics universe. She was created by Ron Marz and first appeared in Green Lantern vol 3 #83 in February 1997.
Yrra Cynril (Fatality) is originally from the planet Xanshi – a member of one of the quasi-human races among the numerous forms of sentient beings living there. Her claim to fame was that, as the eldest child of a royal family with a gift for warfare, she was the first of her kind to be educated off-world. She was sent to become a student for the Warlords of Okaara, apparently during the same period of time as Starfire.
Despite her reticence, she did have a natural gift for combat however. While on Okaara for that extra year though, her home world, Xanshi, was destroyed becasue of a mistake by Green Lantern John Stewart.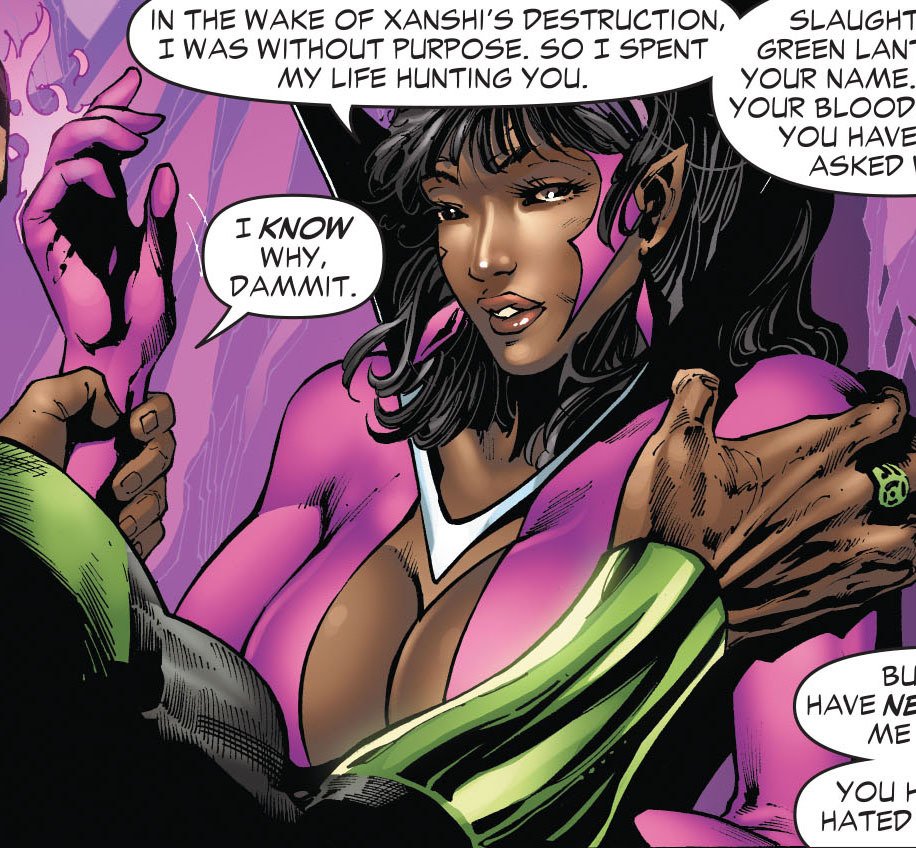 Yrra was unaware who Stewart was at time, so she blamed the entire Green Lantern Corps for the loss of her world, her people, and her family. She dedicated herself to her training on Okaara as never before, until she had gained all the skills she could from her teachers. Following this, she adopted the name "Fatality" and set off on a bloody path of retribution against the Green Lantern Corps that would eventually lead her to Earth where she would find Kyle Rayner, who, at that time, was the last Green Lantern in existence.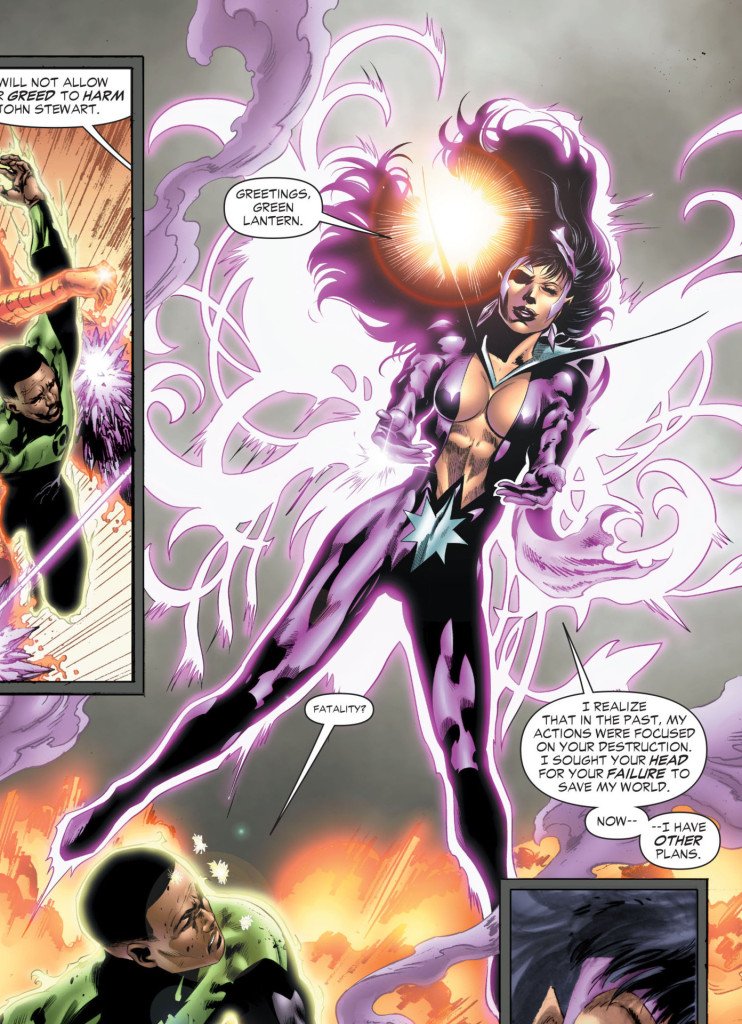 Following the Sinestro Corps war, after being captured, Yrra was brought to Zamaron. There, as opposed to imprisoning her, like the Green Lanterns would have, the Star Sapphires sealed her inside a crystal that attempted to alter or heal her mind by fueling her with the violet light of love.
Once the process was completed, Fatality emerged from her crystal cocoon as a Star Sapphire, with her first thought being to locate John Stewart.
Yrra later located Stewart on Okaara, while the Green Lantern Corps were engaged in a battle with the Orange Lantern Corps.
Separating Stewart from the fight with her new found power, she explained to him that she had changed. The Star Sapphire Corps had made her realize how wrong her previous actions had been and they even allowed her to forgive herself for not being there for Xanshi's destruction.
Yrra at the remains of Xanshi, contemplating her future
Before leaving Stewart, she told him that next time he grieves among Xanshi's remains, he should forgive himself too.
With that business concluded, Yrra returned to Zamaron just in time to defend it against an attack from the Sinestro Corps, who had come to retrieve their captured female members. Even though she was originally one of them, she had already been converted by the Star Sapphire Corps, unlike many of the others.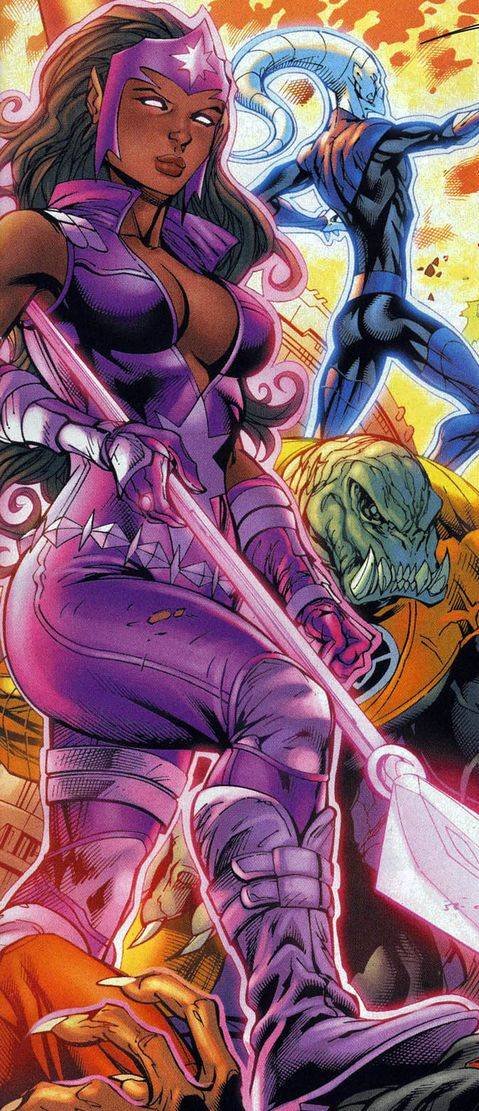 The battle on Zamaron between Yrra's Star Sapphire Corps and Sinestro and his Corps was cut short, with the onset of Blackest Night.
Yrra and the Zamarons fled Zamaron after the lovers who had powered their battery were converted into Black Lanterns.
Yrra ended up joining a coalition of lanterns from different corps, that included Kilowog and John Stewart of the Green Lantern Corps.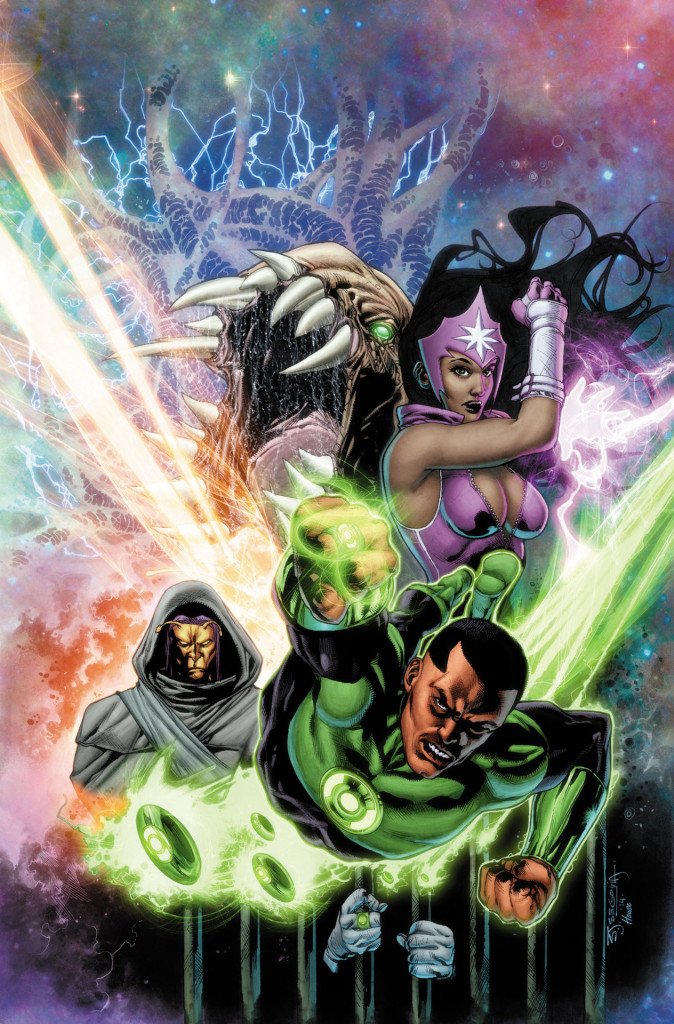 Yrra's dead home-world, Xanshi, was reanimated by a conglomeration of many Black Lantern rings and brought to Earth to attack Coast City, where the final battle in the Blackest Night was taking place.
Her new ad-hock team fought their way to the center of Xanshi to destroy those rings and stop the threat to Earth.
Pieces of Xanshi rained down on Earth and her team and others constructed a latticework of energy constructs to protect Earth from the fallout.
When the Star Sapphire from Sector 22 is murdered, Yrra is sent to confiscate her power ring. When she finally located the power ring, she found that it was in sector 2814 on planet Earth. Once there, she discovered that the power ring was in the possession of Kyle Rayner, and that he had possession of other Lanterns Corps power rings. To her surprise she found Saint Walker, Arkillo, Munk and Bleez there as well. After interrogating Kyle, the group headed to Oa and later to Okaara, in search of answers before being forced to confront Invictus. Yrra would continue working with the group for a short while until the events of Wrath of the First Lantern forced them to split, to help protect their fellow corps.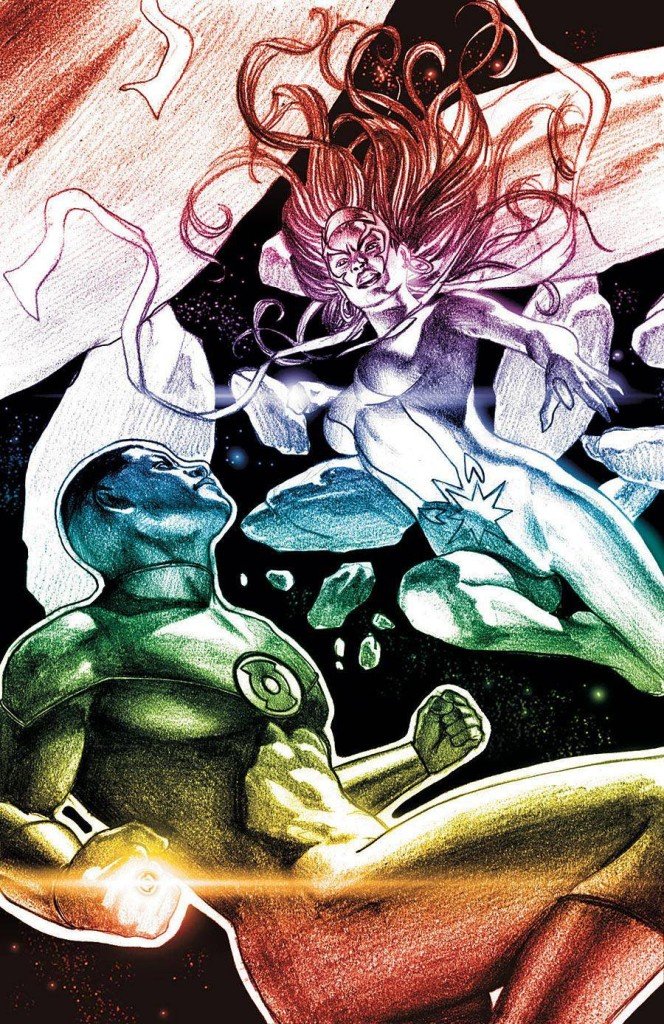 Following her departure from the New Guardians, Yrra has been perusing her relationship with Green Lantern John Stewart, basically acting as his partner.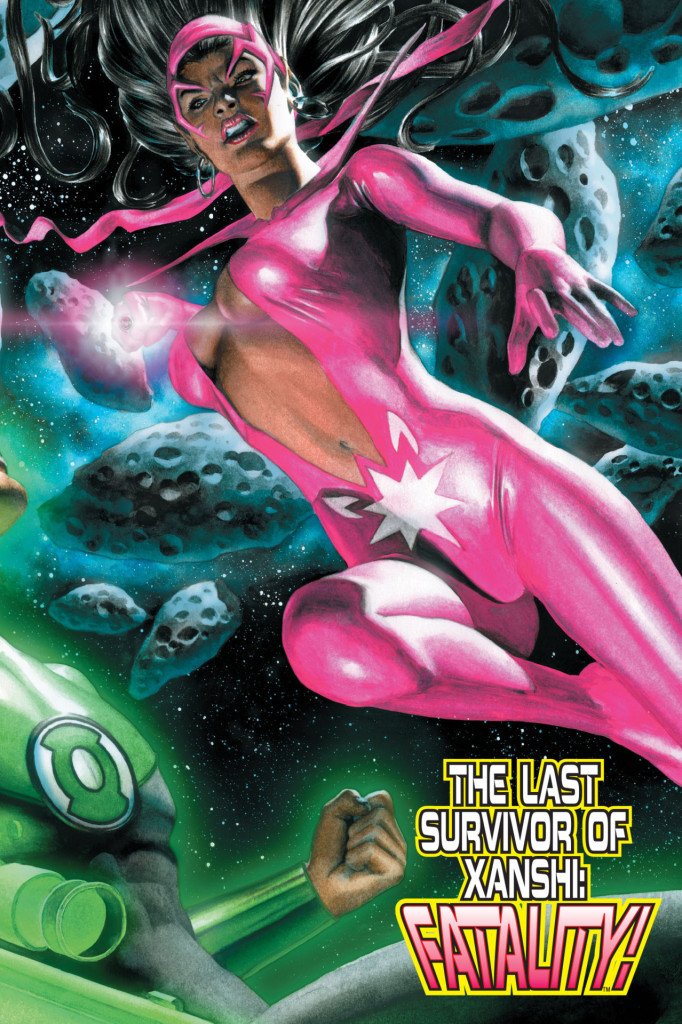 After her campaign to rid the universe of Green Lanterns, she eventually discovered that there was only one Green Lantern left in the universe: Kyle Rayner. When she located him, she attempted to ambush him in his civilian life. However, she unaware that his power ring did not have the twenty-four hour time limit before needing to be recharged by a power battery. He was subsequently aided by John Stewart, who revealed that he was the one responsible for the destruction of her planet. However, before she had chance for retribution, she was attacked by an alien creature and was presumed dead when only her arm was found a midst the rubble.
Powers and Abilities:
Flight and Space Travel: She can surround herself in an energy field and fly within a planet's atmosphere or through outer space. In space, she can generate an interstellar space warp to travel between solar systems at great speed.
Energy Blasts, Shields, and Constructs: She can fire energy beams with destructive power, generate energy shields for defense, and create energy constructs that can take the form of anything she can imagine. The power of these is proportional to her ability to tap into and believe in the love within her heart.
Sapphire Crystals: She can surround others in a prison of sapphire crystal to show them what they love most, as well as bring out the love that may be buried in their hearts.
Heart Tethers: A heart tether can bring her to someone she loves or guide her to where love is threatened out among the stars.
Teleportation: She is able to teleport herself and others on an interstellar scale, provided she can harness enough love to power it.
Healing: She can use the power of love to heal even normally fatal wounds. Conceivably, she could also even bring someone back from the dead (as fer fellow Star Sapphire Corpswoman, Miri Riam, did once).
Heart Prophecies: She can use her power to look into someone's heart and show them a vision of their future.
CHARACTER » Fatality appears in 151 issues.
Source: www.comicvine.com/fatality