The Queen is sitting in a beautiful throne chair. Beside her on the table is a great large Bible. She is wearing a royal gown, including the Queen's crown.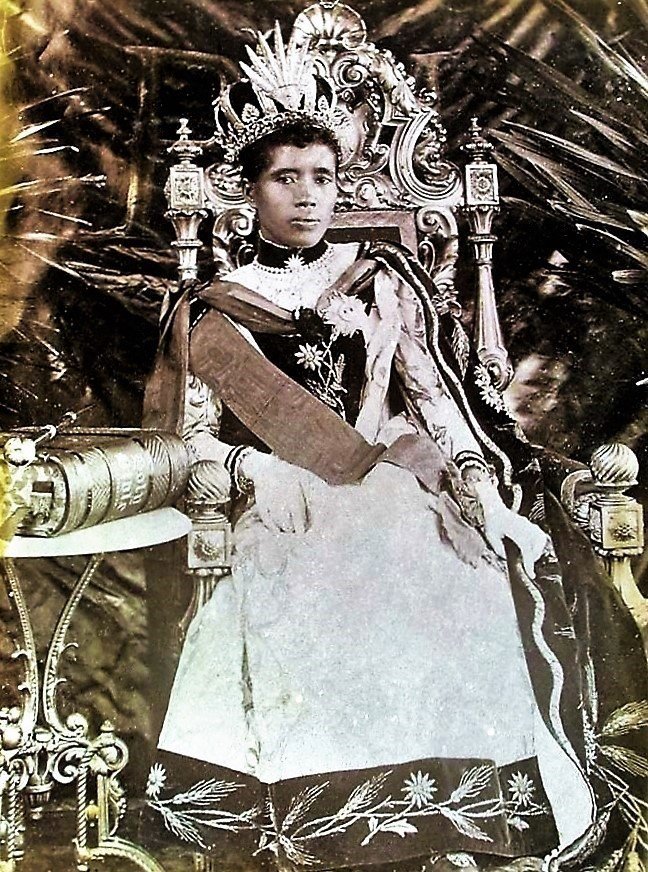 –University of Southern California Libraries
The picture is taken in ca. 1890 in Tananarive.
Ranavalona III was the last sovereign of the Kingdom of Madagascar. She ruled from July 30, 1883 to February 28, 1897 in a reign marked by ongoing and ultimately futile efforts to resist the colonial designs of the government of France.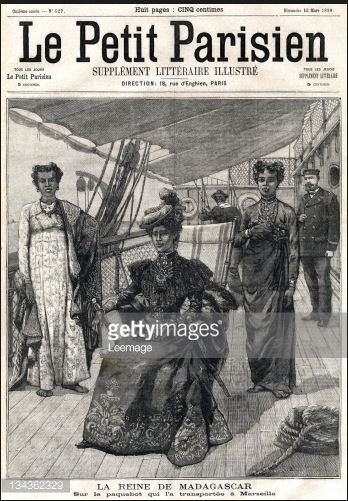 Portrait of Queen Ranavalona III of Madagascar (1861-1917), exiled since 1897, on the ship that took her to Marseilles. Engraving. Frontpage of French newspaper Le Petit Parisien. March 12, 1899. Private Collection.
Crown of Queen Ranavalona III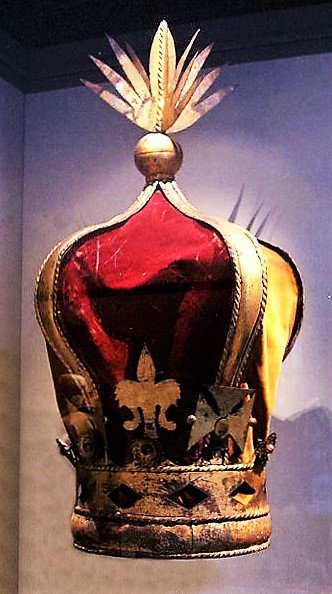 -Musee de l'Armee, Paris, France.
As a young woman, she was selected from among several Andriana qualified to succeed Queen Ranavalona II upon her death. Like both preceding queens, Ranavalona entered a political marriage with a member of the Hova elite named Rainilaiarivony, who in his role as Prime Minister of Madagascar, largely oversaw the day-to-day governance of the kingdom and managed its foreign affairs.
The Queen standing next to the Royal crown and scepter.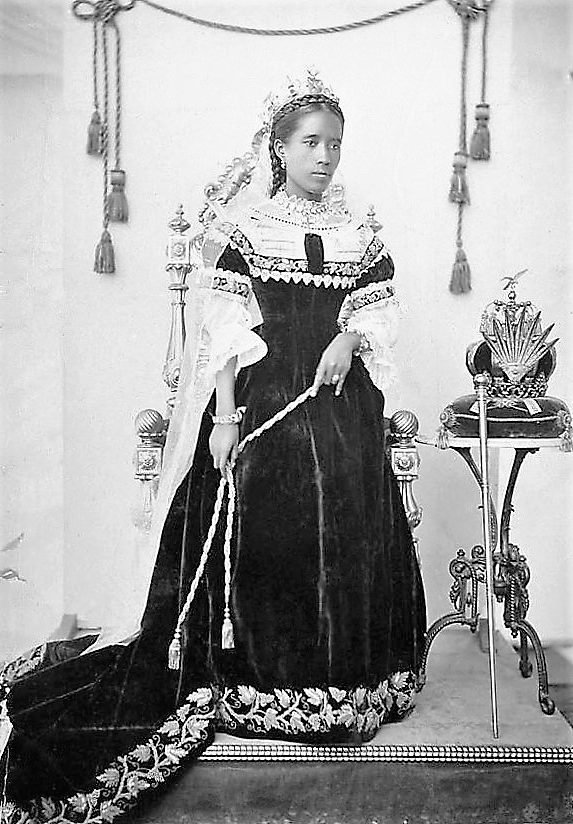 Ranavalona tried to stave off colonization by strengthening trade and diplomatic relations with the United States and Great Britain throughout her reign. French attacks on coastal port towns and an assault on the capital city of Antananarivo ultimately led to the capture of the royal palace in 1895, ending the sovereignty and political autonomy of the century-old kingdom.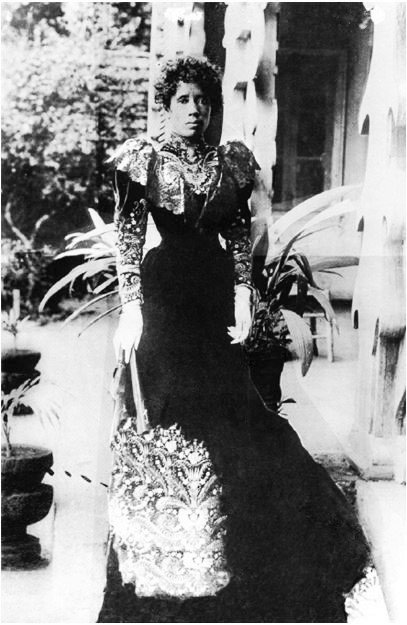 The newly installed French colonial government promptly exiled Rainilaiarivony to Algiers. Ranavalona and her court were initially permitted to remain as symbolic figureheads, but the outbreak of a popular resistance movement – the menalamba rebellion – and discovery of anti-French political intrigues at court led the French to exile the queen to the island of Réunion in 1897. Rainilaiarivony died that same year and shortly thereafter Ranavalona was relocated to a villa in Algiers, along with several members of her family.
Ranavalona's arrival in France for her first official visit, accompanied by her aunt Ramasindrazana and niece Marie-Louise in 1901 (left), and the royal trio in Algiers in 1899 (right)
The queen, her family and the servants accompanying her were provided an allowance and enjoyed a comfortable standard of living including occasional trips to Paris for shopping and sightseeing. Despite Ranavalona's repeated requests, she was never permitted to return home to Madagascar. She died of an embolism at her villa in Algiers in 1917 at the age of 55. Her remains were buried in Algiers but were disinterred 21 years later and shipped to Madagascar, where they were placed within the tomb of Queen Rasoherina on the grounds of the Rova of Antananarivo.
The Queen with niece Marie-Louise at Saint-Germain-en-Laye, in 1905
The Rova of Antananarivo, is a royal palace complex in Antananarivo, former home of the monarchs of Madagascar.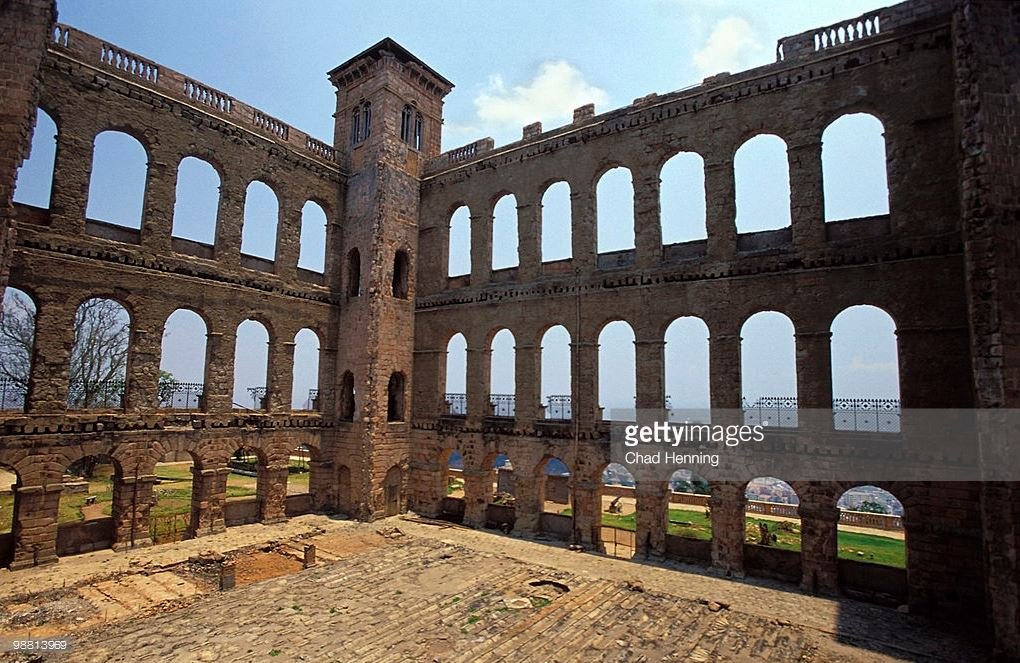 Seven monuments originally occupied the site including the Manjakamiadana ('Queen's Palace' and main structure), Tranovola, Manampisoa, Besakana , Mahitsielafanjaka, a Protestant temple and royal tombs. Queen Ranavalona I commissioned the construction of the Manjakamiadana, which was completed in 1839 by Jean Laborde.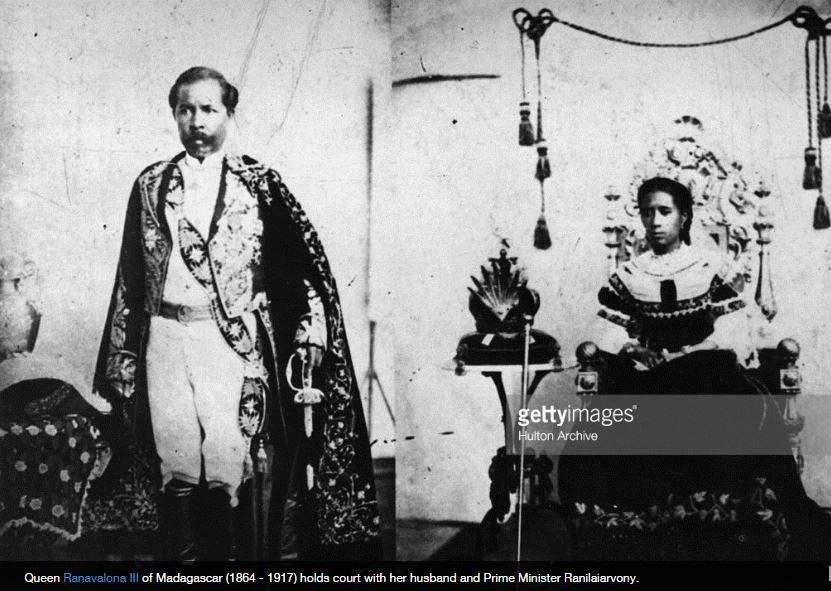 World Map Of Madagascar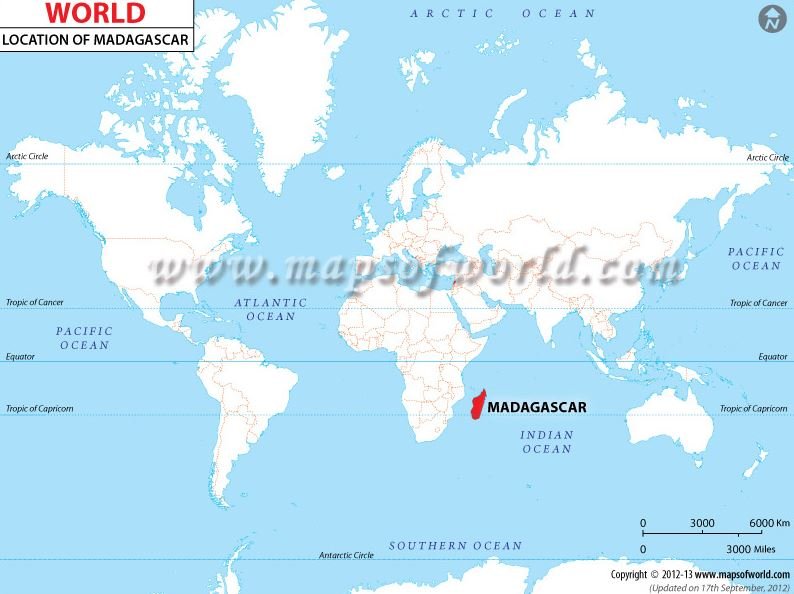 Madagascar is a huge island nation off the southeast coast of Africa. It's home to thousands of animal species, such as lemurs, found nowhere else, plus rainforests, beaches and reefs. Near the busy capital, Antananarivo, is Ambohimanga, a hillside complex of royal palaces and burial grounds, as well as the "Avenue of the Baobabs," a dirt road lined by massive centuries-old trees.
Population: 22.92 million (2013) World Bank
Official languages: French, Malagasy