Watussi Woman is a sublime portrait of a noblewoman in the court of HM Mwami Rudahigwa III, monarch of the Watussi in the territory of Ruanda-Urundi, then part of the Belgian Congo. In an extraordinarily fortuitous development, the identity of the sitter has been confirmed as Emma Bakayishonga in Rwanda in 1942. Famous for her beauty, Emma Bakayishonga was also immortalized in sculpture by the Belgian artist Alphonse Darville. The information is kindly given by her brother, the current monarch, HM Kigeli V.
–Bakayishonga Emma, daughter of King Musinga / Photo Great Lakes April 1950.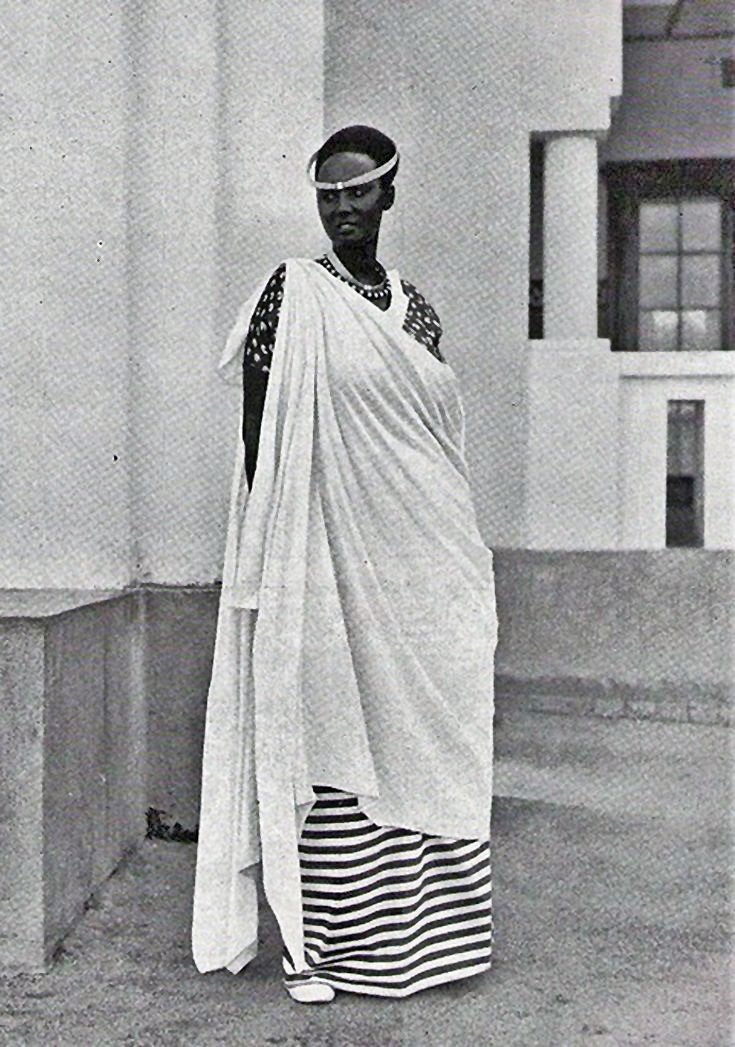 –Princess Emma Bakayishonga, daughter of King (Mwami) Yuhi wa V Musinga and sister of King Mutara III Rudahigwa.
Prior to encountering the people of Rwanda themselves, the artist, a product of her time, was aware of the prevailing colonial mythologies about the feudal Watussi Kingdom. The nobility were portrayed as being exceptionally tall, descendants from Nilotic ancestry, exceptionally beautiful and noble in bearing and unimaginably privileged – aristocrats never being required to walk or work – borne in palanquins by enslaved servants who enabled this life.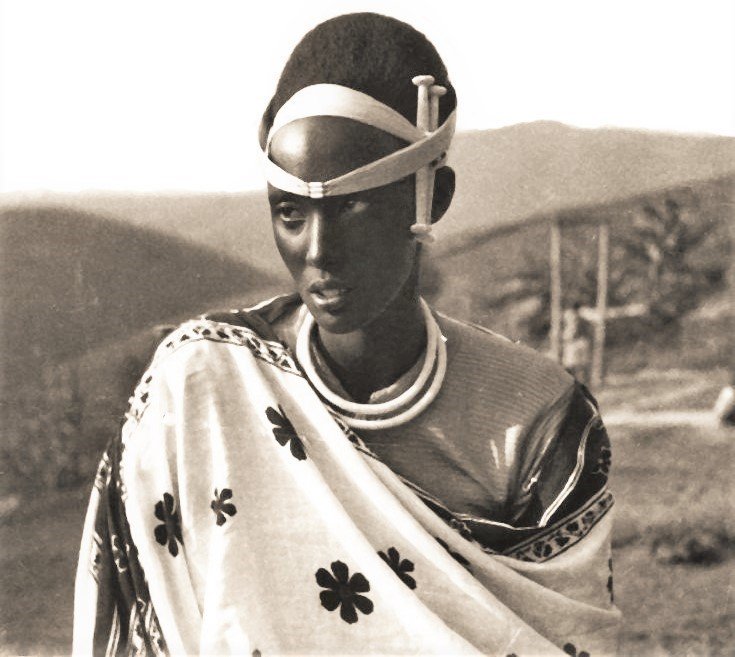 It is exceptionally rare to find portraits identified by name among Stern's African works. One notable exception is the portrait of the Sultan of Zanzibar, Sheik Said Bin Ali El Magheri (1939), in a private collection. Recent research into the back stories of some notable work from her period in Rwanda has revealed the identity of members of the Watussi royal family. This is further confirmed by the recorded archives of the colonial history of the Watussi dynasty and its transformation during the period of occupation by another royal dynasty – that of Leopold and thence Baudoin, of Belgium. Thus pivotal new information re-frames her work from this period to one containing historical significance and additionally presenting evidence for the artist's sympathetic engagement with real individuals, rather than idealized types. It also emphasizes the point that Irma Stern's accounts can be verified and they were not unduly exaggerated or embellished.
On 8 July 1942, Stern wrote to her friends Richard and Freda Feldman from Astrida (now present-day Butare in Rwanda): "I am here since about 10 days or so – have seen two dances of the Watussi – this is the Watussi country. I have painted the dancers and after that – the slave musicians…I intend staying here till July 21 – then I go to a nearby place called Kigali where there will take place a huge Watussi dance – lasting two days…I am expecting a Watussi lady in tomorrow. They are grand – they do not walk or work – they are nobility – the rest are slaves to them. They are carried about in litters by four men. It is very quaint."
Natural & Beautiful Elongated Skulls of Africans and African descendants found in 2016?
The Nile River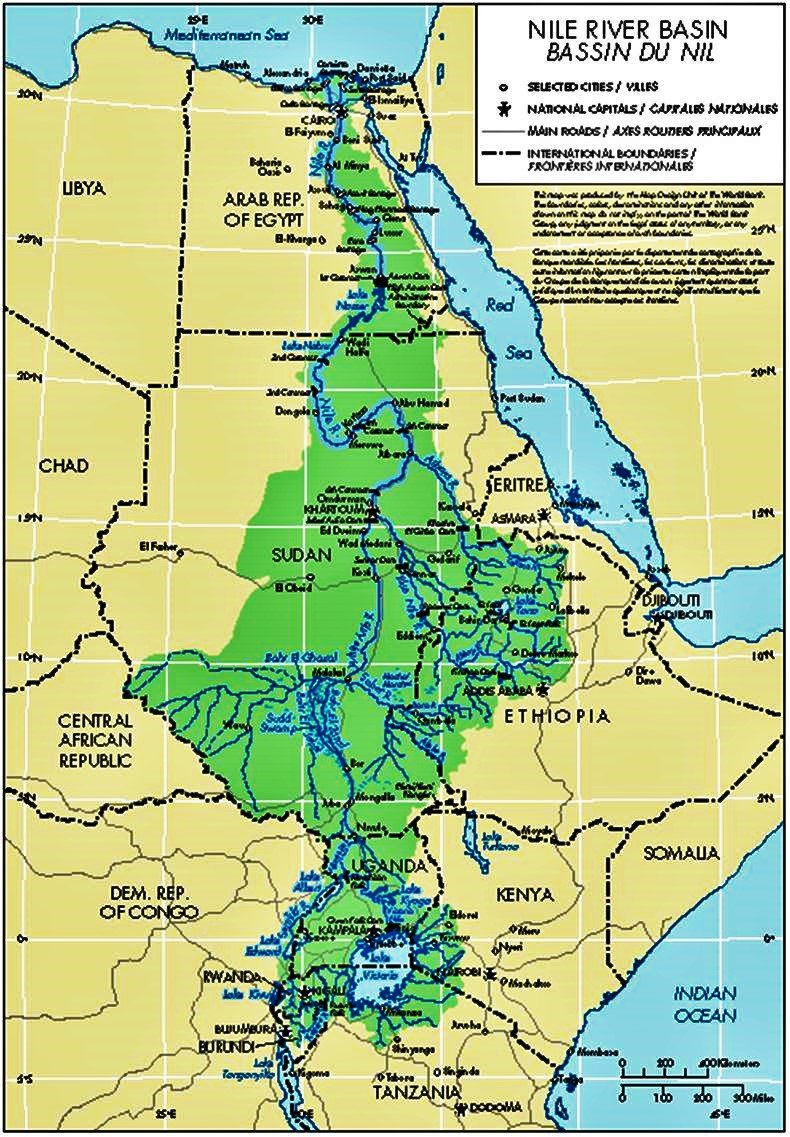 -The Nile River is an international river that flows through 11 countries that include Rwanda, Burundi, Tanzania, Uganda, Democratic Republic of Congo, Kenya, Ethiopia, Eritrea, South Sudan, Sudan and Egypt.
Irma was extremely excited and enthusiastic about finding Watussi subjects to paint. Indeed this was pivotal to her Congo trip and the area of her main focus:
"I painted the king and the queen and the queen mother of the Watussi. Their movements were dignified beauty, their features – long necked, long faced – were exquisite, a beautiful and timeless majesty. Here I had found as I thought, the quintessential of beauty."
Renewed interest in her Rwanda portraits have doubtlessly been stimulated by the tragedy that befell Rwanda from 1994. Queen Rosalie Gicanda, exquisitely portrayed as the young wife of Rudahigwa in the charcoal drawing entitled Rwandan Queen (1942) in the Permanent Collection of the Iziko South African National Gallery in Cape Town, was tragically one of the first victims of the genocide in 1994 at the advanced age of 80 years. A superb matching charcoal portrait of her husband, HM Mwami Rudahigwa (1942), now in a private collection, shows the king wearing a ceremonial headdress of beadwork and white plumes. Rudahigwa died suddenly at the height of his power in 1959 of suspected poisoning by the Belgian administration. This precipitated a political crisis for Rwanda, briefly relieved by the succession of his younger brother HM Kigeli V whose rule was short lived when in 1962, he went into exile in the USA.
Read More> Bonhams : Irma Stern (South African, 1894-1966) 'Watussi …
Irma Stern's $2.4m Watussi Woman artwork returns to auction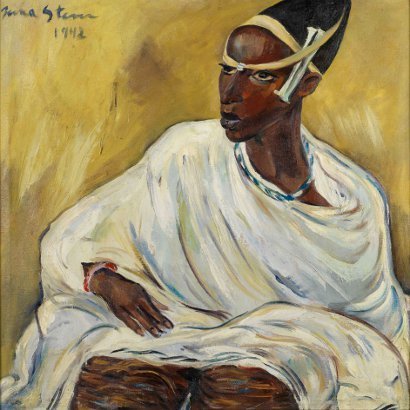 The stunning 1942 work will head Bonhams' upcoming South African art sale in London
A rarely seen Irma Stern work, Watussi Woman, is expected to star at Bonhams' South African art sale in London on October 25 and 26.
Stern produced the oil on canvas in 1942 when, at the height of her artistic abilities, she travelled to the Belgian Congo to seek inspiration for her craft.
The work depicts Emma Bakayishonga, the sister of the Watussi king Mutara III Rudahigwa, and is expected to achieve between 1m and 1.5m.
In her journal, Stern details her fascination for the painting's subject.
"She purses her lips as the Egyptians did," she writes.
"From beneath her long flowing robe her bare foot emerges. Never have I seen such beauty; it is like the black basalt foot of an Egyptian statue. It is expressive of a highly-bred cultured ancient race."
justcollecting.com/miscellania/at-last-irma-sterns-2-4m-watussi-woman-artwork-returns-to-auction