This book might come as a surprise for non-specialists, since black Africans are identified with slave trade to the Americas, while the Renaissance is regarded as a purely European phenomenon, centred on a largely homogeneous ethnicity. Neither of these assertions is true, and this excellent book helps to deconstruct such historical stereotypes. Europe received black Africans regularly and in significant numbers from the mid-fifteenth century onwards. The Mediterranean was a cross-cultural and inter-ethnic space even before Classical Greece. The Renaissance reflected not only the rediscovery of classical culture, but also the influx of techniques and ideas brought by the Arabs. Intercontinental navigation revealed simultaneous processes of cultural renovation, which helped to reshape Europe.
Starting bid: $95,000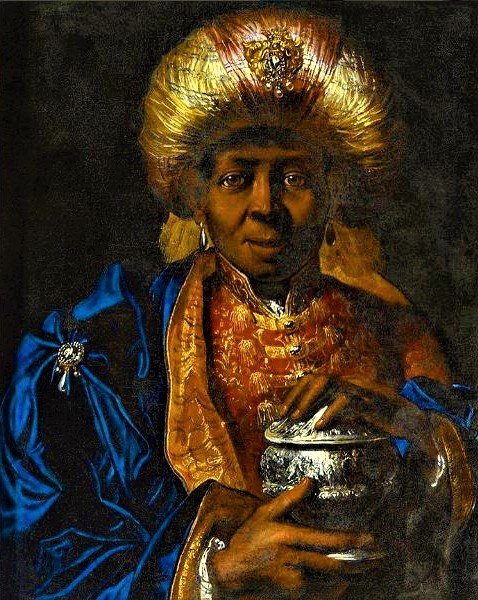 –Jacques-Albert Gérin, The Magus Balthazar, circa 1679. Oil on canvas; France
Description: oil on original canvas
Provenance: Private collection, France.
Dimensions: 34 3/4 by 27 1/4 in.; 88.3 by 69.2 cm.
Medium: oil on original canvas
–invaluable.com/auction-lot/jacques-albert-gerin-the-magus-balthazar
Accepted Forms of Payment:
Personal Check, Visa, Other, MasterCard, American Express, Wire Transfer, Money Order / Cashiers Check, COD (cash on delivery)
THE MAGUS BALTHAZAR STATUE 
South Netherlandish, probably 16th century
Gilt and polychromed walnut
183.5cm., 72¼in. overall.
PROPERTY FROM THE COLLECTION OF THE LATE GERARD LOMMEN
Estimate 12,000 — 18,000 GBP
LOT SOLD. 15,000 GBP

The present figure is likely to stem from an ensemble arranged on pillars much like the Magi in the Church of St. Andrew in Ochsenfurt from the late 15th century and the Jesuit church in Constance from circa 1585 (see Pinder, op.cit., and Die Renaissance…, op.cit.).
Stylistically the figure presents a conundrum. The execution of the shoes and the general composition compare best to late Gothic carvings such as the Ochsenfurt Balthazar and another in the Suermondt-Ludwig-Museum in Aachen (inv. no. SK 276). However, the arabesques with which the drapery's borders are decorated suggest a later date.
–sothebys.com/en/auctions/ecatalogue/2013/european-sculpture-works-of-art