Breviary of Marie de Saint Pol
The Breviary of Marie de Saint Pol is an illuminated prayer book, made in Paris c. 1330-1340. It was commissioned by Marie de Saint Pol, Countess of Pembroke (c. 1304-1377). Marie founded the Hall of Valence Mary in Cambridge in 1347, now better known as Pembroke College.
She also founded the Franciscan abbey of nuns at Denny, near Cambridge in 1342 and was buried there. It is possible that this book was commissioned for Denny, or that it was given to the abbey before Marie's death. Alternatively, it may be the breviary mentioned in Marie's will which she bequeathed to Emma de Beauchamp, abbess of the Franciscan abbey of nuns at Bruisyard in Suffolk.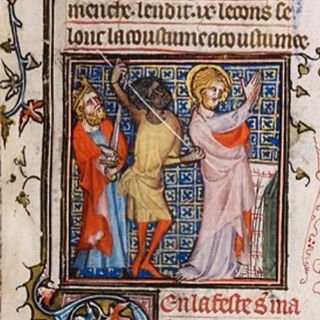 A breviary contains the prayers, hymns, psalms and readings for everyday liturgical use. This is the second volume of a two-volume work; the first volume is not known. It contains the summer and autumn offices of the Franciscan use from Pentecost until the week before the start of Advent.
It includes thirty-nine illuminated miniatures as well as decorated borders and grotesques in the margins. All are the work of a single artist who has been identified as Mahiet, a professional illustrator who worked in Paris in the second quarter of the fourteenth century.
–More facts less fiction