I have a love affair with knee high & thigh high boots. Who knows… maybe it's instinctual since the British & French aristocrats are well known to wear them in the past to our present time by the fashionistas.
Boots have been used also by riders for millennia, they were used by knights. As a consequence, albeit not common, boots came to be used as charges in heraldry.
Jewel embellished cross, thigh-high leather boots. The embellished cross made its appearance on the Gianni Versace's FW 1991 collection.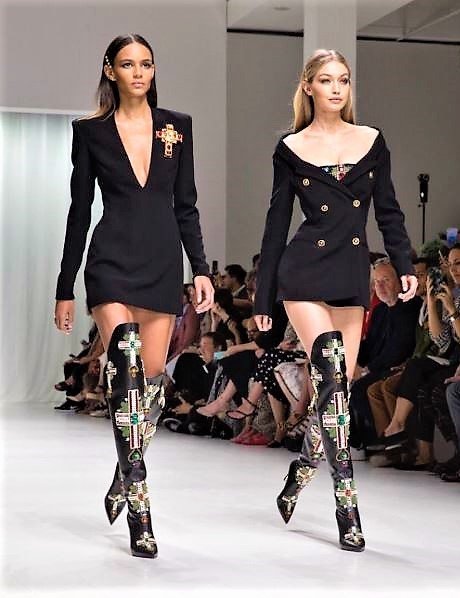 –Photo by Kevin Tachman
"This collection is a Tribute to the life and works of Gianni.
We pay homage to not only his artistic genius but to who he was as a man, and above all, as my brother.
Thanks for sharing this great collection!
Gianni was an exceptional person for how he celebrated each day as though it were extraordinary and for how he always approached life with a smile on his lips.
Each year Gianni lived, he lived to its fullest: throughout his career, he created collections that to this day are considered a cultural point of reference and inspiration to many.

It would be impossible to commemorate Gianni's entire world in a single collection, therefore, I have decided to honor his legacy with his beloved prints and dazzling metal mesh.
This collection is for you, Gianni." Donatella Versace