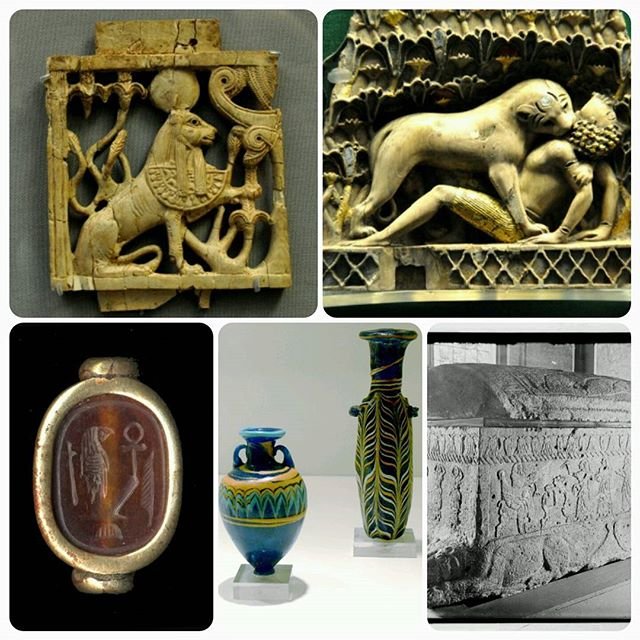 Their major trade routes were by sea to the Greek islands, across southern Europe, down the Atlantic coast of Africa, and up to ancient Britain. In addition, Arabia and India were reached via the Red Sea, and vast areas of Western Asia were connected to the homeland via land routes where goods were transported by caravan.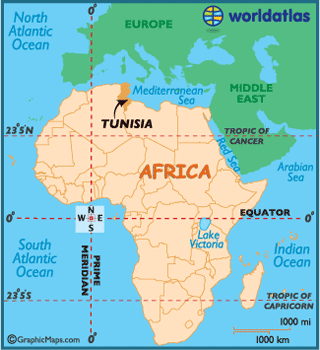 By the 9th century BCE, the Phoenicians had established themselves as one of the greatest trading powers in the ancient world.
The Phoenicians, based on a narrow coastal strip of the Levant, put their excellent seafaring skills to good use and created a network of colonies and trade centers across the ancient Mediterranean.
**(Article by Mark Cartwright) http://www.ancient.eu/article/881/
GREEK COINS, ISLAND OF LESBOS, Twelfth, billon, about 520-480 B.C. Bi 0.90 g. Head of an African l. Rev. Four-part incuse square. SNG Cop. 295. Very rare. Short, globular flan.
–icollector
Etruria, Populonia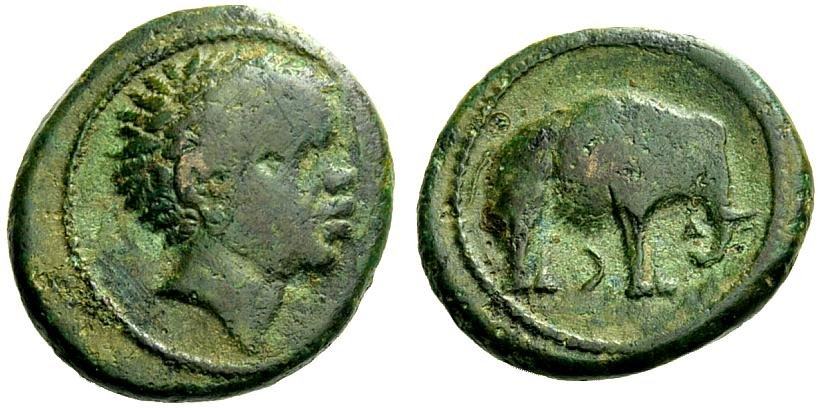 Bronze 3rd century BC, 5.55 g. Negro head r. Rev. Elephant r. SNG ANS 36. Historia Numorum Italy 69. Green patina and very fine From the Giancarlo Silingardi collection. This coin is sold with an export licence issued by the Republic of Italy.
Etruscans, Malta and the Phoenicians in North Africa?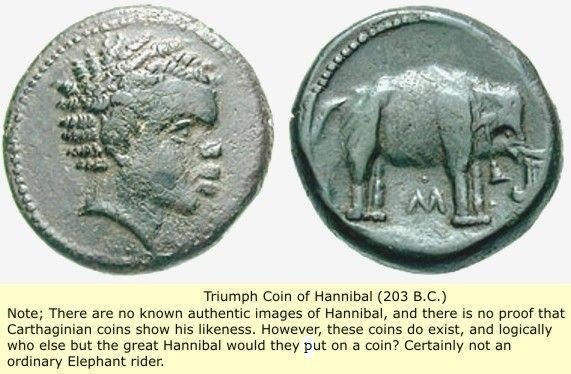 Curious looking Phoenician coins, scarab or jems?
Why were these images found in Europe so long ago?
Were Ancient Africans hired as part of the Phoenician fleet?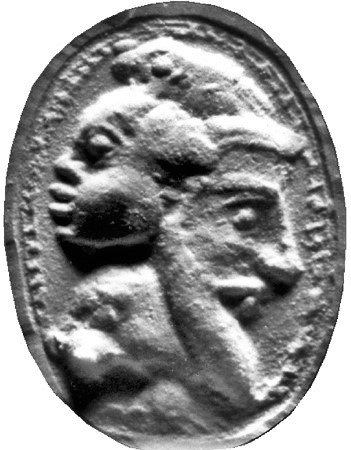 Ibiza no. 99 (Barcelona 9288). BH. Bearded head; above, lion head; behind, negro head and lion (?) head. II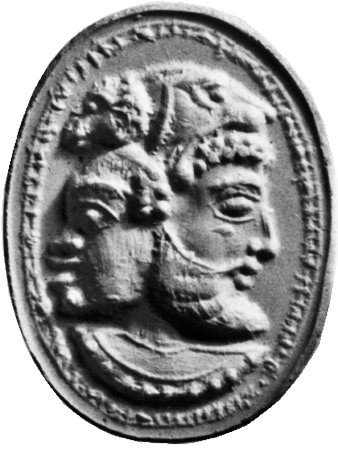 Ibiza no. 98. BH. Janiform bearded and negro heads, with patterned collar; above, ram and lion heads.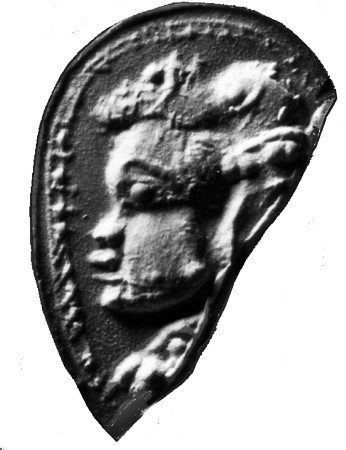 Ibiza no. 101 (Moreno 6). Fragment. BH. Janiform negro and bearded heads; above, cock head (?); below, lion head. III
Madrid no. no. BH. Negro head; lion head and ram head above; the main head, with hatched collar, is missing.
Cagliari 19872 (Busacchi, BAS 10, 91), from Tharros. OrAnt 18 (1979) pl. 17b. BH; on gold hoop C. Janiform negro heads, boar heads, lion heads; centrally, facing bearded bald head.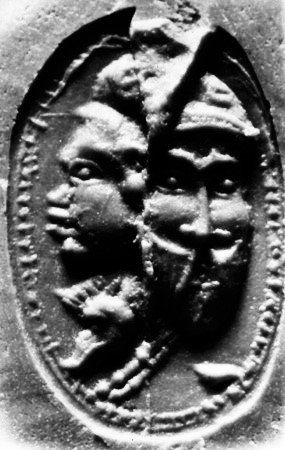 Tharros pl. 59e (BM ANE 133440), London no. 407. BH;PB. Facing bearded head; negro head to one side over a boar forepart.
Tharros pl. 60a (BM ANE 133360), London no. 427; LRings no. 292. Hölbl, Sard no. 164. BH;PB; on a gold hoop, splaying A. Small frontal Bes head with negro head at either side; below, a bird, with a lion forepart at one side, at the other, lion and ram heads.
Oxford III, no. 490 (Fortnum G 20), from Tharros. BH;PB. Janiform bearded head and negro head; above, lion and ram heads; below, cavetto base?
An actual Phoenician bust below from the Phoenicians period in Spain.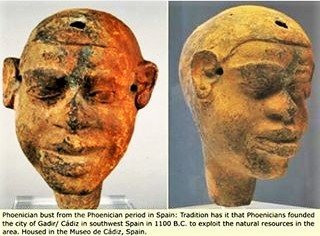 Source> museosdeandalucia.es/cultura/museos
English Translation:
Intercultural tries to relate the different cultural groups and involves conprensión of difference as an enriching factor in a multicultural society.
Cadiz Prehistoric, Phoenician, Roman and Arabic will be interpreted in the context of Cultures present on both shores of the Mediterranean. From Portugal to Sidon through Spain, France, Italy, etc., to Morocco, Algeria, Tunisia and Tiro, who once shared a common culture. students will show that every society is multicultural and is configured by a succession of cultural interactions. Many cultural events are considered today as our own and we are proud had a Phoenician origin, Roman, Arabic, etc.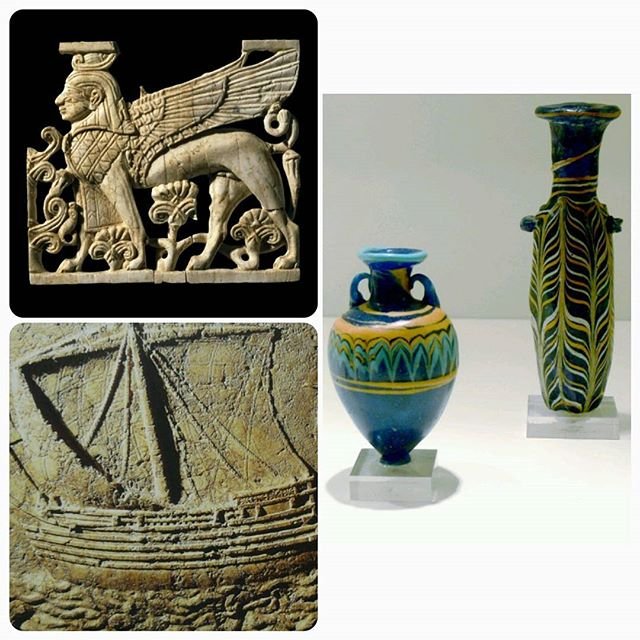 The art of the ancient Phoenicians, which flourished between the 19th and 4th centuries BCE, was exported throughout Mesopotamia and the ancient Mediterranean. Best known for their work on small decorative objects, Phoenician artists skillfully blended influences from neighboring cultures to produce a unique artistic heritage that has only relatively recently been brought out of the shadow of a wider Syrian art history. ** (Article by Mark Cartwright || Photos by Osama S.M. Amin and The British Museum) ancient.eu/Phoenician_Art/
– Ancient History Encyclopedia
Who Were the Phoenicians? – National Geographic Magazine
On the coast of modern-day Tunisia flourished the great port city of Carthage: the magnificent capital of a superpower that rivaled Ancient Rome.
Carthage, a remarkable city-state that dominated the Mediterranean for over 600 years, harnessed their extensive resources to develop some of the ancient world's most groundbreaking technology. For generations, Carthage defined power, strength and ingenuity, but by the third century B.C., the empire's existence was threatened by another emerging superpower, Rome. However, when the Romans engineered their empire, they were only following the lead of the Carthaginians. From the city's grand harbor to the rise of one of history's greatest generals — Hannibal Barca — we will examine the architecture and infrastructure that enabled the rise and fall of the Carthaginian Empire.
Bardo National Museum Website: http://goo.gl/wTHhfl
Carthage National Museum: http://en.wikipedia.org/wiki/Carthage…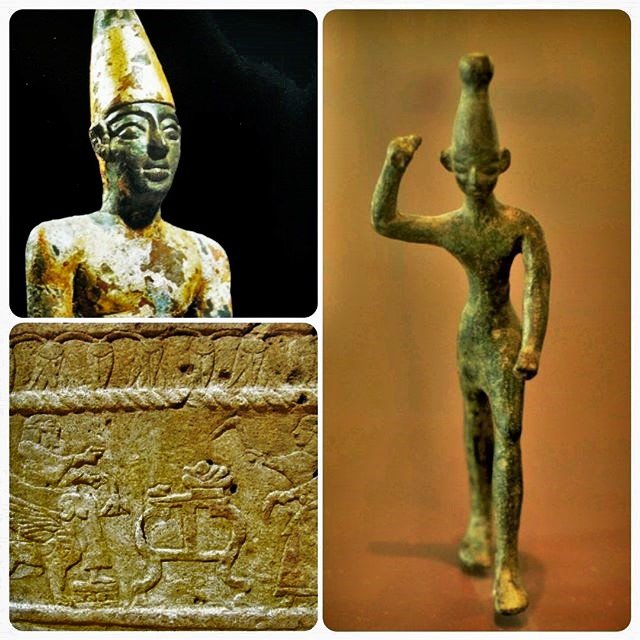 The Phoenician Religion, as in many other ancient cultures, was an inseparable part of everyday life. Gods such as Baal, Astarte, and Melqart had temples built in their name, offerings and sacrifices were regularly made to them, royalty performed as their high priests, and even ships carried their representations. Influenced by their predecessors and neighbours, the Phoenicians would spread their beliefs around the Mediterranean wherever they traded and established colonies, and their religion would continue to evolve and be perpetuated by their greatest colony of all, Carthage. ** (Article by Mark Cartwright) ancient.eu/Phoenician_Religion/
–www.famous-historic-buildings.org.uk
Carthage, a seaside suburb of Tunisia's capital, Tunis, is known for its Punic and Roman archaeological sites. It was the seat of the powerful Carthaginian Empire, which fell to Rome in the 2nd century B.C.E. Today it retains a scattered collection of ancient baths, theaters, villas and other ruins, many with sweeping views of the Gulf of Tunis.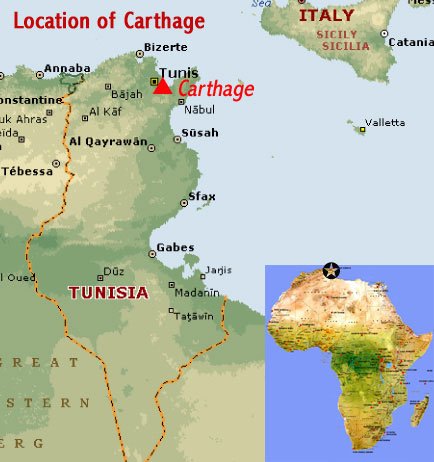 Transatlantic crossing: Did Phoenicians beat Columbus by 2000 years …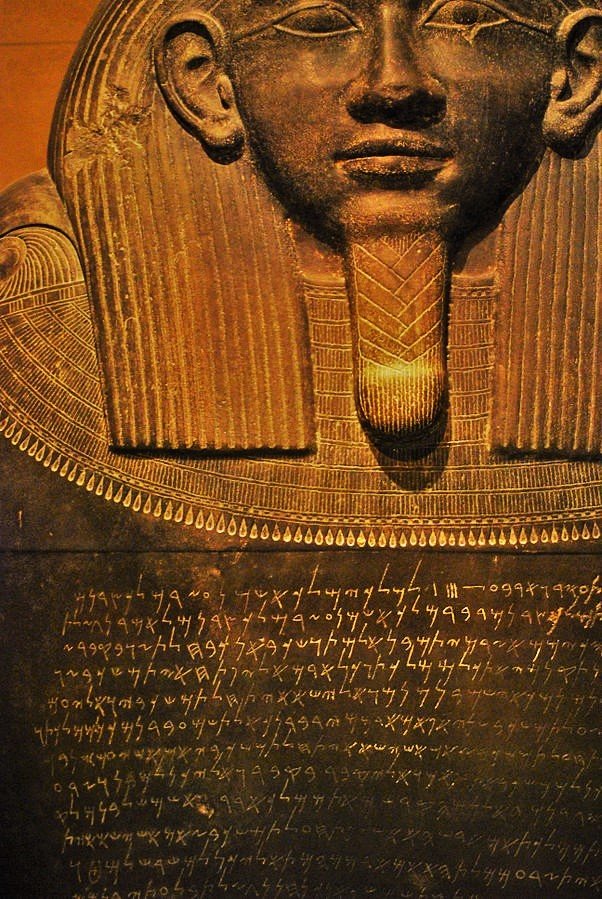 Sarcophagus of Eshmunazor II, Phoenician King of Sidon found near Sidon, in southern Lebanon.
There are other ancient alternative theories or facts?
Controversial Website> journeytothesource.info/carthage
The information contained on this site is intended for educational purposes only.
"Copyright Disclaimer Under Section 107 of the Copyright Act 1976, allowance is made for "fair use" for purposes such as criticism, comment, news reporting, teaching, scholarship, and research. Fair use is a use permitted by copyright statute that might otherwise be infringing. Non-profit, educational or personal use tips the balance in favor of fair use.