The daughter of a sheikh from the African Sudan
Princess Kouka arrives in London, 1937. After starring in the Jericho movie with Paul Robeson, she was in several Egyptian films and went by simply as Kouka.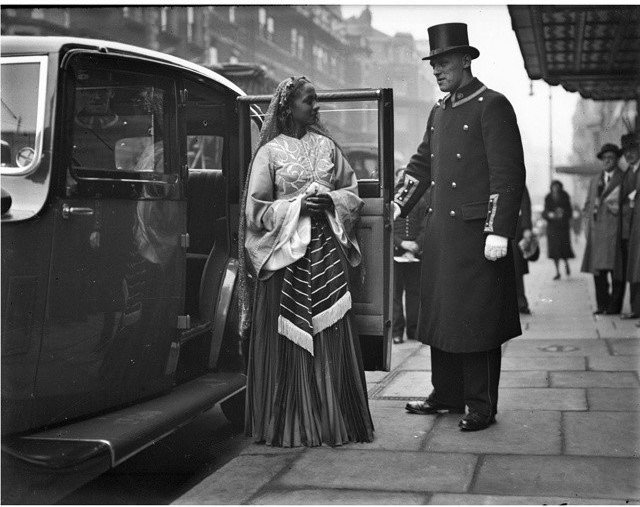 She played a character named "Gara" in a movie with Paul Robeson. It was released in 1937 and called "Jericho" (also alternatively titled "Dark Sands")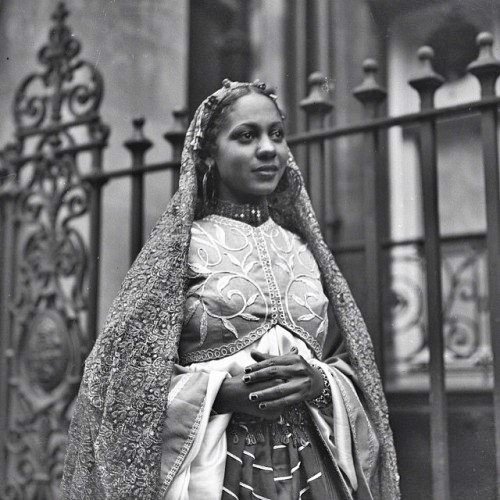 Princess Kouka born March of 1917
She is obviously a beautiful woman, and she must have been talented to have somehow made it from Sudan to the British movie industry in the 1930s.
–Flashback Summer: International Vintage: Princess Kouka of Sudan
The caption under the newspaper snippet says: "Photo of 22-year-old Princess Kouka who is the daughter of a sheik in the African Sudan.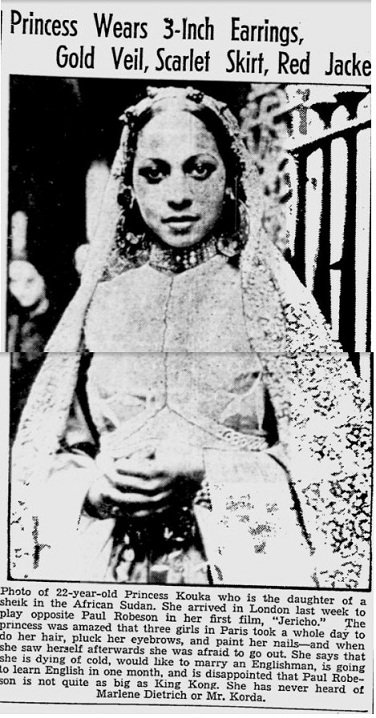 She arrived in London last week to play opposite Paul Robeson in her first film, "Jericho." The princess was amazed that three girls in Paris took a whole day to do her hair, pluck her eyebrows, and paint her nails– and when she saw herself afterwards she was afraid to go out. She says that she is dying of cold, would like to marry an Englishman, is going to learn English in one month, and is disappointed that Paul Robertson is not quite as big as King Kong. She has never heard of Marlene Dietrich or Mr. Korda."
Read & click on the original news paper article about Princess Kouka below
https://news.google.com/newspapers?nid=2211&dat=19370109&id=-PwmAAAAIBAJ&sjid=GwMGAAAAIBAJ&pg=6783,4999813&hl=en
a list of movies she starred in below
–http://www.imdb.com/name/nm0467956/?ref_=ttfc_fc_cl_t5
Some of her movies are readily available with English subtitles, including 1955's "A Glass and a Cigarette," in which she plays the best friend of Samia Gamal's character (the legendary bellydancer). . . . The Kouka and Gamal pairing is really the highlight of the film. The male characters hardly get a word in edgewise, much less manage to own the screen with those two goddesses around!
-Miranda