Nationality: Canadian
Ethnicity: (Dar Es Salaam, Tanzania) African.
Mrs. Paul won CAFA Model Of The Year Award & is new global brand ambassador for Maybelline cosmetics.
She is 5'11 Ft tall fashion model who has walked for Diane von Fürstenberg, Lacoste, Tom Ford, Calvin Klein, Armani, Cavalli and 3.1 Phillip Lim.
  She moved to Ottawa, Canada at the age of 14 due to her mother being a diplomat.
Beautiful in red
She was discovered when she went to an open call at Angie's AMTI, a model agency based in Ottawa, Canada. She signed with Women Management New York in June 2010.
Paul has appeared in editorials for Vogue Italia magazine, i-D, wonderland and Teen Vogue. Paul appeared on a Vogue Italia cover with Arizona Muse and Freja Beha.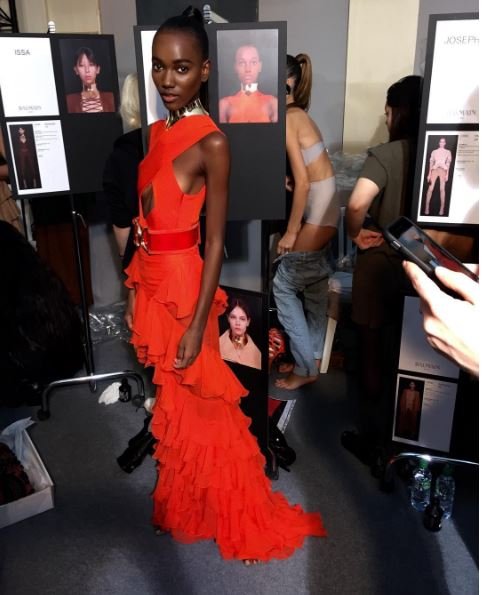 In July 2011 she was the cover model of Canadian Elle. The caption on the cover read: "Naomi Move Over . Why We're Hot For Herieth."
Paul was one of three models in the Tom Ford Fall/Winter 2013 campaign, photographed by Tom Ford. This campaign was named one of the top ten campaigns of Fall 2013 by The Business of Fashion and by Racked.com.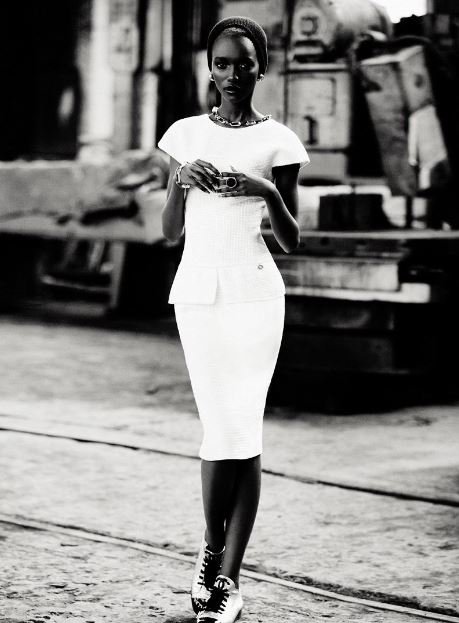 Herieth has appeared in beauty campaigns for cKone and Tom Ford.
Paul's mother, Nsia Paul is a diplomat at the Tanzania High Commission Ottawa.
onakwetu.com/discover-herieth-paul-model-of-the-year-of-the-cafa-awards
It is still a rare occasion that models of color are offered contracts with major cosmetic brands, so when it's happens, it is certainly something to celebrate.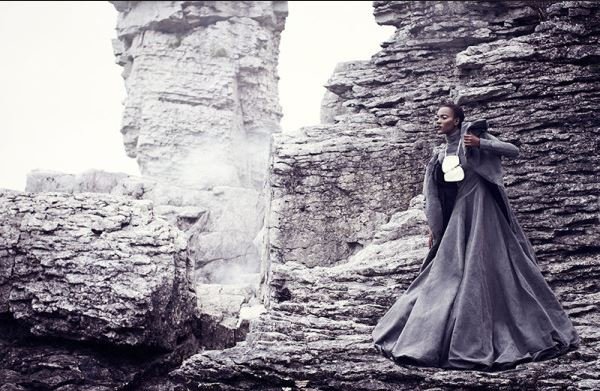 Cult-favorite cosmetic brand, Maybelline New York kicked off Fall 16 Fashion week on a high note with the announcement that the brand has signed on Tanzanian-born supermodel, Herieth Paul as their new global brand ambassador.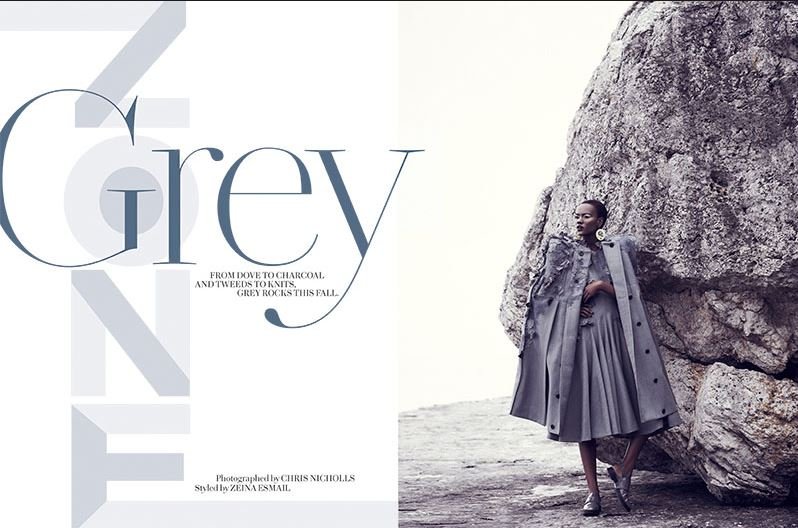 As the newest addition to the Maybelline family, she will be in great company, joining the likes of Jourdann Dunn and a few others.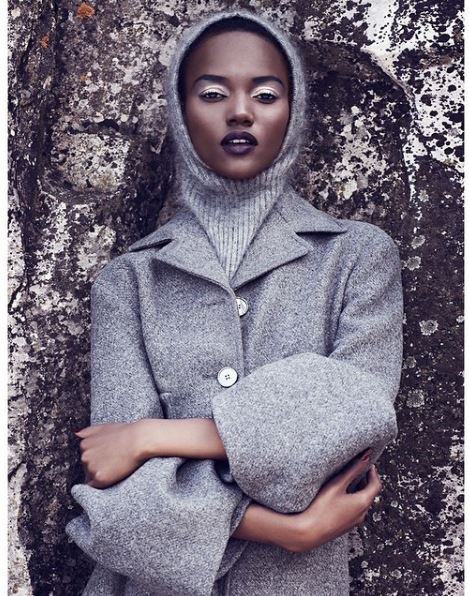 In an Instagram post to announce the partnership, Herieth wrote, "This has been the hardest-kept secret of my entire life and the highlight of my career. I am so honored & excited to announce that I am joining the Maybelline family!!!! I'm so grateful to be named a global spokesmodel for the world's 1 cosmetics brand.
Purple & Blue looks great on darker skin tones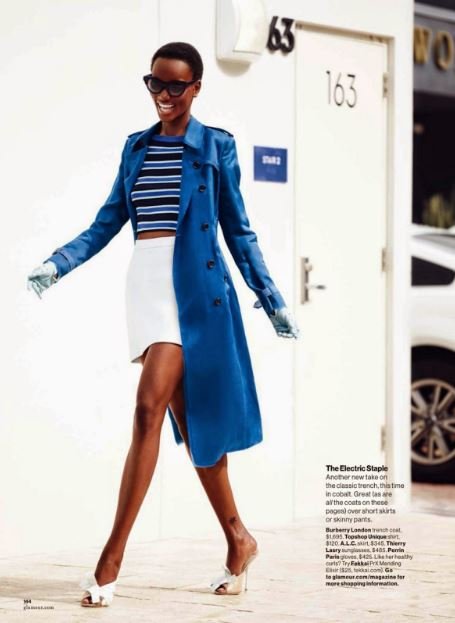 In an interview with CBS news, Paul explained that the joining the Maybelline family is much more than a dream job, it's also an opportunity to change that face of beauty and usher in a new era that include minority models.
"There is a lot of work that needs to be done, beaucse out of 100 percent of models, there are only two percent black, and three percent Asian; so we need to change the numbers," she stated, "I actually got a lot of emails and messages saying you're such an inspiration, you're a black girl, you have short hair, that's not the ideal that society this is beautiful—you have to have blond hair and blue eyes."
–Herieth Paul is the New Face of Maybelline – Essence.com
HERIETH Paul | Women Management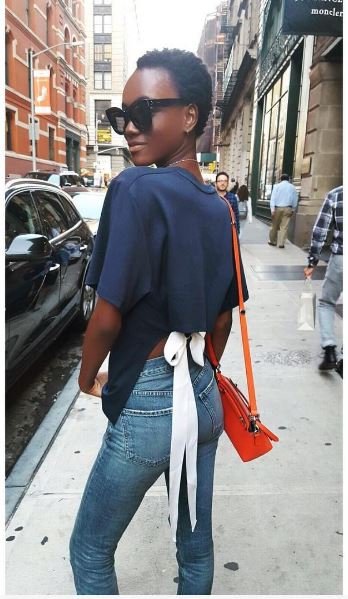 If Herieth Paul is representation of teenagers today, then perhaps the future of the world may not be in such a bad place. She is ambitious, well mannered, thoughtful (she brought me a bag of M&M's) and with a healthy point of view. Surely young people today with that much personality can be a bit ostentatious but being well mannered is the key, then it can be the key to success.
I discovered Herieth in a Thakoon dress that I saw, wanting the dress, I said who is this girl? Called the designer's pr and was given the name and agency, then I saw the recent Diesel ad campaign and said "who's that girl?" I was told "Herieth Paul". Again?

But she is wearing a full afro wig and appeared slightly different. Good legs I noticed. Which is very important to remain competitive and something I notice about a girl of color immediately.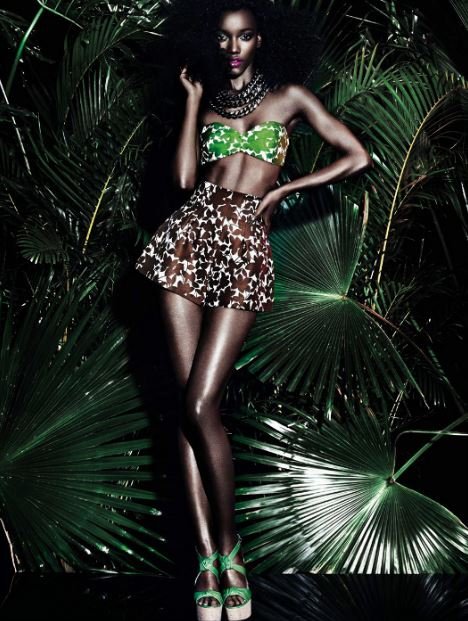 Herieth caught the eye of famed fashion photographer, Steven Meisel and blessed to be photographed by him for Italian Vogue and also he directed her in the CK One tv and ad campaign.
Photographed again for Italian Vogue by KT Auleta. 3 different publications determined Herieth as one of the new models to watch, Black Book magazine, New York Magazine, and Canada's Flare magazine.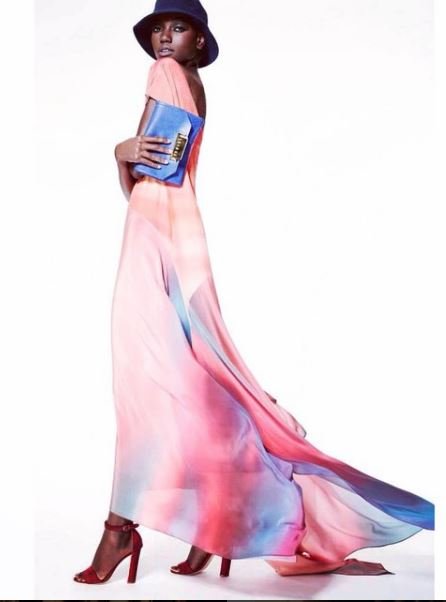 Editorial features also in Teen Vogue by Serge Leblon as well as Paola Kudacki and Dazed and Confused with Richard Burbridge.
Walked in fashion shows for Phillip Lim, LaCoste, Rad Hourani, Diane Von Furstenberg, Preen, Thakoon, Emilio Pucci, Lanvin and Givenchy.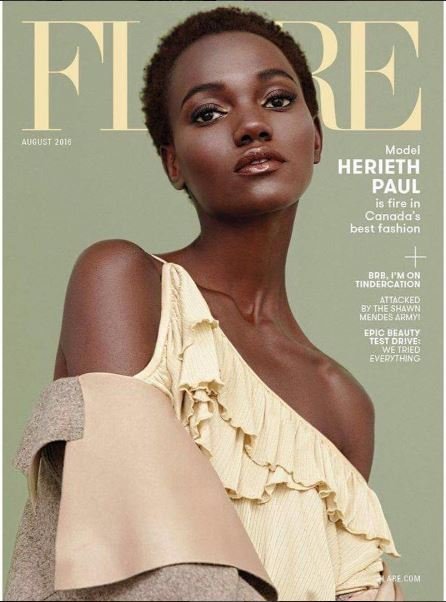 It means a lot when a model opens and closes a show, and she has opened for Rad Hourani and closed for Thakoon.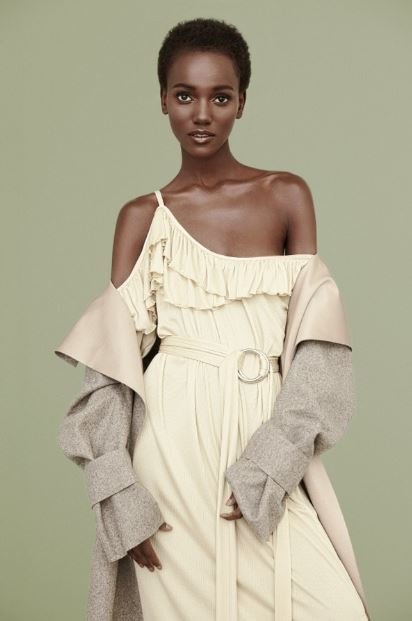 I am happy to add Herieth to this current group of young models who are visually making a difference.
–Herieth Paul – Vogue.it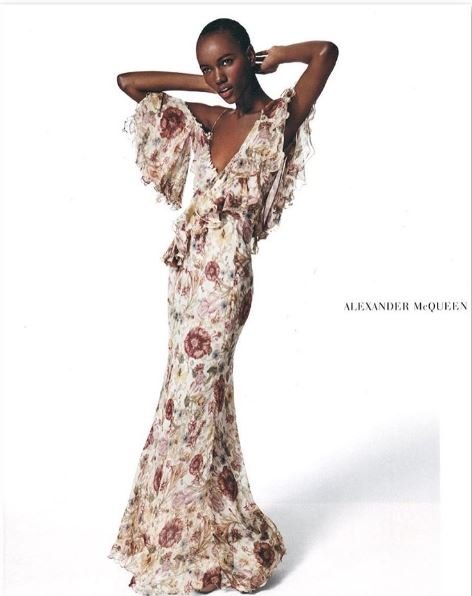 Quick, name your favorite Maybelline girl: Christy? Jourdan? Gigi? Adriana? One thing we can all agree on is that being the face of Maybelline is an incredibly big deal—and a new announcement doesn't come around too often.
The latest to earn the title: the very gorgeous, very lovable Tanzania-born beauty—and *Glamour *favorite!—Herieth Paul. To celebrate the news (and kick off New York Fashion Week), Herieth paid a visit to the Glamour offices to chat about everything from her best DIY skin serum (seriously—she makes one in her kitchen; recipe below) to her philanthropic plans—all while trying on the latest Maybelline lipstick shades. Listen in.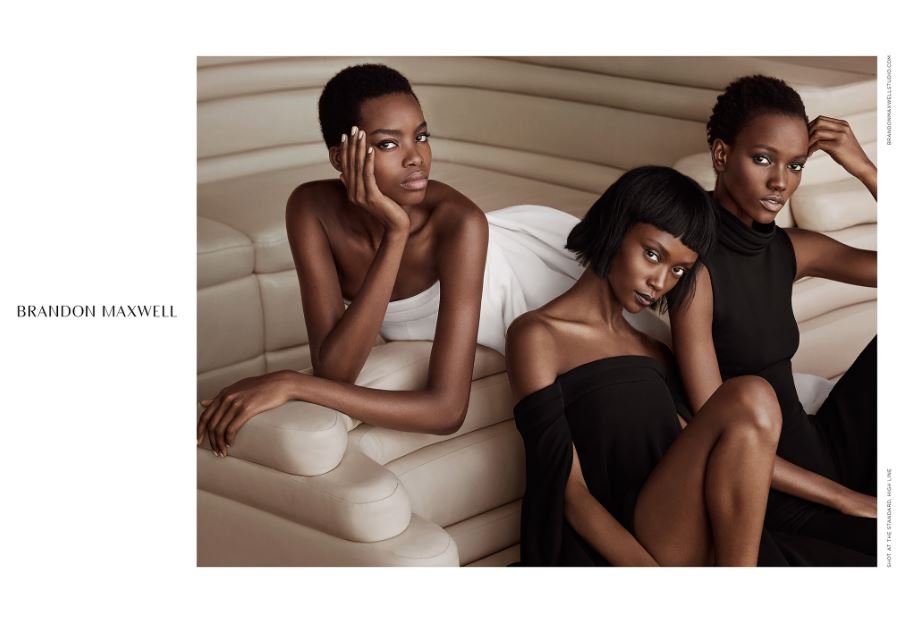 Who's your favorite Maybelline girl?
Herieth Paul: I can't decide—it's between Christy Turlington and Jourdan Dunn. Christy is such a strong beautiful woman. She's a mom and she helps charities—she's just an icon. Jourdan is also a mom and is doing her thing to help others.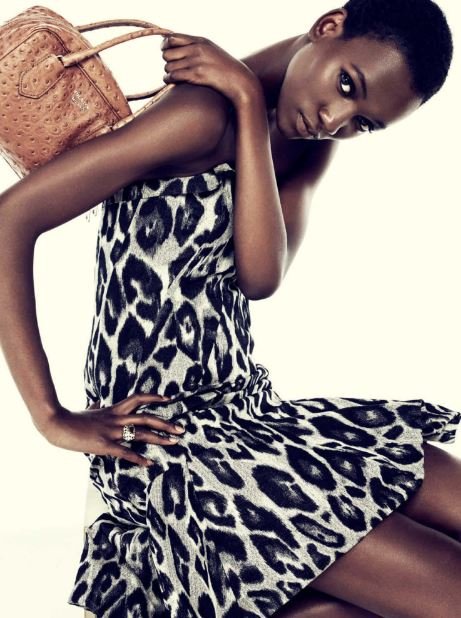 Lipstick: What about your all-time beauty icons?
__HP:__My mom. She has this naturally rosy, peachy color in her cheeks. Her skin is little bit lighter than mine and it comes out when she's blushing or she's cold. It's so beautiful on her; it makes her face look like sunlight. Oh, I also love Beyonce!
Lipstick: You'll get to play with a lot of makeup in your new role. What's your go-to look?
HP: I love a red lip, especially if I'm going out with friends. And a ton of mascara on my top lashes—specifically Maybelline Falsies Push Up Drama Mascara. I bring it everywhere I go. I'll apply five coats because I have really thin lashes, and I have to do a lot to get the look that I like.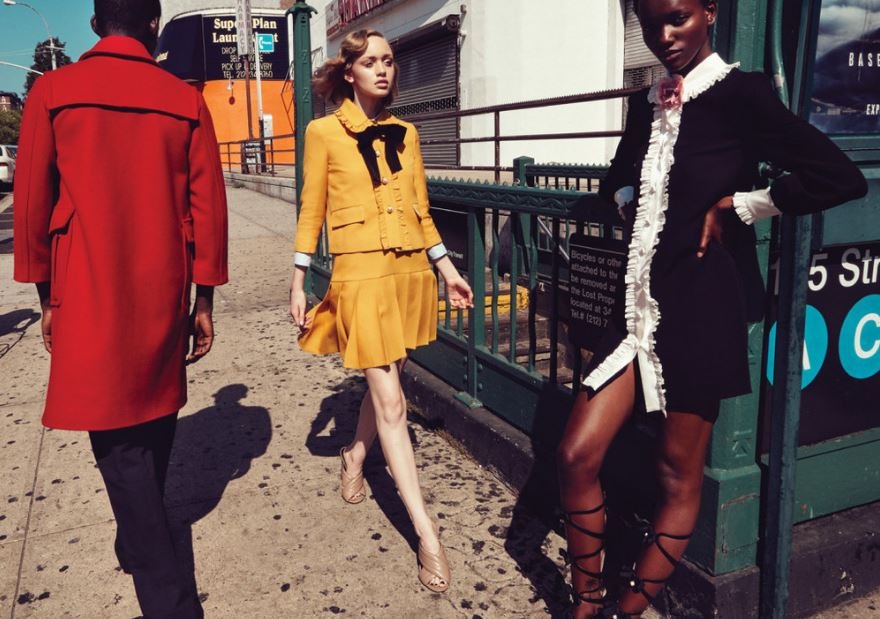 Lipstick: What about your hair—is this short look your signature?
HP: Whenever I go on vacation I like to change up my hair—I'll braid it or get dreads—but my favorite is just keeping it short and curly. I have this olive oil gel—it's called EcoStyler Gel. I buy it at the drugstore, and it's the best thing ever. I use a little bit of it after I wash my hair in the morning. I just rub it in, and that's it!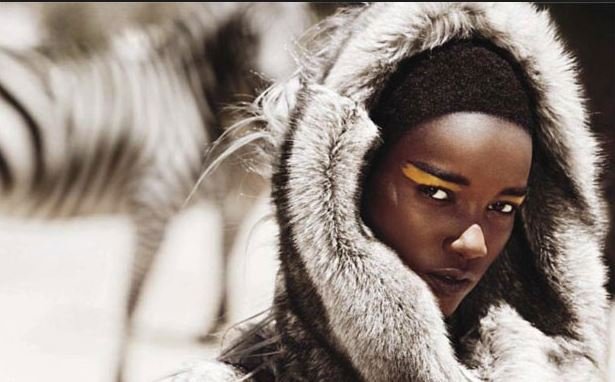 Lipstick: And standout looks from your runway work?
HP: Last season I did the Balmain show, and they styled my hair into a high ponytail. I hadn't seen my hair in a ponytail for so long. They had to straighten it—it took three hours and I had three people straightening it. Then I got this beautiful cat eye and nude lips.
Lipstick: Are you noticing more diversity at castings and on the runway now?
HP: I have. When I first started modeling in 2011, there were very few darker-skinned girls. Now I see girls from all over the world. You see Asian girls, Indian girls—you see every kind of girl. I feel like it's getting better—we're not there yet—but I see a change. There's still some work to be done!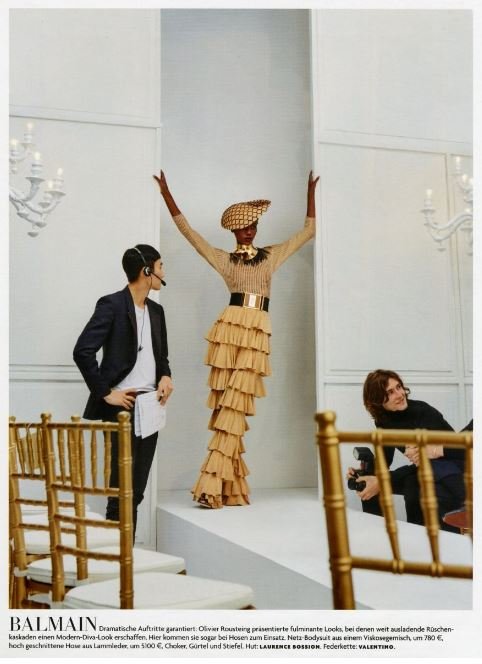 Lipstick: You're passionate about education and you'd like to build a school someday—can you tell us about that?
HP: When I grew up in Tanzania, I went to school with kids who were blind and deaf, and we were all in one class. There wasn't a different class or teacher for them, so they didn't learn anything. I'm hoping to organize a school to train teachers to help children with disabilities. It's my future goal. I want to move back to Tanzania and do that eventually.
Traveling for work in Paris, France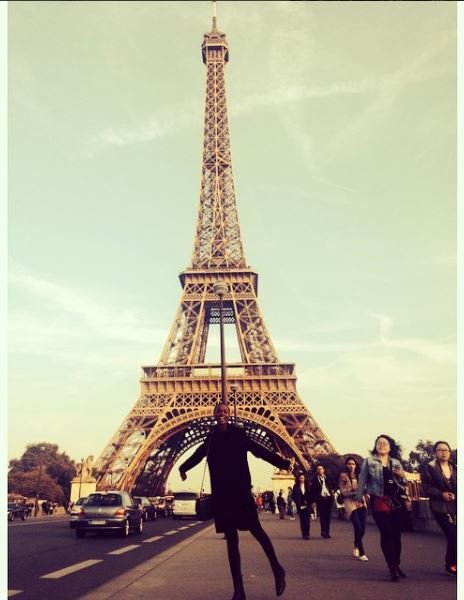 Lipstick: What about your philanthropic work now?
HP: My mom has had an orphanage since I was born. All the girls she helped have graduated My mom has had an orphanage in Tanzania since I was born. All the girls she helped have graduated high school and now they're going to college. My mom and I have organized to take a percentage of my income to send them to school. We're paying for university, bus fare, books…everything they need, we're taking care of it. It's such a small contribution and it makes a big difference in their life.
–Herieth Paul Is Maybelline's Newest Spokesmodel | Glamour