Nationality: French
Ethnicity: African descent
Ms. Emmanuel was born in Martinique.
She speaks French and English.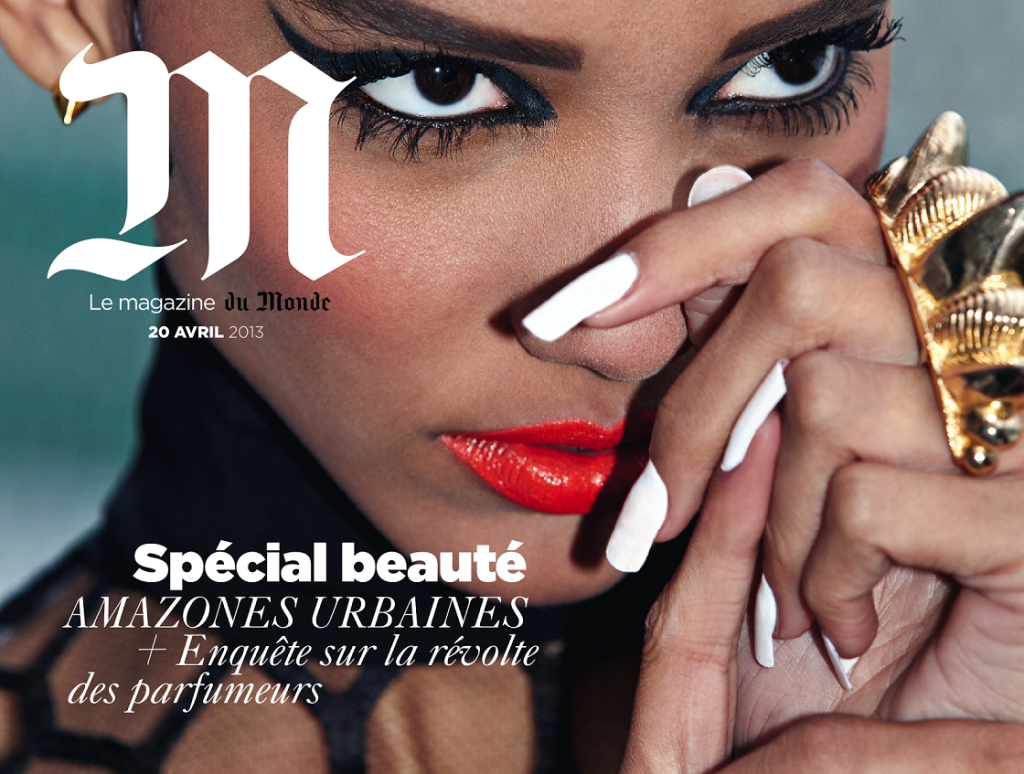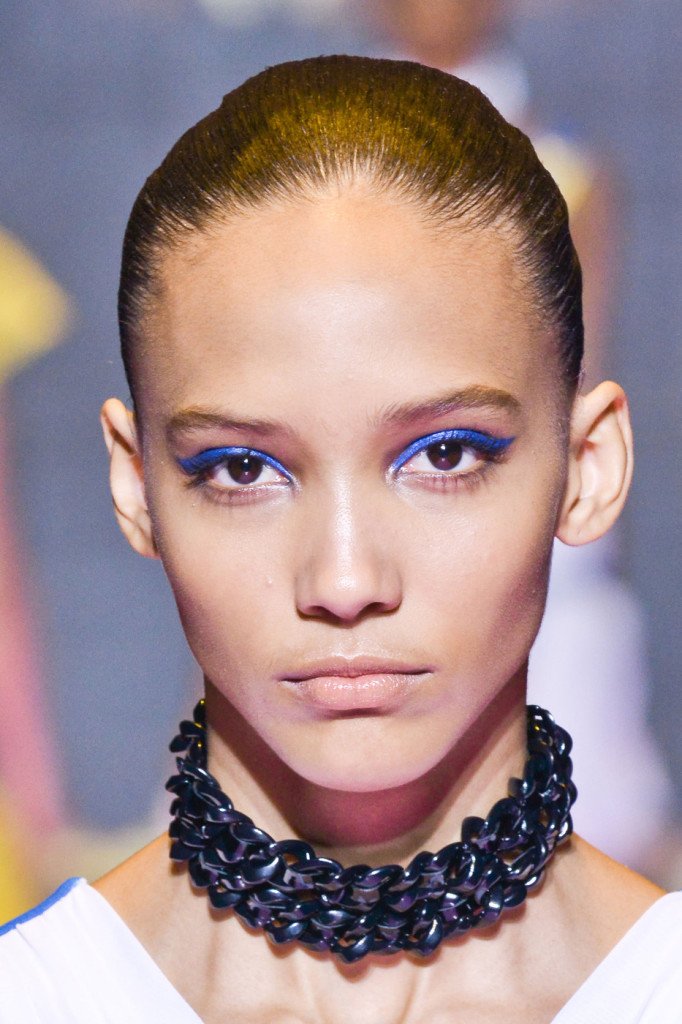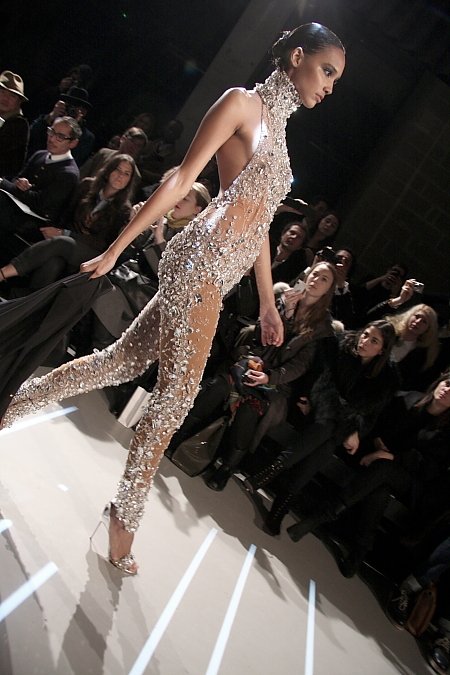 Quote:
Model Coral Emmanuel Thought Modeling Was 'Stupid'
Courtesy of Ford Models Martinique has been a hotbed for modeling talent lately: First came Sigrid Agren, then Melodie Monrose, and now Cora Emmanuel. Twenty-year-old Emmanuel came off a successful spring 2012 season, modeling for Alexander Wang, Michael Kors, and Tommy Hilfiger in New York. But her biggest coup was being selected by casting director John Pfeiffer for the opening and closing looks in Bottega Veneta's spring collection. Most recently, Emmanuel was invited to Anna Wintour's house to model for Fenton Fallon's collection for the CFDA. We met with the multilingual teen to hear about how her mom convinced her to enter a modeling contest just after a piano lesson.
Tell us a bit about your childhood.
I did a lot of bad stuff. I definitely was not a quiet child. Honestly, I was kind of annoying. I have one older sister and a younger half-brother. My father was an architect, but now he's teaching architecture. Before modeling, I wanted to become an architect because my father inspired me. My mother is a history and geography teacher.
How were you discovered?
I was really, really tall; nobody was taller than me, and I was really skinny and very shy because I was just really different. I was not comfortable in my own skin. My mother heard of this modeling contest, but I didn't want to do it at first.
Why?
I thought modeling was all about showing yourself and that just wasn't for me. I thought it was really stupid, but my mother forced me to do it. I remember I was coming out of my piano lesson with my normal clothes and hair; I didn't dress up at all and I just went. They ended up taking me for the contest in France and later, for the international contest. After that, I finished my high school diploma and started modeling.
Before your breakthrough this season, I remember seeing you on a few of the smaller spring 2011 and fall 2011 runways. What was different this season?
It just wasn't my time yet. I learned so much about modeling since last year; how to walk, how to act in castings, and so on. And I think that helped me this season. It was a growing process for me.
What was your favorite show from the spring 2012 season?
Without a doubt, Alexander Wang. I was put on semi-exclusive for them, which means I couldn't walk for any shows in New York Fashion Week before his show. I saw all these big models around me and I was like, "Oh, I'm a part of it!" I thought to myself, "This is maybe the start of something."
And then you opened and closed Bottega Veneta in Milan.
That was another highlight for me, as it was my first time ever opening a show. I remember I found out I was opening because at the fitting I saw my modeling comp card as the first time in the lineup. I was so happy, but then I put a lot of pressure on myself because I had the first look, you really have to show the energy of the collection. The closing dress was really long and beautiful, but I was so afraid I was going to step on it and trip.
Did you get any advice from fellow models before you walked?
One of my friends, Melodie Monrose, was doing the show with me and she kept telling me, "You're going to do well, don't worry!" Joan Smalls saw I was nervous so she gave me nice words before the show started, too.
What are your family's thoughts on your success in modeling?
They are all really supportive. My mother got scared when I got selected at the contest. She was like, "I only told you to do that because you were shy, but now that you were selected, hmm … I don't like this." But she's happy for me. She Googles my name every day. My sister was actually more into fashion than I was, because I was kind of boyish, so she pushed me to do well, too. My dad is like any protective, loving father, telling me to be careful. But he's happy.
What's your diet and fitness routine like?
I eat basically everything, which is bad, I guess. But I try to eat fish and vegetables, and more lean proteins. But sometimes I can eat pizza because who doesn't love pizza?! I do go to the gym. I do a lot of Bikram yoga in the winter.
What scares you?
Cockroaches. [Laughs.] No. Loneliness, maybe?
Guilty pleasure?
Ice cream.
Do you have any beauty secrets?
No, I'm just myself.
Are you dating anyone?
I have my first boyfriend and I'm really happy. But, the thing is, I don't think your happiness should depend on someone.
nytimes/thecut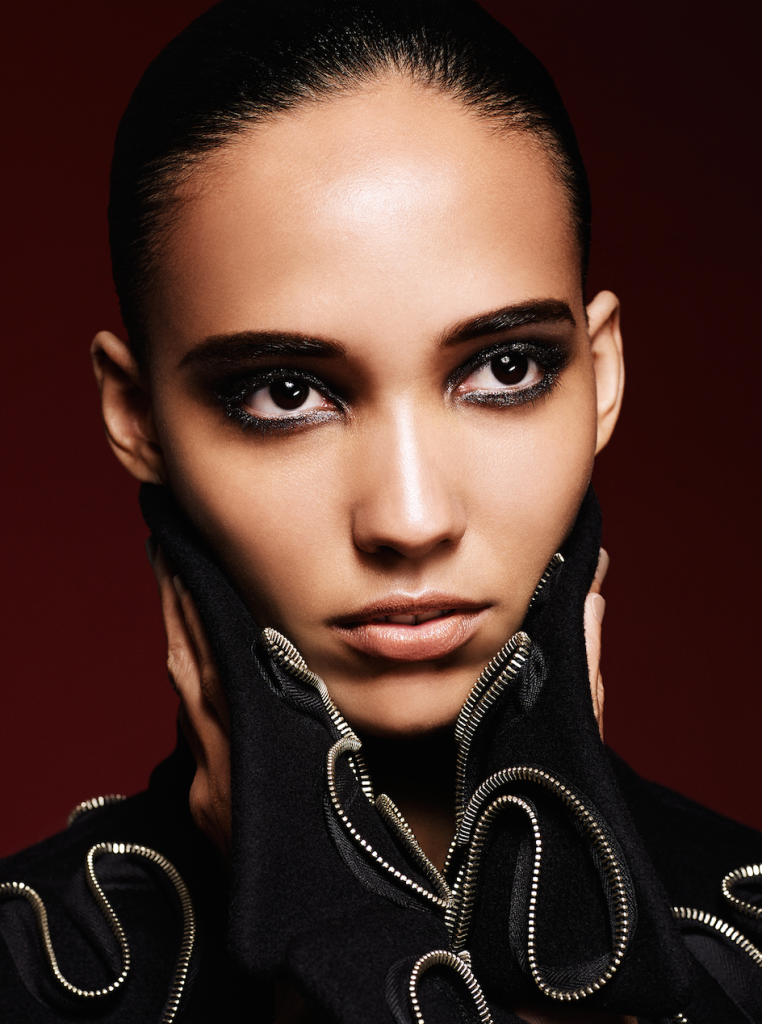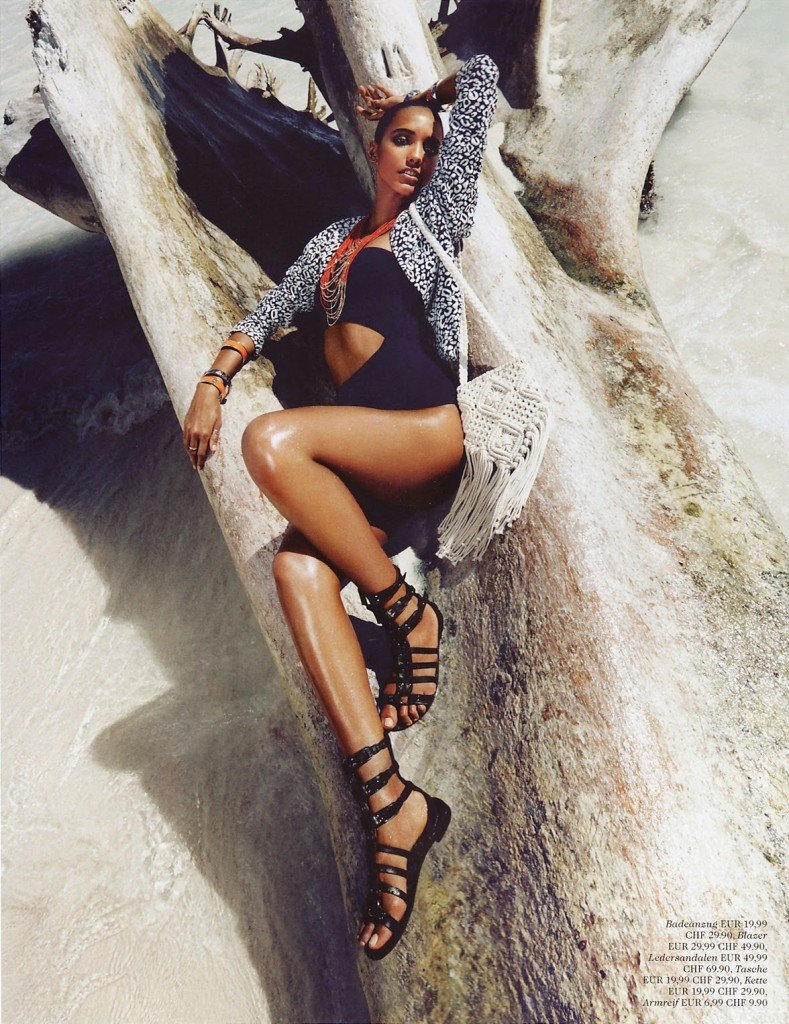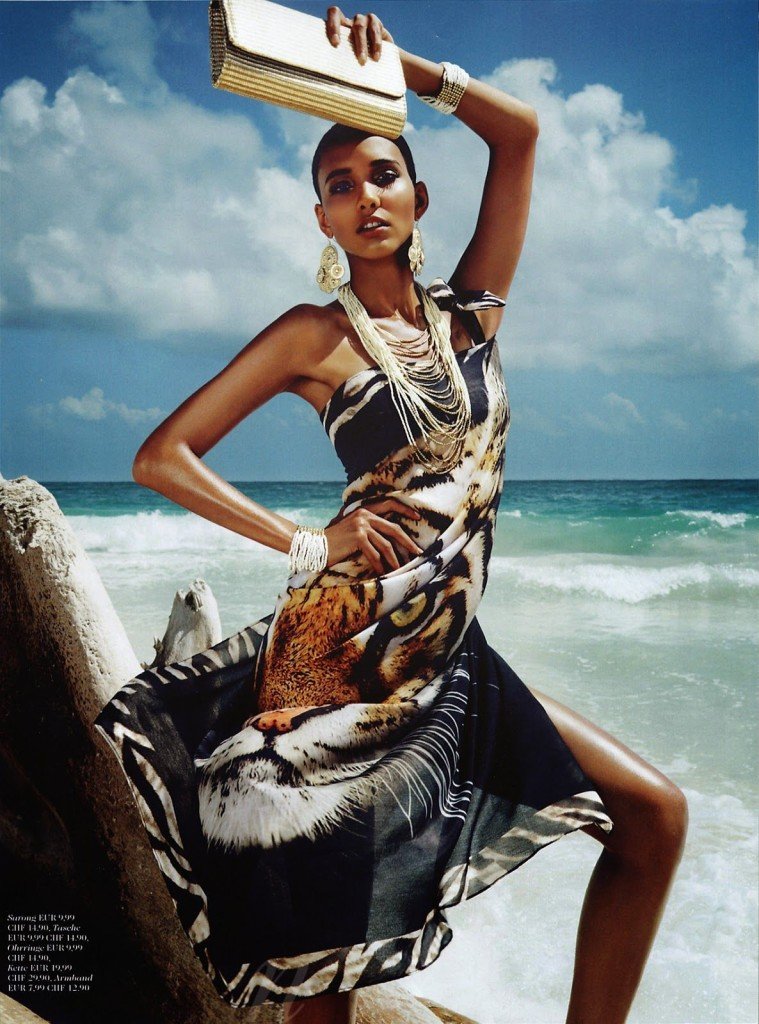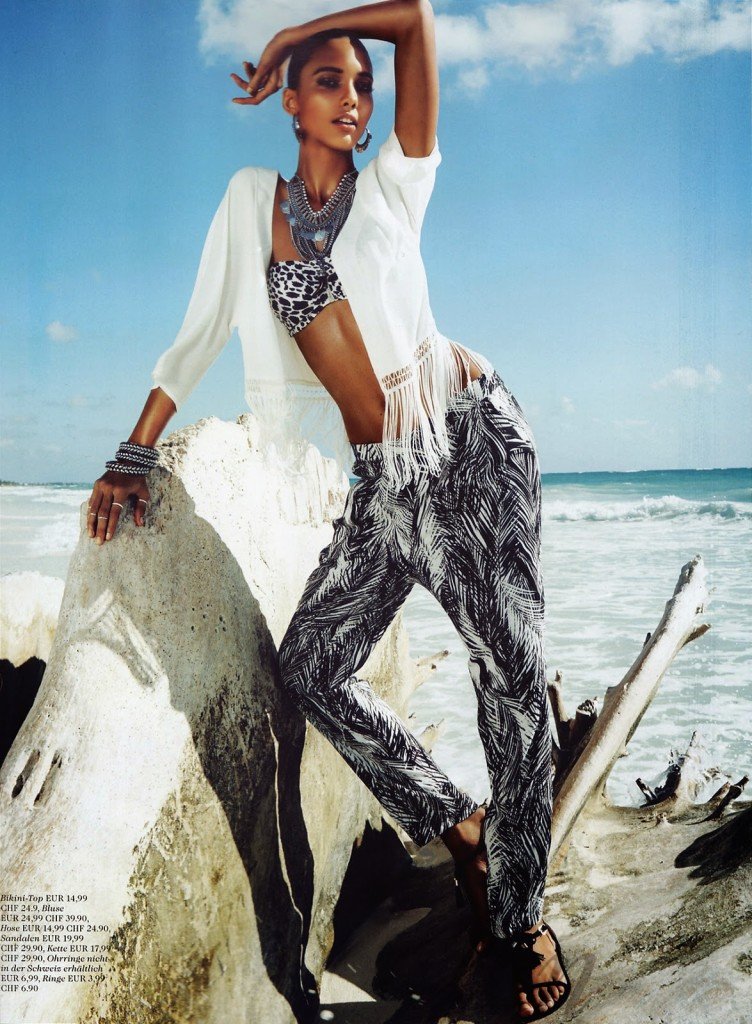 A picture of her birth place, Martinique below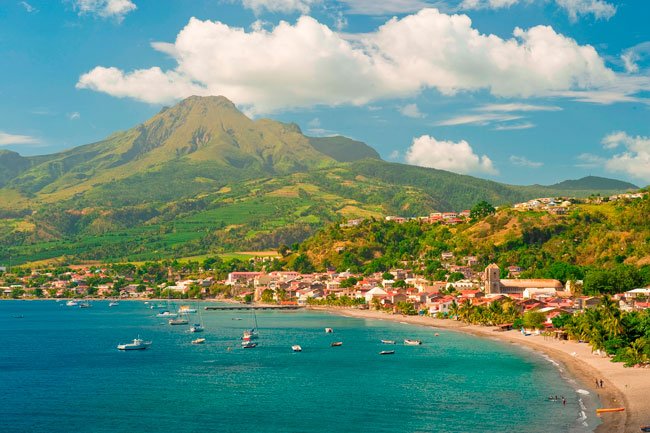 Martinique is an island in the Lesser Antilles in the eastern Caribbean Sea, with a land area of 1,128 square kilometres and a population of 386,486 inhabitants.
From Martinique to the Big Apple
Born in Martinique, Cora is discovered at the age of 16 during an Elite Model Look casting organized on the island. Her elongated silhouette, radiant smile and endearing personality win everyone over. A few years later, she takes her first steps as a model in New York during the 2011 Spring-Summer Christina Cota show. Her career takes off at a soaring rate quickly after that.
During the 2012 Ready-To-Wear Fashion Week, she walks for Alexander Wang, Tommy Hilfiger, Michael Kors, Kenzo, Elie Saab, Akris and Bottega Veneta, in which she opens and closes the show (an honor entrusted to Karolina Kurkova the previous season).
In February 2012, her acclaimed face ranks her among the top models to watch out for. She then hits the runway for Valentino, Givenchy, Miu Miu, Louis Vuitton, Mugler, Jean-Paul Gaultier, Stella McCartney, Marni, Dolce & Gabbana and Chanel, for which she becomes the 2012-2013 Fall-Winter campaign muse.
In September 2012, she walks for an impressive amount of shows during the Spring-Summer 2013 Read-To-Wear Fashion Week, including Moschino, Roberto Cavalli, Michael Kors, Jason Wu, Blumarine, Bottega Veneta, Vera Wang, Tommy Hilfiger and Prabal Gurung, just to name a few. One month later, in November 2012, Cora appears for the first time on the pages of Vogue Paris.
Source: cora Emmanuel – Elite Model Look

Quote:
After being plucked from the small French Caribbean island of Martinique, Cora Emmanuel's swift rise to major-league modeling was all but inevitable—just look at those doe eyes, the delicately assertive bone structure, the flawless complexion. Her face all but screams, "Someone get this girl a beauty contract." After making a splash at the Spring '12 shows (she debuted at Alexander Wang and bookended Bottega Veneta in Milan), the 20-year-old quickly shot to the top of casting directors' lists. A flurry of recent editorials in W, CR Fashion Book, V, and Vogue Italia—not to mention several rumored Fall campaigns—suggests that we'll be seeing a lot more of Emmanuel in the future. Especially if she keeps up with a beauty regimen that makes skincare a top priority. Here, Chanel's Fall 2012 campaign star talks masks, moisturizers, and much more.
Slide 1: CHANEL CHANCE EAU DE TOILETTE SPRAY AND BODY MOISTURE
"I am currently using Chanel Chance perfume and body lotion. The smell is incredible and really brightens my spirit."
2: NIVEA SMOOTH SENSATION DAILY LOTION
"I always keep my skin moisturized with Nivea body lotion. It feels rich and makes me wonderfully smooth."
3: DEAD SEA PREMIER MIRACLE NOIR MASK
"Hydration is my top beauty priority because without smooth skin as a base, makeup won't look good—no matter how well it is applied. I use a black mask with metal fragments from the Dead Sea. After applying it, I wait five to ten minutes, then wrap a magnet (that comes with the product) in a paper towel and place that close to my skin, which attracts the exfoliating metallic pieces. It's quite amazing—and effective!"
4: SWISA DEAD SEA FACIAL PEEL
"I follow up the Dead Sea mask with a Dead Sea facial peel by Swisa Beauty. The application is a simple rub and rinse, and it's really good for my naturally dry skin."
5: RODIN OLIO LUSSO
"When I have to quickly get ready and leave the house, I use Rodin Olio Lusso facial oil. It feels incredibly luxurious, and a little goes a long way."
6. CK ONE COLOR 3-IN-1 FACE MAKEUP
"I am very low-key when it comes to actual makeup, but will occasionally even out my complexion with CK One Color face makeup, which does the work of a serum, primer, and base all in one step."
7: LE VERNIS DE CHANEL IN EMPRISE AND DIOR VERNIS IN BEIGE SAFARI
"My nail-polish preference is usually a nude hue, because I love neutral colors. Dior and Chanel have really beautiful nude matte shades."
8: L'ORÉAL PARIS EVERPURE MOISTURE SHAMPOO AND CONDITIONER
"I use SLS [sodium lauryl sulfate]-free shampoo and conditioner because they lessen the damage to my hair, and they make the overall texture feel much better as well."
9: L'ORÉAL PARIS EVER SLEEK PRECIOUS OIL TREATMENT
"This keeps each strand of my hair hydrated, healthy, and frizz-less—even in the worst weather."
10. BEAUTY ICON: COCO CHANEL
"I'm not sure if I have any beauty icons in the sense of appearances, but Coco Chanel's approach to life has inspired me as a young woman. She was always an advocate of female empowerment and developing your own identity. I hope to have the same strength in the future."
Vogue.it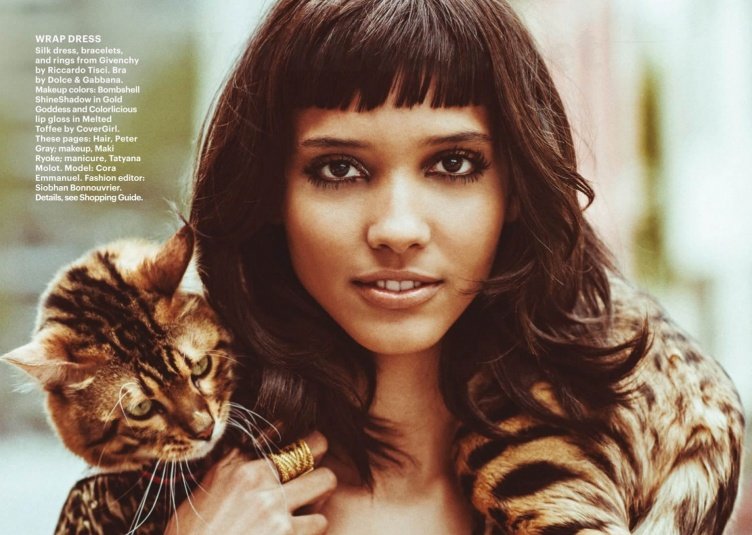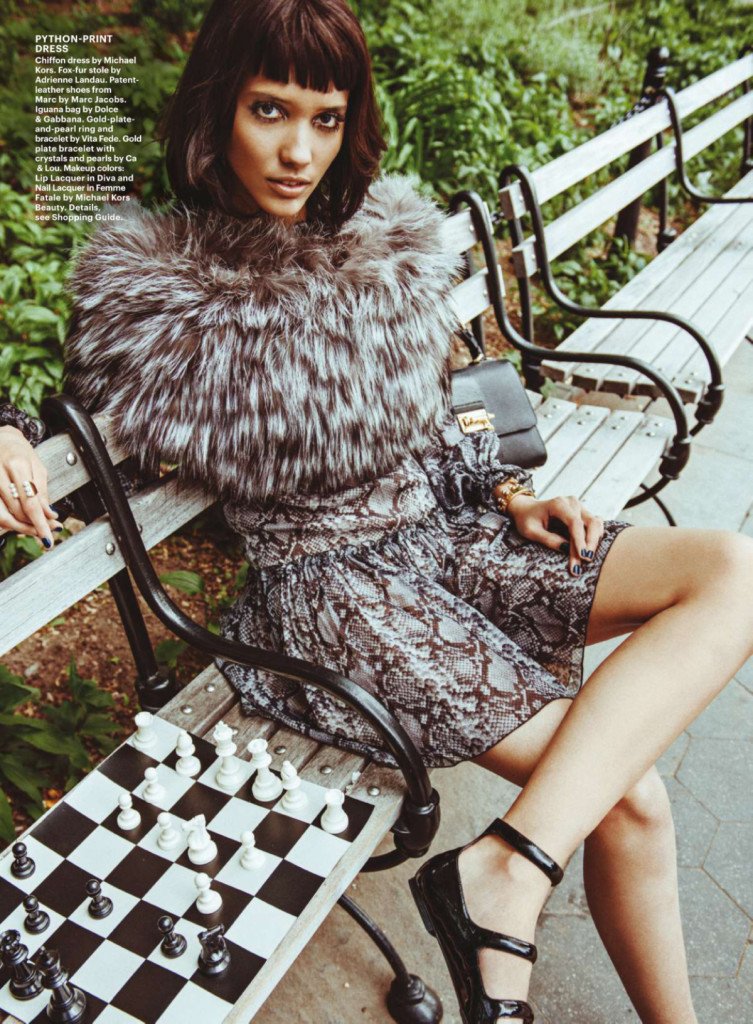 Quote:
No one expected to see Cora Emmanuel in the opening spot at Bottega Veneta in September 2011—they may not have even recognized her when she walked out in her delicate, verdant bustier dress. But when she closed the show in a floor-length red-and-orange robe, they had to take notice. Industry veteran Karolina Kurkova had opened Bottega the season before; erstwhile industry obsession Freja Beha Erichsen had done it a season earlier. The role is reserved for big names and talents.
Emmanuel was not out of place, she'd just come out of nowhere. The then-18-year-old model from Martinique had only walked two seasons on lesser-known runways before Spring 2012, the season that she was also signed by Ford and cast as semi-exclusive for Alexander Wang in New York—something of a marker for otherwise undiscovered it-girls. Interview creative director Karl Templer, who helped cast and style her in Wang's show, promptly booked Emmanuel for her second-ever editorial in our April 2012 issue, and she's only gained momentum since. We're dubbing her one of our 13 to watch in 2013.
After walking an astounding 52 shows for Fall 2012, Emmanuel is now just two years into her career with the masterpiece of any model's commercial portfolio: a Chanel campaign. And there's much more in the works for next year: we can't name names, but she's just booked a major, three-letter cosmetics campaign, a racy Italian denim advert, and recently finished a shoot in St. Barth's for one very big lingerie retailer—the kind that promotes rising stars from fashion-world gems to national treasures.
If the industry can only ever sustain or accept a handful of successful black models at a time, Emmanuel is slated to become the next big name on that short list. But her versatility will make her hard to tokenize: if her breakout season was any indication, she can play Wang's fresh-faced new girl and Bottega's glammed-up personality model with equal ease, and she's alternated between both in the hundred-plus runway shows and dozen editorials she's booked in the last year. When we met up with her at a Midtown brasserie down the street from her agency, Emmanuel was more in the mode of unaffected newcomer. Our conversation touched on Law & Order, krunk music, and stylists who don't know what to do with black hair.
ZACK ETHEART: What was your favorite show to walk this past season?
CORA EMMANUEL: It's hard to say, because once you get used to shows, you're not as excited. They're all really exciting and really beautiful clothes. But when I started, the first time I did Givenchy was the most exciting day of my life. Prada also. Alexander Wang. Oh my God, Jean Paul Gaultier? Major. All those humongous shows are really exciting. But actually, last season it was Marc by Marc that I really liked. It was really fun to do and I wasn't expecting it to be. During fashion week, everybody's stressed, and you expect to see people really nervous and on time and professional. And they are on time and professional, but they're not stressed. It's really cool. There was music; everybody was happy. It was the beginning of fashion month, the whole cycle, so nobody was tired yet, I guess. [laughs]
ETHEART: It seems to never end. Do you get a vacation? Or visit home?
EMMANUEL: Yeah, yeah. I go back to Martinique during summer, and usually I go for Christmas.
ETHEART: Is there anything you miss about it?
EMMANUEL: Oh, my family, the beach… high school? [laughs] I'm kidding. Yeah, my family and my old habits. I used to go on road trips with my friends on weekends, you know? Some things like that I miss a lot.
ETHEART: What's your family like?
EMMANUEL: My father used to be an architect. Now he's a professor of architecture. My mother is a teacher of history and geography at my old high school, so when I was in high school she was a teacher there.
ETHEART: Oh no. Were you ever in her class?
EMMANUEL: No. Thank God. [laughs] 'Cause she says she would've been tougher with me than any other kids. My sister is a student, she's 24. I have a half-brother. My mother and sister are really proud of me. They pushed me into this because I was shy and I hated my body. They're so excited, it's great. My father is—you know, he has the father's role. He's always like "Be careful." At the beginning he was like, "Okay, I give you two years. If you don't make money, you go back to school." I was just like, "It's gonna take time, but don't worry about it." But now he's happy because he used to help me out with money, and I work for myself now. I can finally give them back everything they gave to me when I was younger, so I'm happy.
ETHEART: Have they ever visited you here?
EMMANUEL: My sister, like three times in the last three years. My mother's scared somebody's gonna kidnap her. You know, she's this lady that lives on this small little island and nothing happens there, so when she hears big city, she thinks everything she sees on Law & Order is gonna happen to her. I'm like, "Mom, no, you can come!" But she's planning on coming soon, so hopefully that happens.
ETHEART: When did you decide that you wanted to model?
EMMANUEL: When I realized that I wasn't ugly, because I really thought I was. Because the beauty cliché in the Caribbean is short, really curvy girls. I was really tall and skinny, and I wouldn't have boyfriends or anything, and everybody would make fun of me. It was a mess. I was always trying to make myself look shorter. So my mother dragged me to this casting that was for Elite. She was like, "Look, there's other girls like you. And they're doing a beauty casting. You should be proud." And I was like, okay, okay, maybe she's right. Then once I got picked, everybody was like, "Oh my god, you're so beautiful. Oh my god, blah, blah, blah."
ETHEART: [laughs] How nice of them.
EMMANUEL: Exactly, exactly. [laughs] So I was like, Oh, damn, maybe that's a path for me.
ETHEART: You've been booking a lot more editorial work lately. How does it compare to runway?
EMMANUEL: When you look at it, it's all so surprising but so beautiful at the same time. The casting is amazing, the clothes are amazing, the story of the editorial is amazing. The hair and makeup people on set are always really amazing and they know what they're doing—especially for us black models, sometimes they look at it and they're like, "What are we gonna do with that?" It's not like that with them. They really know what to do.
ETHEART: I was gonna ask—that's the running joke about hair and makeup, that they never know what to do with black hair. Has that been true for you?
EMMANUEL: Oh, yes. Show-wise, I mean. The one that manages the team knows, obviously, because they have to, but when they have a whole crew for shows, it's stressful. We have to rush, and sometimes they're new, you know? So it's hard. Sometimes the skin—I look gray. It's like, it's not hard. Sometimes I know better than them. I'm like, "Okay, do that, and then that." Then they get mad at me, and I'm like, "I'm not trying to tell you how to do your job, but I want to look good! I'm the one out there." [laughs] Luckily, most of the time they know what they're doing, but sometimes, yeah, it's hard. The thing's that's really different is that on editorial jobs, when I say something about my hair, they don't get offended. They listen.
ETHEART: I wonder if that's because there's more of a rush at the shows.
EMMANUEL: Yeah, that's true. And I guess they're not scared, but they really think the hair is totally different when it's not. You just have to be more careful. I'm gonna get upset, because you're pulling my hair out. That can't happen, I work with that.
ETHEART: Do you feel more camaraderie or competition with other black models in the industry?
EMMANUEL: It depends. I have friends that are black models also, and we're so close, I don't see the point of being in competition. If a job is supposed to be for me, it's gonna be for me and not for my other friend who's also a black model. But then there are girls who think there is a competition. And I'm just like, Whoa, you relax, I'm gonna do my own thing. Do your ****. I'm really not competitive. We still have to be, a little bit, just not to be on the side and forgettable. But there's limits. The way things work in this industry about black girls, Asian girls, white girls—I guess there's no other way to do it, because there aren't a lot of us, but it's just weird to think about because I grew up in such a mixed country. That's why I'm not ever competitive. I'm sure if after a couple of years, there's a girl that's younger than me who comes and takes all the jobs, I'm not gonna like it. But that doesn't mean that I'm gonna say that's her fault. Things have to change.
ETHEART: Well it seems like you are that girl at the moment. What was it like booking a Chanel campaign so soon?
EMMANUEL: I was so exited! Like a little kid who just got their first big gift from Santa Claus. It was like the best thing that had happened to me. It was basically the first real campaign that I booked.
ETHEART: And a big one at that.
EMMANUEL: Such a big one. I mean, come on, Chanel. And with all those big girls, and Karl [Lagerfeld] and Carine [Roitfeld], I was so impressed, but at the same time, so happy. On set, I was jet-lagged. [laughs] I was with Kati Nescher and Alice Dellal, and because they used to shoot with Karl, I could look at them and see how they work, so I could learn what kind of pictures he wanted. So it was really interesting for me.
ETHEART: Is there anyone you look to in the industry?
EMMANUEL: I really like Liya Kebede and Abbey Lee [Kershaw] because they both made it: they were huge models and now they go towards acting. I love acting. I almost got into a professional theater group after high school. And that would be my dream, to do something like that—still doing modeling stuff, but I would really want to try to act somehow.
ETHEART: What's your dream role?
EMMANUEL: laughs] When I was a kid I really wanted to play in those dancing movies, you know, like Step Up and all those? I was the biggest fan of dance. I used to do ballet for 13 years and then I did hip-hop and I loved it. I was totally into krunk, totally into all that stuff, and I was really into acting, so I thought that would be my dream: to act in a movie for dance. I still like to dance, but I think I'd like more of a serious movie where I have to be someone that's existed before, so I'd have work to do to really show it to the camera. That would be my dream.
ETHEART: Do you think modeling is like acting?
EMMANUEL: I think so, because you have to come up with your own ideas.
ETHEART: Do you ever get stage fright?
EMMANUEL: No, no. If the shoes were really awful, I used to be afraid. But I've been dealing with a lot of crazy shoes. [laughs] So now I'm good.
interviewmagazine.com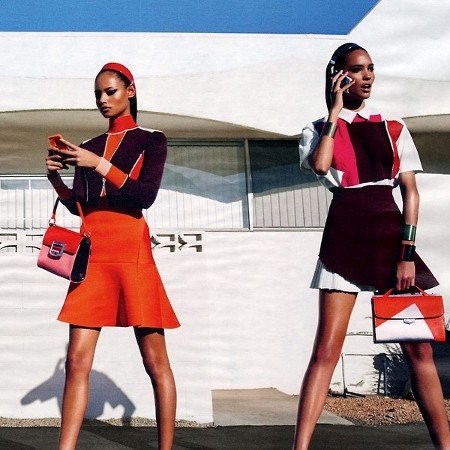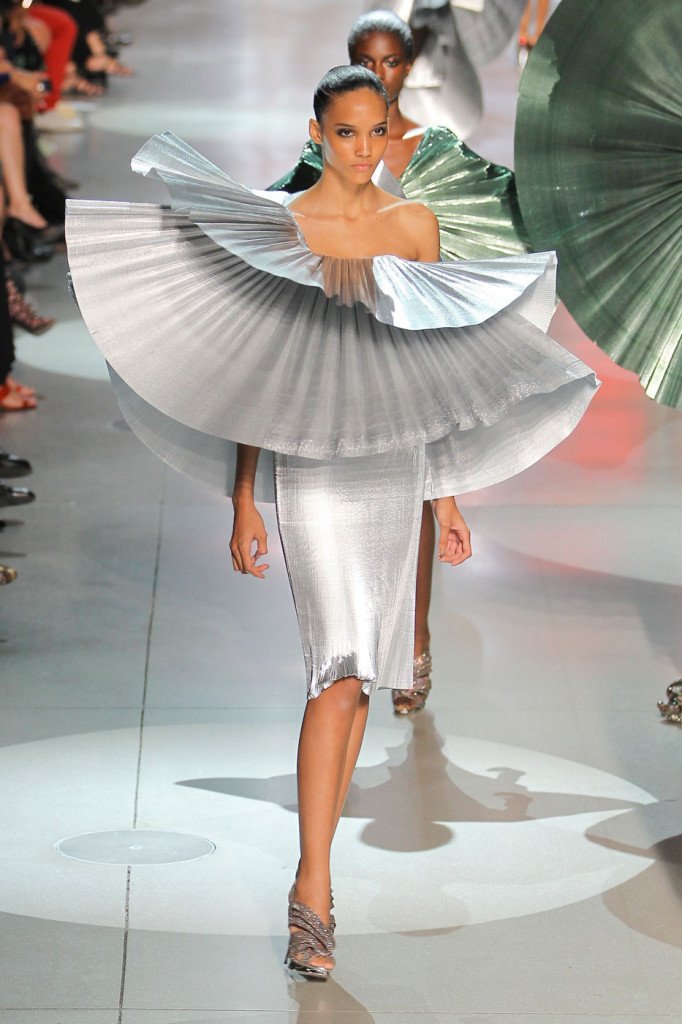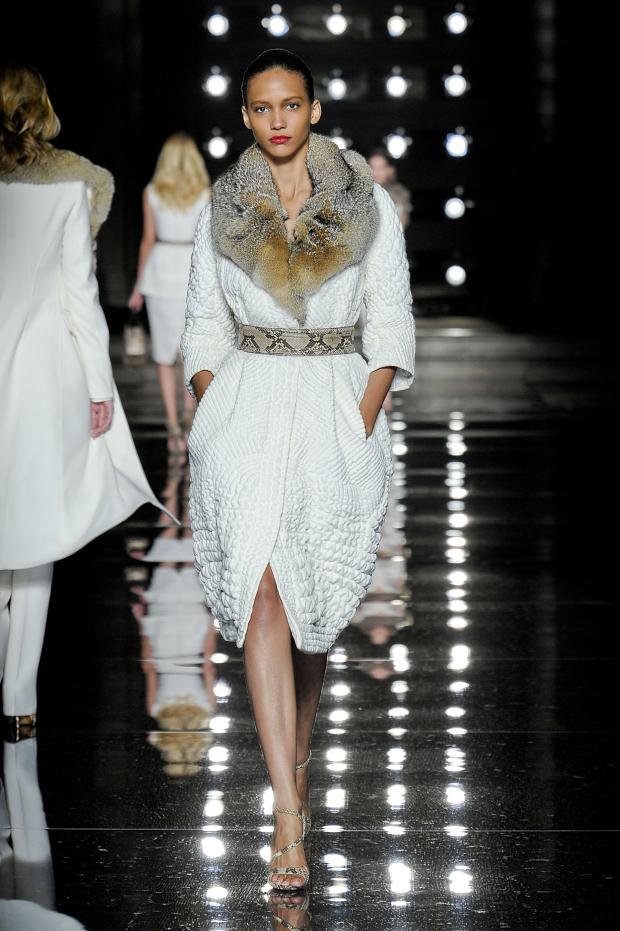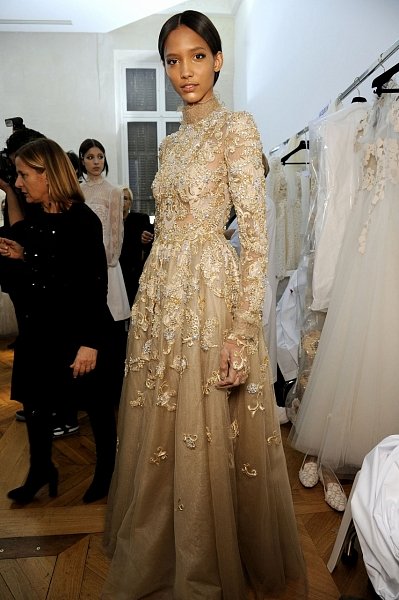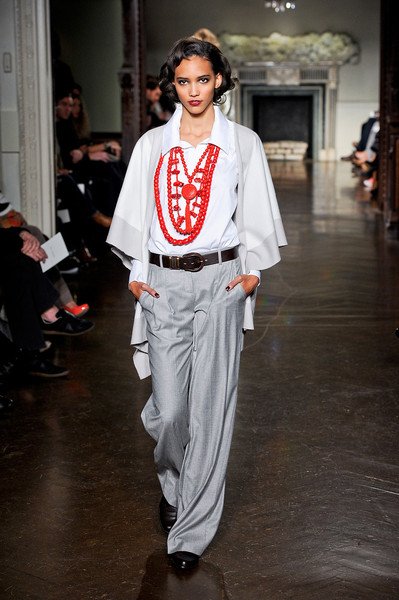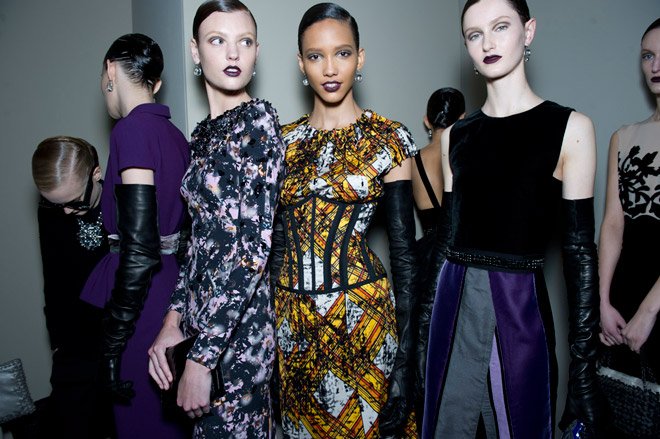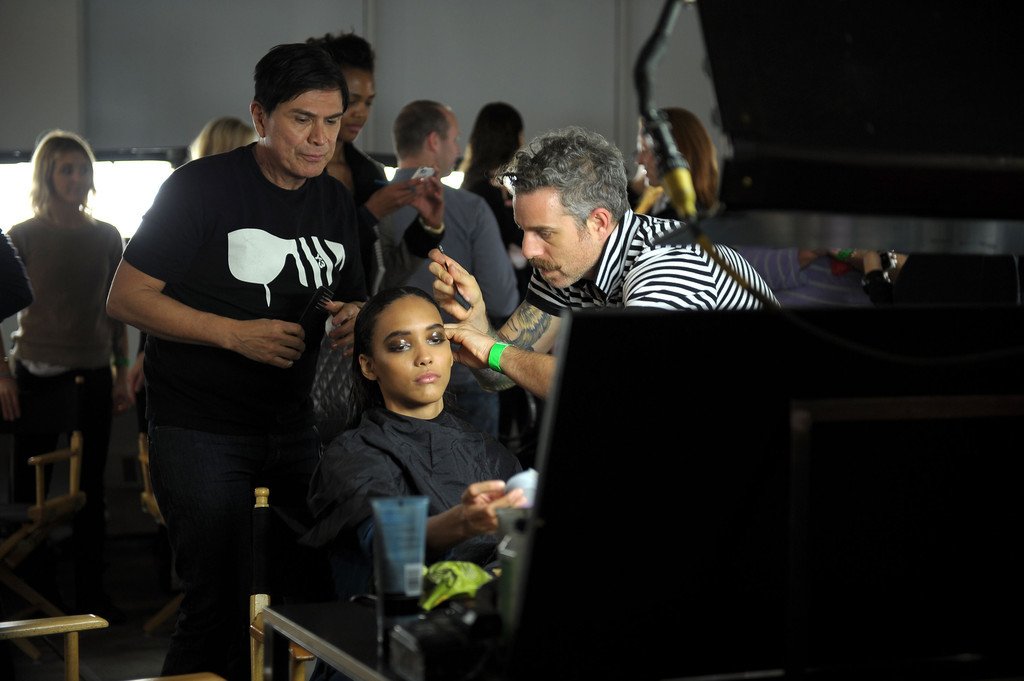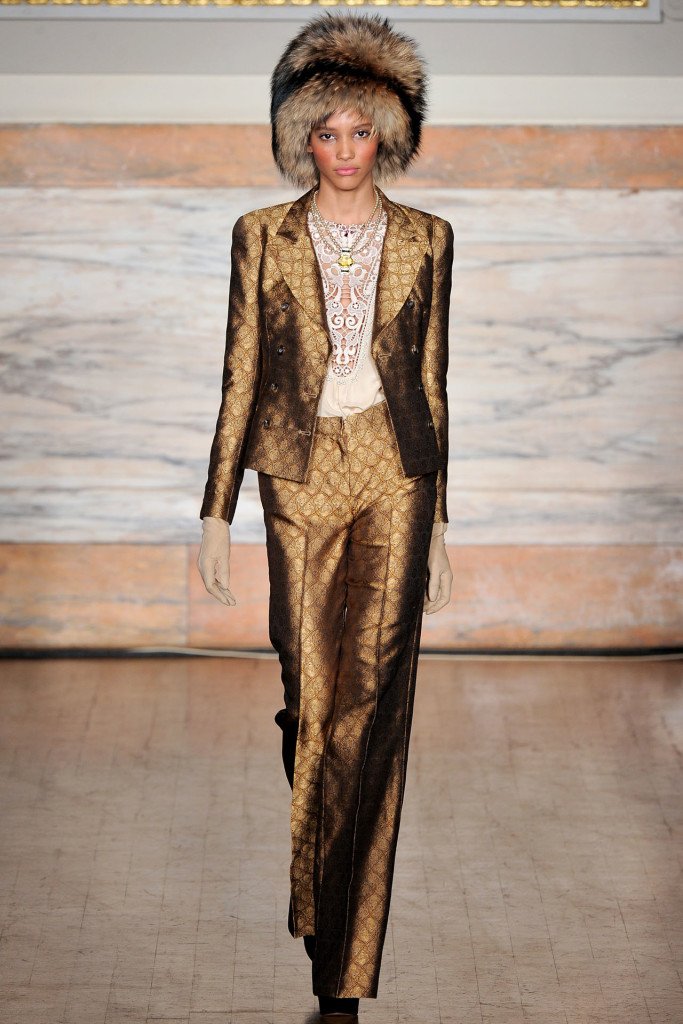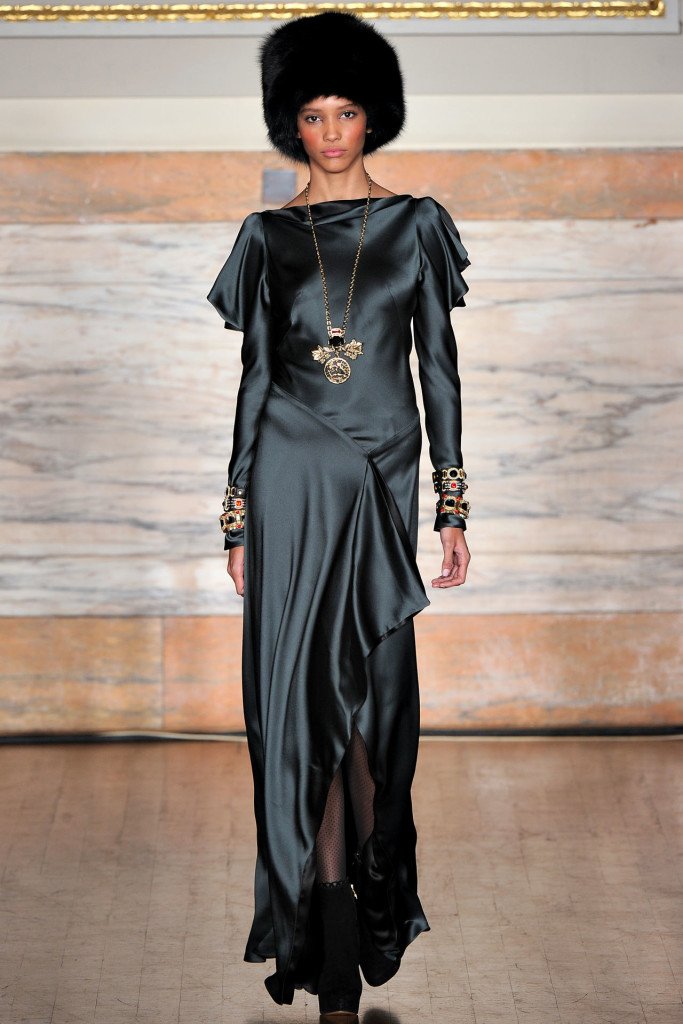 Cora Emmanuel's baby picture