Mr. Johnson is an African American civil and criminal trial lawyer, and the current United States Secretary of Homeland Security since 2013 .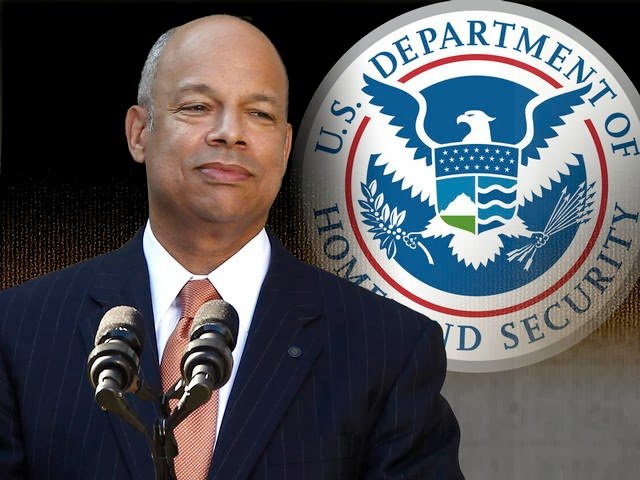 He was the General Counsel of the Department of Defense from 2009 to 2012 during the first Obama Administration.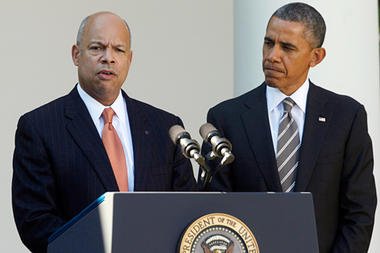 Johnson's first name is taken from a Liberian chief, who reportedly saved his grandfather's life while he was on a League of Nations mission to Liberia in 1930.
Jeh Charles Johnson father Jeh Vincent Johnson was an architect.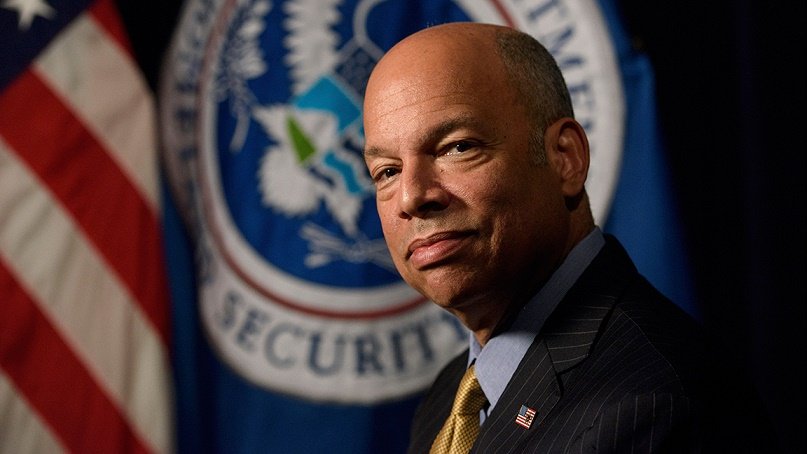 Party: Democratic Party
Appointed by: Barack Obama
Education: Columbia Law School (1982), Morehouse College (1979).
msnbc.com/melissa-harris-perry/watch/jeh-johnson-explains-connection-to-selma
Johnson served as Assistant United States Attorney in the Southern District of New York from 1989 to 1991. From 1998 to 2001, he was General Counsel of the Department of the Air Force under President Bill Clinton. Prior to his appointment as General Counsel of the Department of Defense, Johnson was a partner at the New York law firm Paul, Weiss, Rifkind, Wharton & Garrison LLP, in which he was the first African Americanelected partner and to which he returned after his four years at the Defense Department. He was elected a fellow in the American College of Trial Lawyers in 2004.
On January 8, 2009, he was named by President Barack Obama to be General Counsel for the Defense Department.[5] In December 2012, he resigned this position effective at the end of the year to return to private practice.
Ten months later, on October 18, 2013, Johnson was nominated by President Obama to be Secretary of Homeland Security
Johnson began as an associate at Paul, Weiss in November 1984. In 1989 he left to serve as an assistant United States Attorney in the Southern District of New York, a position he held until the end of 1991. In that position, Johnson prosecuted public corruption cases.
Johnson returned to Paul, Weiss in 1992 and was elected partner at the firm in 1994. In 1998, Johnson was appointed General Counsel of the Air Force by President Bill Clinton after confirmation by the U.S. Senate. As General Counsel, Johnson was the senior legal official in the Air Force and Governor of Wake Island, in the Pacific Ocean. His tenure coincided with Operation Allied Force in 1999. He was awarded the Decoration for Exceptional Civilian Service for his efforts.
After his service in the Clinton administration, Johnson returned to Paul, Weiss in 2001, where he was an active trial lawyer of large commercial cases.
Johnson was a member of the Executive Committee of the New York City Bar Association. From 2001 to 2004, he served as chairman of the City Bar's Judiciary Committee, which rates and approves all federal, state and local judges in New York City. In 2007, Johnson was nominated by the New York State Commission on Judicial Nomination to be Chief Judge of New York  though the incumbent, Judith Kaye, was ultimately reappointed by former Governor Eliot Spitzer.