Nationality: American
Ethnicity: African descent.
She is 5'9 Ft tall.
Williams was the highest paid female athlete in 2016, earning $28.9 million in prize money and endorsements.
In addition to English as her native language Williams also speaks conversational French, and knows some Spanish and Italian. At the 2013, 2015, and 2016 French Open she gave her on-court interviews in French, much to the crowd's delight.
Quote: 
For Sports Illustrated to recognize my hard work, my dedication, and my sheer determination gives me hope to continue on and do better. As I always say, it takes a village it's not just one person. This is not just an accomplishment for me, but for my whole team. I am beyond honored. I love you guys!
si.com/sportsperson/2015/12/14/why-serena-williams-is-sportsperson-of-theyear?
Williams holds the most major singles, doubles, and mixed doubles titles combined amongst active players, male or female. Her record of 38 major titles puts her fourth on the all-time list and second in the open era: 22 in singles, 14 in women's doubles, and two in mixed doubles. She is the most recent female player to have held all four major singles titles simultaneously (2002–03 and 2014–15) and the third player, male or female, to achieve this record twice after Rod Laver and Steffi Graf. She is also the most recent player, together with her sister Venus Williams, to have held all four Grand Slam women's doubles titles simultaneously (2009–10).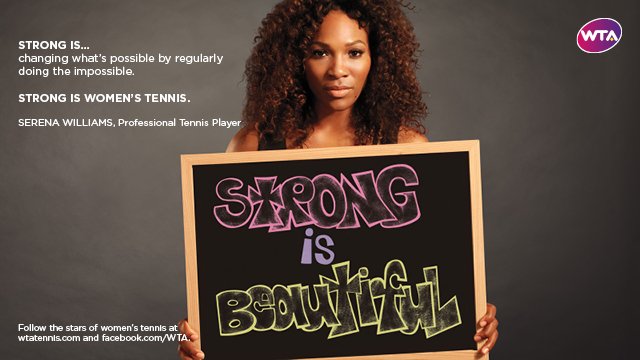 The Meaning of Serena Williams – The New York Times
In August 2009, Williams and her sister Venus became minority owners of the Miami Dolphins after purchasing a small stake in the team. Their home in Palm Beach Gardens, Florida, is about an hour's drive from the Dolphins' stadium. They are the first African-American women to hold any amount of ownership in an NFL franchise. Stephen Ross, the majority owner of the Dolphins, said "We are thrilled to have Venus and Serena join the Dolphins as limited partners. They are among the most admired athletes in the world and have become global ambassadors for the game of tennis.
Her total of 22 Grand Slam singles titles, tied with Steffi Graf, marks the joint record for the most Major wins by a tennis player (male or female) in the Open Era, and is tied for second on the all-time list behindMargaret Court (24), She is the only tennis player – female or male – to have won singles titles at least six times in three of the four Grand Slam tournaments.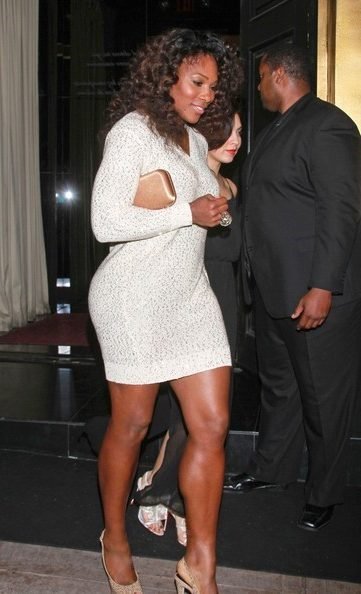 She is also the only tennis player to have won 10 Grand Slam singles titles in two separate decades. She has won an all-time record 12 Grand Slam singles titles on hardcourt. Williams holds the Open Era record for most titles at the Australian Open (6) and shares the Open Era record for most titles at the US Open with Chris Evert (6).
She has won 14 Grand Slam doubles titles with her sister Venus, and the pair are unbeaten in Grand Slam doubles finals. As a team, she and Venus have the second most women's doubles grand slam titles, only behind the 20 titles won by Martina Navratilova and Pam Shriver.
American T.V. show host David Letter man kissing her hand
Williams is also a five-time winner of the WTA Tour Championships. Serena has also won four Olympic gold medals, one in women's singles and three in women's doubles—an all-time record shared with her sister, Venus.
On the set of her clothing line debut, Serena Williams talks about the most romantic thing a guy has ever done for her, that time she tried body bowling, and the one sport she's actually bad at.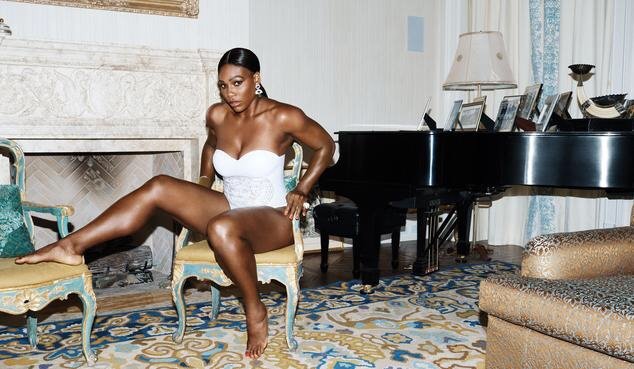 –wsj
Fashion:
Williams was once known for her unusual and colorful outfits on court. In 2002, there was much talk when she wore a black lycra catsuit at the US Open. At the 2004 US Open, Williams wore denim skirts and knee-high boots—tournament officials, however, did not allow her to wear the boots during matches. At Wimbledon in 2008, the white trench coat she wore during warm-up for her opening match was the subject of much discussion since it was worn despite the sunny weather. Off-court, Williams has also presented new designs. In November 2004, at the London premiere of After the Sunset she wore a red gown that had a near-topless effect.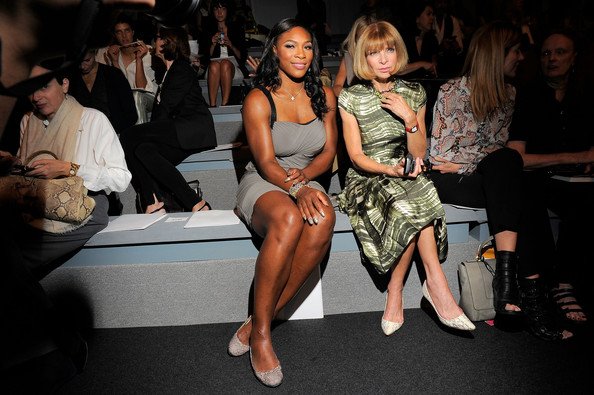 –Serena Williams with Anna Wintour at Vera Wang – Front Row – Spring 2011 MBFW
Williams formerly had a special line with Puma. In April 2004, she signed a deal worth US$40 million for a line with Nike. Since 2004, she has also been running her own line of designer apparel called "Aneres"—her first name spelled backward. In 2009 she launched a signature collection of handbags and jewelry. The collection, called Signature Statement, is sold mainly on the Home Shopping Network (HSN).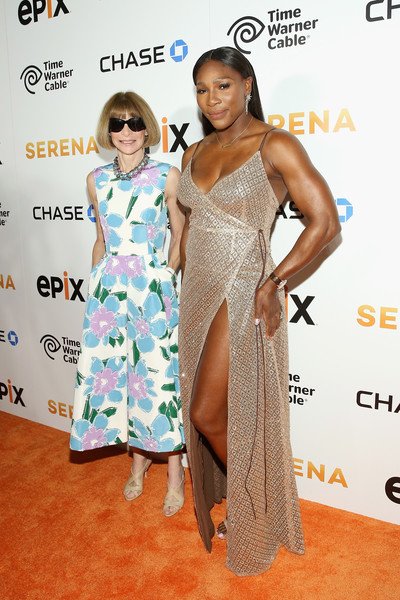 –zimbio – Serena Williams with Anna Wintour
In early 2010, Williams became a certified nail technician in preparation for her upcoming nail collection with a company called HairTech.
In 2015, she became the first black female athlete to have a picture by herself on the cover of Vogue, which she did for the April 2015 issue.
In 2015 she also presented her HSN Signature Statement collection for the second time at the New York Fashion Week Show‍—‌a clothing line exclusively made for the retailer HSN.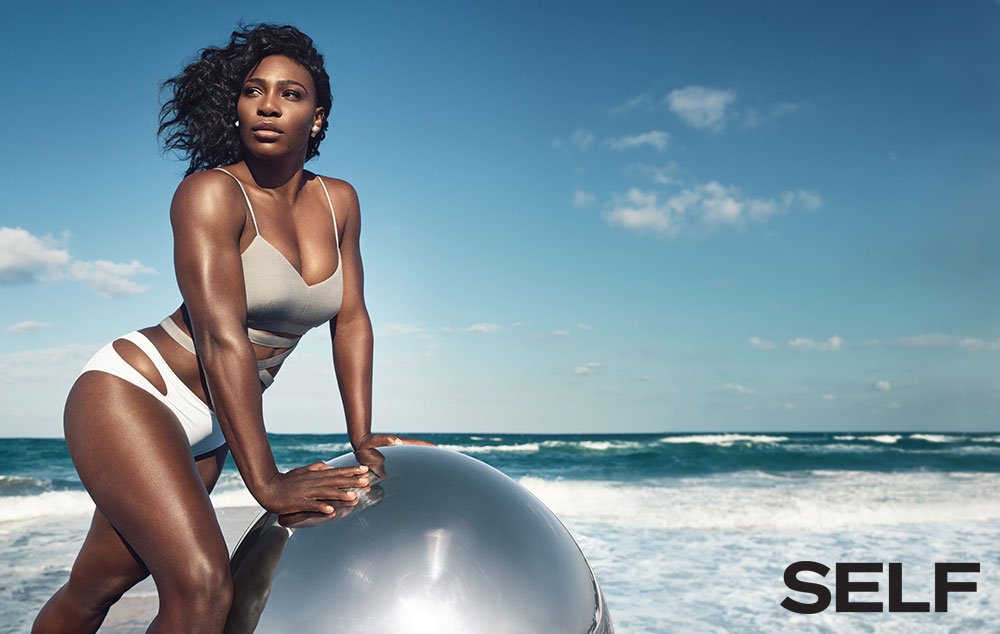 –self
Equipment and endorsements:
In the early 2000s, Williams wore Puma apparel and footwear on court.She used Wilson Hammer 6.4 Stretch Power Holes racquet. Today, she is endorsed by Nike and uses the Wilson Blade 104.
Williams also has endorsement deals with Gatorade, Delta Air Lines, Audemars Piguet, Aston Martin, Pepsi, Beats by Dre headphones, Mission Athletecare, Berlei bras, OPI Products, OnePiece, IBM, Mini and Chase Bank.
The arrival of the Williams sisters has been credited with launching a new era of power tennis in the women's game.  In December 2015, she was named Sportsperson of the Year by Sports Illustrated magazine.
Grand slams won: (singles): 22
espn.com/tennis/player/_/id/394/serena-williams
| YEAR | PRIZE MONEY | SINGLES TITLES | DOUBLES TITLES | SINGLES W-L |
| --- | --- | --- | --- | --- |
| 2016 | $6,815,639 | 2 | 1 | 31-4 |
| 2015 | $10,582,642 | 5 | 0 | 53-3 |
| 2014 | $9,317,298 | 7 | 0 | 52-8 |
| 2013 | $12,385,572 | 11 | 0 | 78-4 |
| 2012 | $7,045,975 | 7 | 2 | 58-4 |
| 2011 | $1,978,930 | 2 | 0 | 22-3 |
| 2010 | $4,266,011 | 2 | 3 | 25-4 |
| 2009 | $6,545,586 | 3 | 4 | 50-12 |
| 2008 | $3,852,173 | 4 | 2 | 44-8 |
| 2007 | $1,284,715 | 9 | 1 | 9-1 |
| Career | $80,899,060 | 71 | 23 | 768-127 |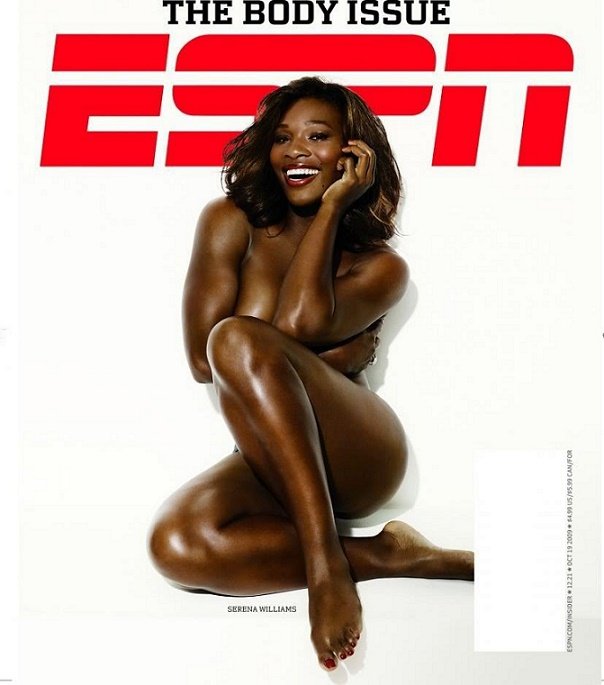 Serena Williams Famous Splits 
Serena & Venus Williams interview after winning Wimbledon doubles title 2016.
Charity work:
In 2008, as part of the Serena Williams Foundation's work, Williams helped to fund the construction of the Serena Williams Secondary School in Matooni, Kenya. The Serena Williams Foundation also provides university scholarships for underprivileged students in the United States. She received a Celebrity Role Model Award from Avon Foundation in 2003 for work in breast cancer. Williams has also been involved in a number of clinics at schools and community centers, particularly those which have programs focusing on at-risk youth. She has also won the "Young Heroes Award" from Big Brothers Big Sisters of Greater L.A. and Inland (2003) and the "Family Circle and Prudential Financial Player Who Makes a Difference Award" (2004). In response to the 2010 Haiti earthquake, Williams, along with other ATP and WTA stars decided to forgo their final day of preparation for the 2010 Australian Open to form a charity event in which all proceeds will go to the Haiti earthquake victims. Serena, along with her sister Venus, is a supporter and contributor of First Serve Miami, a foundation for youth who want to learn tennis but are socially and economically challenged. She has been an International Goodwill Ambassador with UNICEF since 2011 and has helped launch UNICEF's Schools for Asia campaign.
Williams' return to Indian Wells in 2015 was done in partnership with the Equal Justice Initiative, a non-profit organization that provides legal representation to those who might have been denied a fair trial. EJI executive director Bryan Stevenson lauded her courage in supporting his organization. "It's so rare when athletes at the top of their game are willing to embrace a set of issues that, for a lot of people, are edgier", he said. "This is not aid to orphans … She was standing when a lot of her contemporaries remain seated, speaking up when others are being quiet."
Other charitable organizations Williams supports include the Elton John AIDS Foundation, Great Ormond Street Hospital, Hearts of Gold, the Common Ground Foundation, the Small Steps Project, the HollyRod Foundation, Beyond the Boroughs National Scholarship Fund, World Education, the Eva Longoria Foundation, the Caliber Foundation and the Cure for MND Foundation.
Williams' also began hosting an annual event described as "The Serena Williams Ultimate Fun Run" in 2014. This event is in support of the Serena Williams Fund, which helps underprivileged individuals and communities that are effected by senseless violence and to ensure equal access to education of youth.
Writing:
The Williams sisters, with author Hilary Beard, wrote a book titled Venus & Serena: Serving From The Hip: 10 Rules For Living, Loving and Winning, which was published in 2005.[294][295] During the 2009 Wimbledon Championships, Williams said that she is in the process of writing a TV show storyline, which will be converted into script form by her agency. She stated that the show will represent subject matter from a mix of popular American television shows such as Desperate Housewives, and Family Guy.[296] Williams released her first solo autobiography entitled On the Line, following the 2009 US Open.
Serena Jameka Williams is an professional tennis player and actress who is ranked No. 1 in women's singles tennis. The Women's Tennis Association has ranked her world No. 1 in singles on six separate occasions.