Two skeletons of Negro males have been recovered from a grave in Hull Bay near the Danish Virgin Islands.
Controversial theory as to how the bones came to be.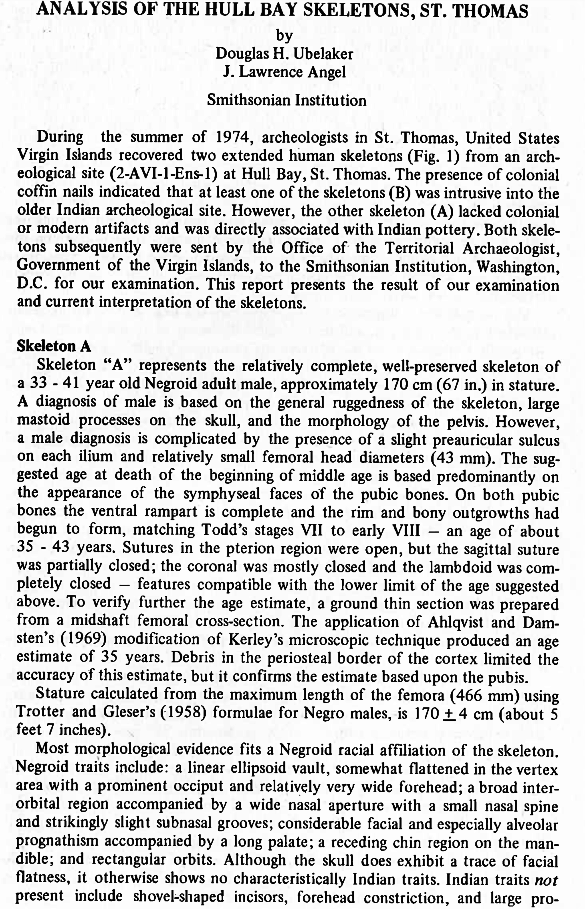 Read More
Analysis of the Hull Bay Skeletons – St. Croix Archaeology
Archaeological Reports . – Google News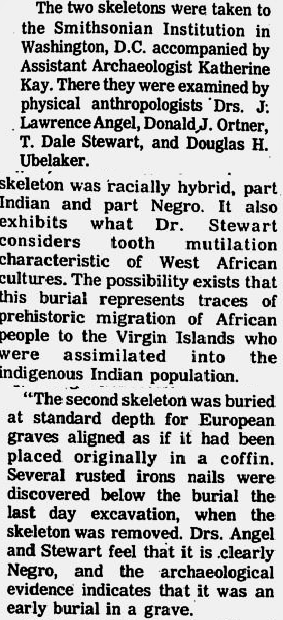 From the The Virgin Islands Daily News – Aug 1, 1975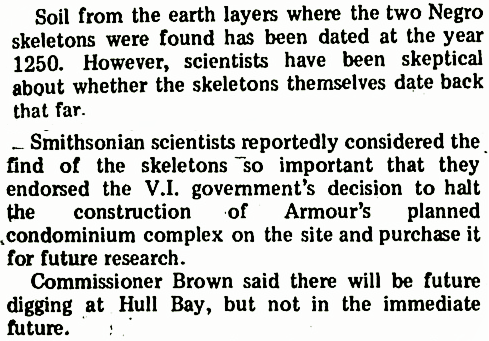 From the Observer-Reporter – Feb 24, 1975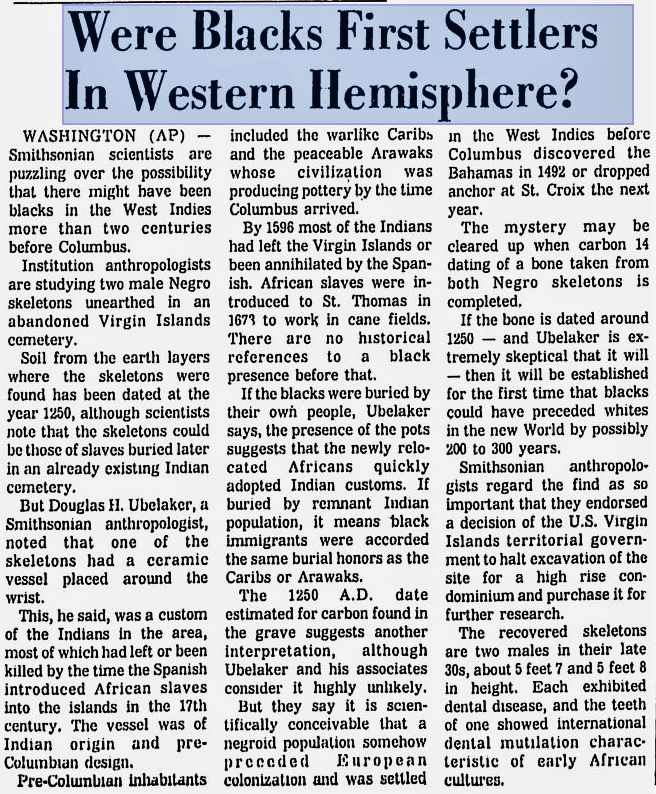 Christopher Columbus personal diary
Originally published: 1893
Author: Christopher Columbus
Editor: Clements Markham
Columbus Himself:
According to renowned American historian and linguist Leo Weiner of Harvard University, one of the strongest pieces of evidence to support the fact that Black people sailed to America before Christopher Columbus was a journal entry from Columbus himself. In Weiner's book, "Africa and the Discovery of America," he explains that Columbus noted in his journal that the Native Americans confirmed "black skinned people had come from the south-east in boats, trading in gold-tipped spears.
lahc.edu/studentservices/aso/bsu/knowyourhistory/10PiecesofEvidenceThatProve.pdf
Have To Love Histories Mysteries 
'prehistoric' remains appear to be a 'hybrid' of races – Native Indian and African Negroid?
The Virgin Islands Daily News – Oct 21, 1974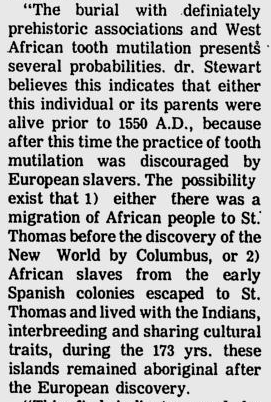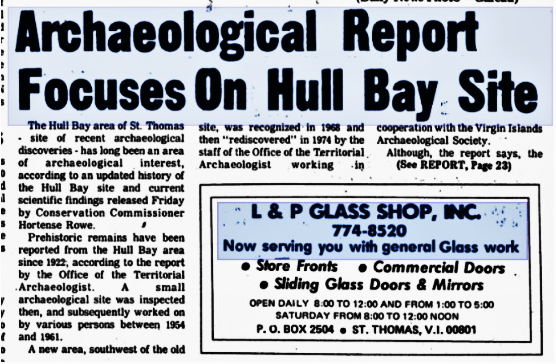 Books dealing with this subject matter
Indians in the Americas: The Untold Story
BLACK – Page 353 – Google Books Result
Mansa Abubakari II & Sultan Abu l-Hasan – When We Ruled
Ancient African Skeletons Discovered in the New World?
There have been many instances of archaeologists discovering skulls and skeletons that they believed clearly belonged to people of African descent. Polish professor Andrzej Wiercinski revealed the discovery of African skulls at Olmec sites in Tlatilco, Cerro de las Mesas and Monte Alban. Even more ancient African skeletons that would clearly predate Columbus' arrival in the Americas were discovered throughout Central America and South America with some even being unearthed in what is now California.

The SAGE Encyclopedia of African Cultural Heritage in North America
The similarities in Native American and African religions also suggest that Africans had to have had early contact with the Native Americans by sailing to the New World. Before Columbus stumbled upon the Native Americans' land, there were prominent figures of deities with dark skin and coarse hair throughout their religion. Today, many surviving portraits reveal these deities who were clearly crafted in the likeness of Africans. Historians also point to wall paintings in caves in South America that depict the ancient Egyptian "opening of the mouth" and cross libation rituals.
The Accounts of Other European Explorers?
Christopher Columbus wasn't the only European explorer who made note of an African presence in the Americas upon his arrival. Historians revealed that at least a dozen other explorers, including Vasco Nunez de Balboa, also made record of seeing "Negroes" when they reached the New World. The accounts match up with the reports from the natives in Mexico. Nicholas Leon, an eminent Mexican authority, recorded the oral traditions of his people and ultimately kept track of a key piece of evidence that Black people made it to the New World far before their European counterparts. His reports revealed accounts from natives saying "the oldest inhabitants of Mexico were blacks. The existence of blacks and giants is commonly believed by nearly all the races of our sail and in their various language they had words to designate them.
lahc.edu/studentservices/aso/bsu/knowyourhistory/10PiecesofEvidenceThatProve.pdf