Storm was one of the first black comic book characters, and the first black female, to play either a major or supporting role in the big two comic book houses, Marvel Comics and DC Comics. Within these two companies, her 1975 debut was only preceded by a few male black characters.  While not the first black character to be introduced, since her creation Storm has remained the most successful and recognizable black superhero.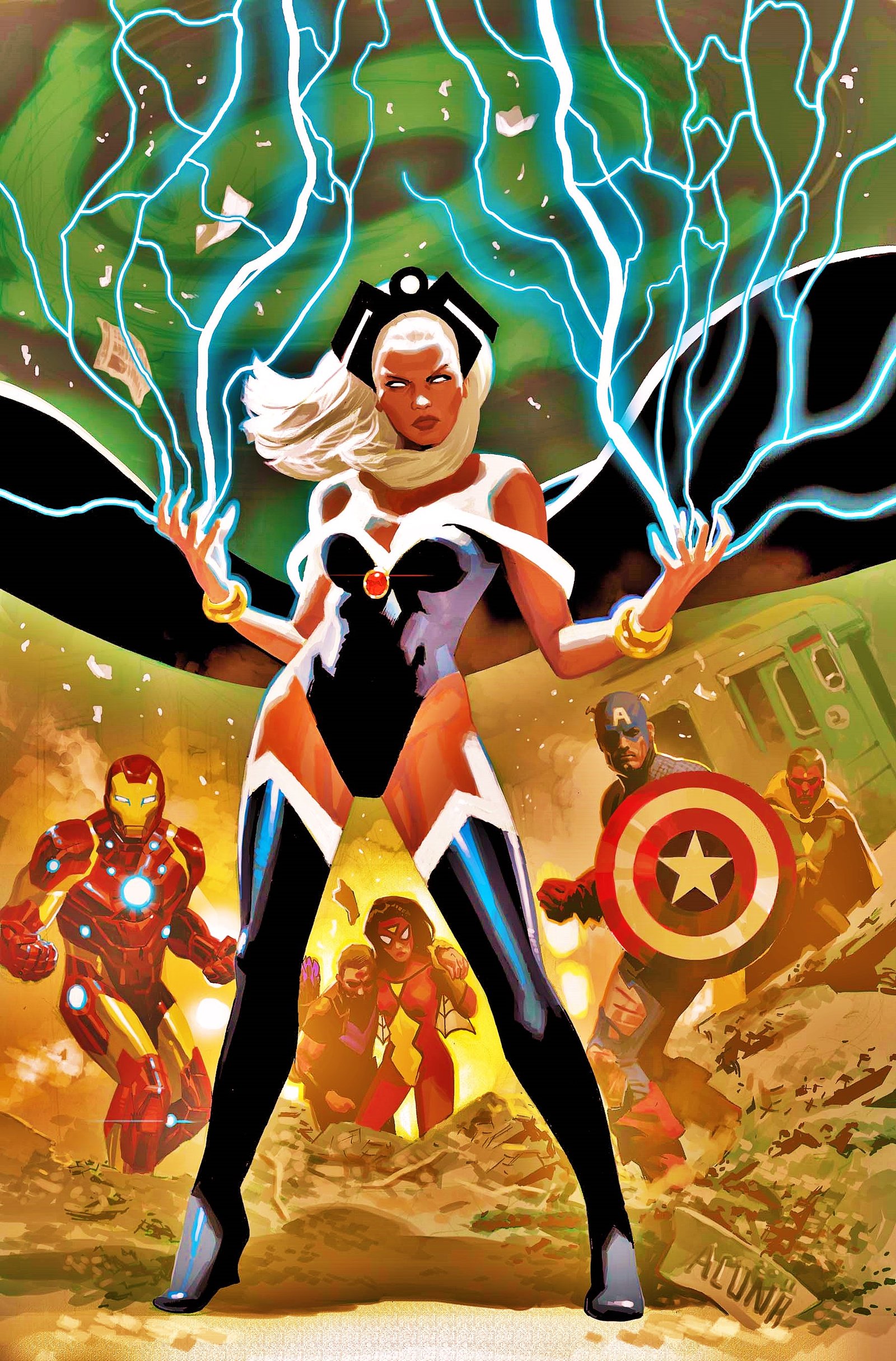 In Marvel Comics, preceding characters were Gabe Jones (debuted in 1963), Black Panther (1966), Bill Foster (1966), Spider-Man supporting characters Joe Robertson (1967), his son Randy (1968), Hobie Brown (the Prowler) & The Falcon (1969), Luke Cage (1972), Blade (1973) and Abe Brown (1974). In DC Comics, she was preceded by Teen Titans member Mal Duncan who debuted in 1970, Green Lantern wielder John Stewart (1971), and Mister Miracle protégé Shilo Norman (1973); she preceded DC's other black heroes, Legion of Super-Heroes member Tyroc (who debuted in 1976), Black Lightning (1977), Cyborg (1980), Vixen (1981) and Amazing Man (1983).
Gladys L. Knight, author of Female Action Heroes: A Guide to Women in Comics, Video games, Film, and Television (2010) wrote that "two defining aspects of her persona are her racial identity and her social status as a mutant." The X-Men have symbolically represented marginalized minorities and the debut of the X-Men series coincided with the African-American Civil Rights Movement (1955–1968), in which their plight as mutants mirrored that of African Americans. Storm's creation in particular "was during the heyday of blaxploitation films, which featured, among others, Pam Grier, an African American actress who is considered a pioneer in female action hero films."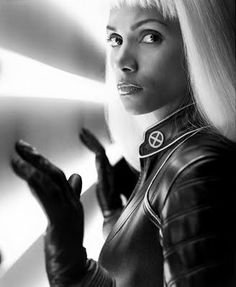 Backstory
In Uncanny X-Men #102 (December 1976), Claremont established Storm's backstory. Storm's mother, N'Dare, was the princess of a tribe inKenya and descended from a long line of African witch-priestesses with white hair, blue eyes, and a natural gift for sorcery. N'Dare falls in love with and marries American photojournalist David Munroe. They move to Harlem in uptown New York City, where Ororo is born. They later moved to Egypt and lived there until they die during the Suez Crisis in a botched aircraft attack, leaving six-year-old Ororo as an orphan. Her violent claustrophobia is established as a result of being buried under tons of rubble after that attack. She becomes a skilled thief in Cairo under the benign Achmed el-Gibar and wanders into the Serengeti as a young woman. She is worshipped as a goddess when her powers appear before being recruited by Professor X for the X-Men.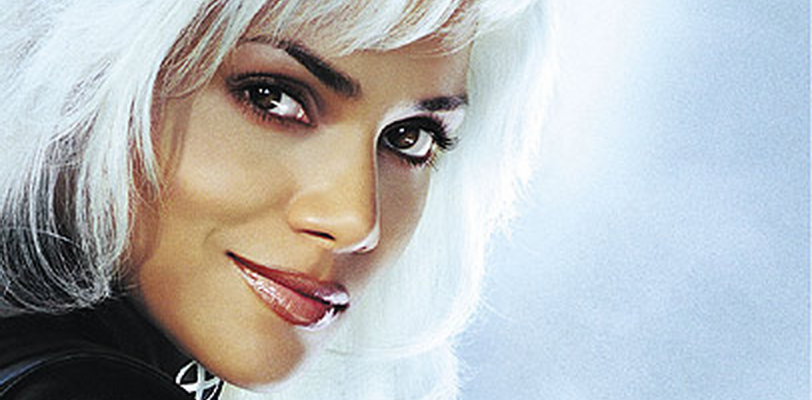 Claremont further fleshed out Storm's backstory in Uncanny X-Men #117 (January 1979). He retroactively added that Professor X, who recruits her in Giant Size X-Men #1 of 1975, had already met her as a child in Cairo. As Ororo grows up on the streets and becomes a proficient thief under the tutelage of master thief Achmed el-Gibar, one of her most notable victims was Charles Francis Xavier, later Professor X. He is able to use his mental powers to temporarily prevent her escape and recognizes the potential in her. However, when Xavier is attacked mentally by Amahl Farouk, the Shadow King, the two men are preoccupied enough with their battle to allow the girl to escape. Both Xavier and the Shadow King recognize Storm as the young girl later.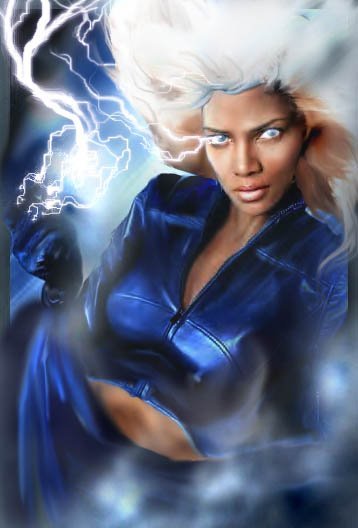 Magical potential
Storm's ancestry supports the use of magic and witchcraft. Many of her ancestors were sorceresses and priestesses. Storm's matrilineal powers have even been linked to the real-world Rain Queens of Balobedu, the region from which her Sorceress Supreme ancestor, Ayesha, hails. The Mystic Arcana series deals with Storm's ancestor Ashake, who worships the Egyptian goddess Ma'at, also known as Oshtur — the mother of Agamotto. Oshtur appears to have strong favor for the bloodline of Ororo.For some unknown reason, since the dawn of Atlantis, this line of African women has been given distinguishing features of white hair, blue eyes, and powerful magic potential. Although Storm has not developed her magical potential, it has been hinted at.
The Mystic Arcana series lists the characters with magic potential according to the Marvel Tarot deck. The Tarot asserts Storm as being "High Priestess", the First Tarot's choice one-third of the time. The other draws were the Scarlet Witch and Agatha Harkness. These three characters split the High Priestess card equally. A timeline-divergent Storm became the sorceress who taught sorcery to Magik and some of Storm's alternate universe selves possess considerable magical talent. On a separate note, it has been stated that Storm's spirit is so strong that she was able to host the consciousness of an avatar (or "manifestation body") of Eternity; in a gathering consisting of herself, Doctor Strange, Black Panther, Silver Surfer and the Fantastic Four, she and Doctor Strange were the only viable candidates.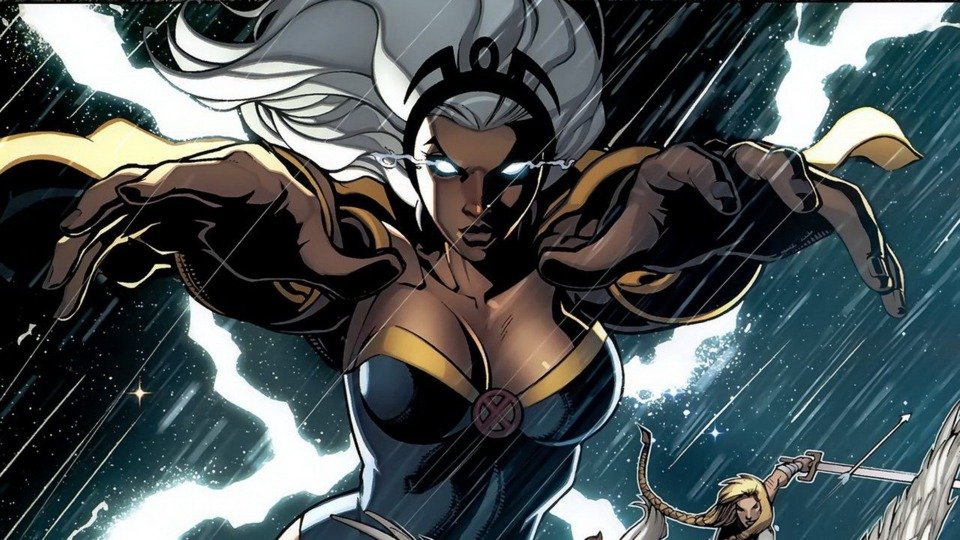 source:comicvine
Fictional character biography
Ever since her inception in 1975, Storm's biography has largely stayed the same. The framework was laid first by Chris Claremont, who fleshed out her backstory in Uncanny X-Men #102 (1976) and Uncanny X-Men #117 (1979). Some reinterpretations were made in 2005 and 2006, where writers Mark Sumerak and Eric Jerome Dickey, respectively, rewrote part of her early history in the miniseries Ororo: Before the Storm and Storm (vol. 2).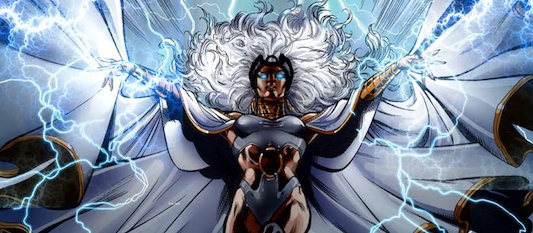 source:geeksofdoom.com
According to established Marvel canon, Ororo Munroe is born in New York City as the child of Kenyan tribal princess N'Dare and American photographer David Munroe. When Ororo is six months old, she and her parents move to the Egyptian capital of Cairo. Five years later, during the Suez Crisis, a fighter jet crashes into her parents' house, killing them. Buried under tons of rubble, Ororo survives but is orphaned and left with intense claustrophobia. Her fear was once so intense that she was known to revert to a fetal position and approach a catatonic state.
(In recent years, Storm has more or less conquered her claustrophobia, and can freely move in tight spaces, even over long periods of time. After the death of her parents, Ororo wanders Cairo's back-alleys for a few weeks, until she is picked up by the benign street lord Achmed el-Gibar and becomes a prolific thief; among her victims is her future mentor Professor X who is there to meet the Shadow King. Following an inner urge, she wanders into the Serengeti as a teenager and meets T'Challa, who would become her future husband. Despite strong mutual feelings, the two part ways.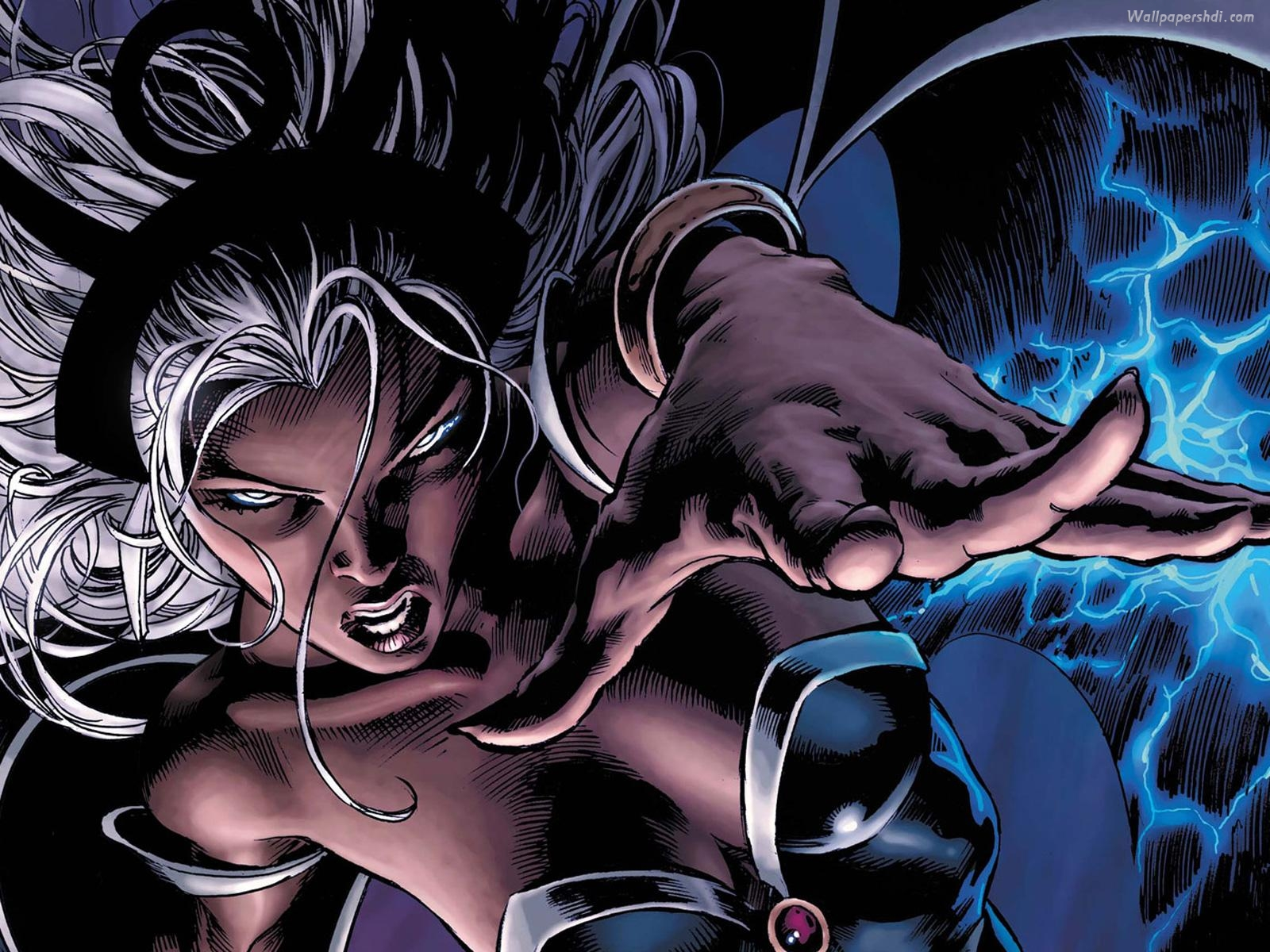 In the Serengeti, Ororo first displays her mutant ability to control the weather. Sometime after this, she met the witch-priestess, Ainet, who took her in and became her surrogate mother. Once, when their village was going through a terrible drought, Storm commanded rain for days just to help them. By doing this, she threw off the natural order of nature, and droughts were formed over numerous villages, and hundreds of animals were killed. Sensing the damage she had done, Ainet told Storm of her kind but ill-thought-out gesture, and of the damage she caused. Ainet took this opportunity to explain to Ororo how her powers worked with nature, and how she could fix the problem by properly distributing rain.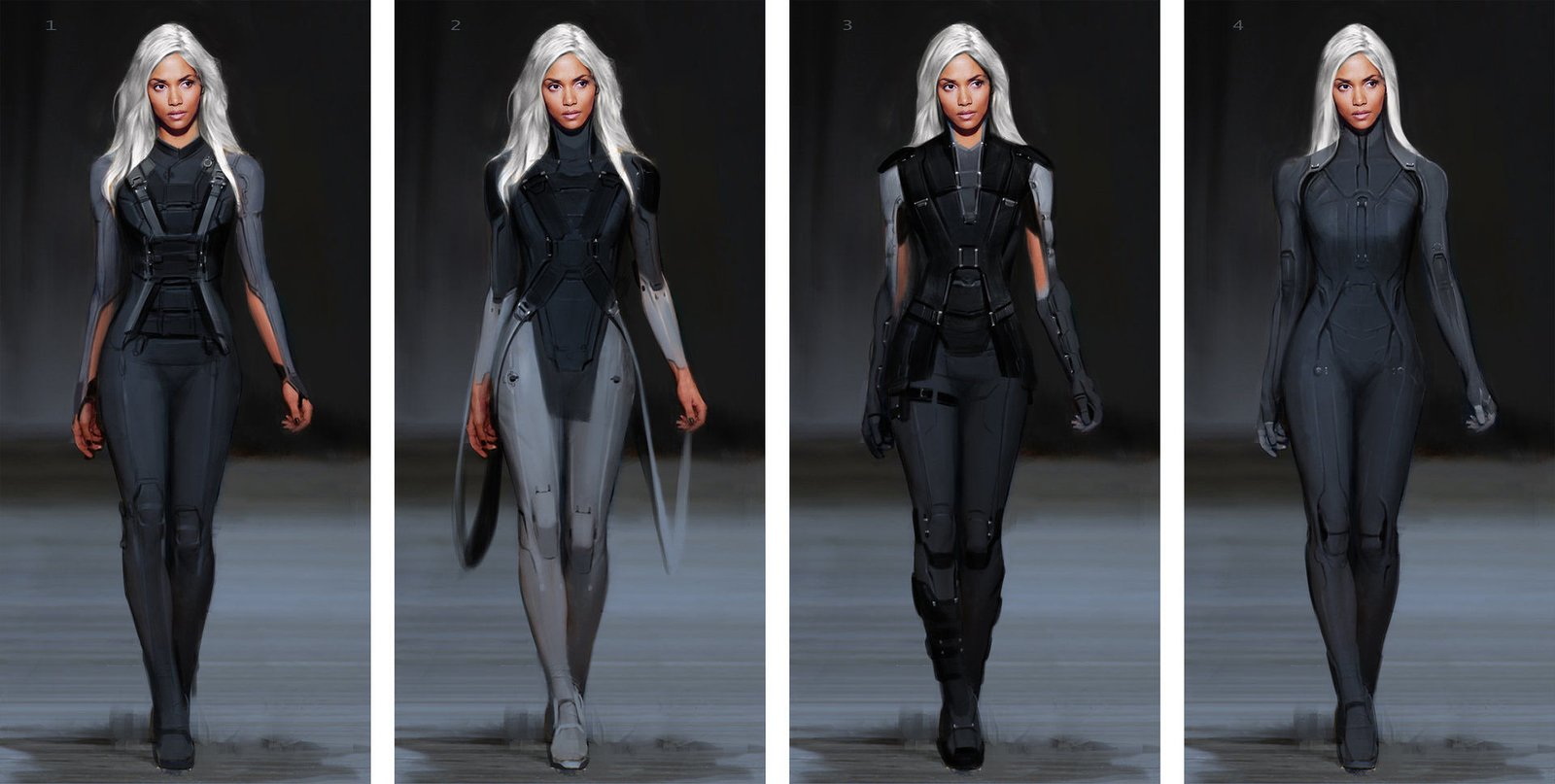 Source:moviepilot.com
For a time, she is worshiped as a rain goddess to an African tribe, practicing nudism and tribal spirituality, before being recruited by Professor X into the X-Men. Ororo receives the code name "Storm" and is established as a strong, serene character. In her early career with the X-Men, she suffers a major claustrophobic attack, which prompts a revelation of her origin to her teammates. When Magneto captures the team, Storm frees the X-Men from captivity. Storm is later captured by the White Queen, leading up to the X-Men's clash with Dark Phoenix. She becomes deputy leader of the X-Men, and supplants her colleague Cyclops as leader of the X-Men, a role she fills out during most of her time as a superhero.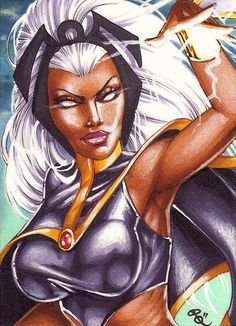 source: www.pinterest.com
She briefly became "Rogue Storm", and even switched bodies with the White Queen. She is attacked by Dracula, and defeats Callisto, becoming the new leader of the Morlocks. Following her leadership of the Morlocks through combat with Callisto, Storm begins to develop a darker side. Eventually, the X-Men are invited to Japan for Wolverine's wedding to Mariko Yashida. It is here that she meets Wolverine's old friend Yukio, and the two become fast friends. Storm is inspired by Yukio, who encourages Storm to embrace her emerging darker side. This leads Storm to drastically change her outward appearance to match her inner self and thus don her iconic punk drab.
Storm is eventually deprived of her superhuman powers by a gun fired by Henry Peter Gyrich; unknown to her, this device was designed by the mutant inventor Forge. The depowered Ororo then first meets and falls in love with Forge, although he does not initially tell her that he is responsible for her power loss.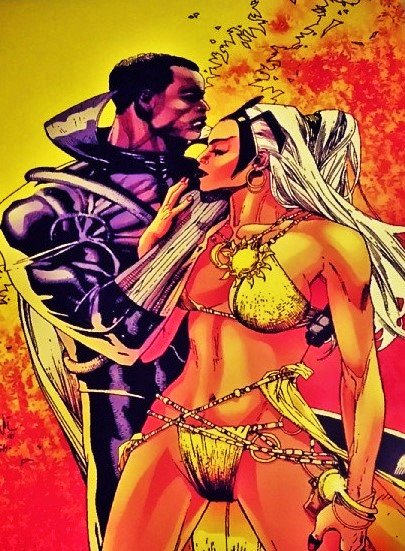 She helps Forge battle Dire Wraiths, before leaving him to rejoin the X-Men. She aids the New Mutants against the Shadow KingAmahl Farouk. She next journeys to Asgard with the X-Men, where she is briefly enslaved by Loki. She is nearly killed in a confrontation with Andreas von Strucker. She defeats Cyclops in a competition to become the X-Men's leader. Not long after that, she is reunited with Forge, regains her superhuman powers, and dies with the X-Men in giving her life force to defeat the Adversary; she is resurrected by Roma. She is reverted to childhood by the mutant Nanny, meets Gambit, and is finally returned to adulthood – however, she is enslaved by the Genoshans, but regains her free will and escapes captivity. Concerning her personal life, she is for a long time romantically involved with fellow X-Man Forge, and even considers marrying him before breaking up.
After 90% of the mutants of the world lose their powers, Storm leaves the X-Men to go to Africa; rekindles her relationship with T'Challa, now a superhero known as Black Panther; marries him; and becomes the queen of the kingdom of Wakanda and joins the new Fantastic Four alongside her husband when Reed and Sue take a vacation. On a mission in space, the Watcher told Black Panther and Storm that their children would have a special destiny. Upon Reed and Sue's return to the Fantastic Four, Storm and the Black Panther leave, with Storm returning to the Uncanny X-Men to help out with events in Messiah Complex.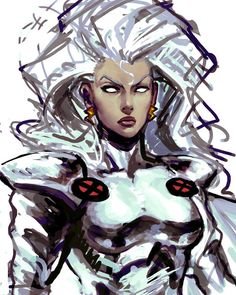 After joining with the X-Men again, Storm is confronted by Cyclops over her position as an X-Man and a Queen. Cyclops reminds her that she made him choose between family and duty before, and she needs to make the same decision. Storm reacts by returning to Wakanda to face a despondent Black Panther, with the two seemingly falling out with each other, although it is later revealed that the Black Panther has been possessed by the Shadow King. After incapacitating the possessed T'Challa, Storm battled Cyclops, who had been mentally enthralled by the Shadow King to kill the other X-Men. After being forced to drive him out by striking Cyclops through the chest with a massive lightning bolt, the Shadow King then took control of Storm, only to be devoured in vengeance by Bast, the Panther God, who had agreed to hide inside of Storm's mind in order to take revenge on the Shadow King for possessing T'Challa.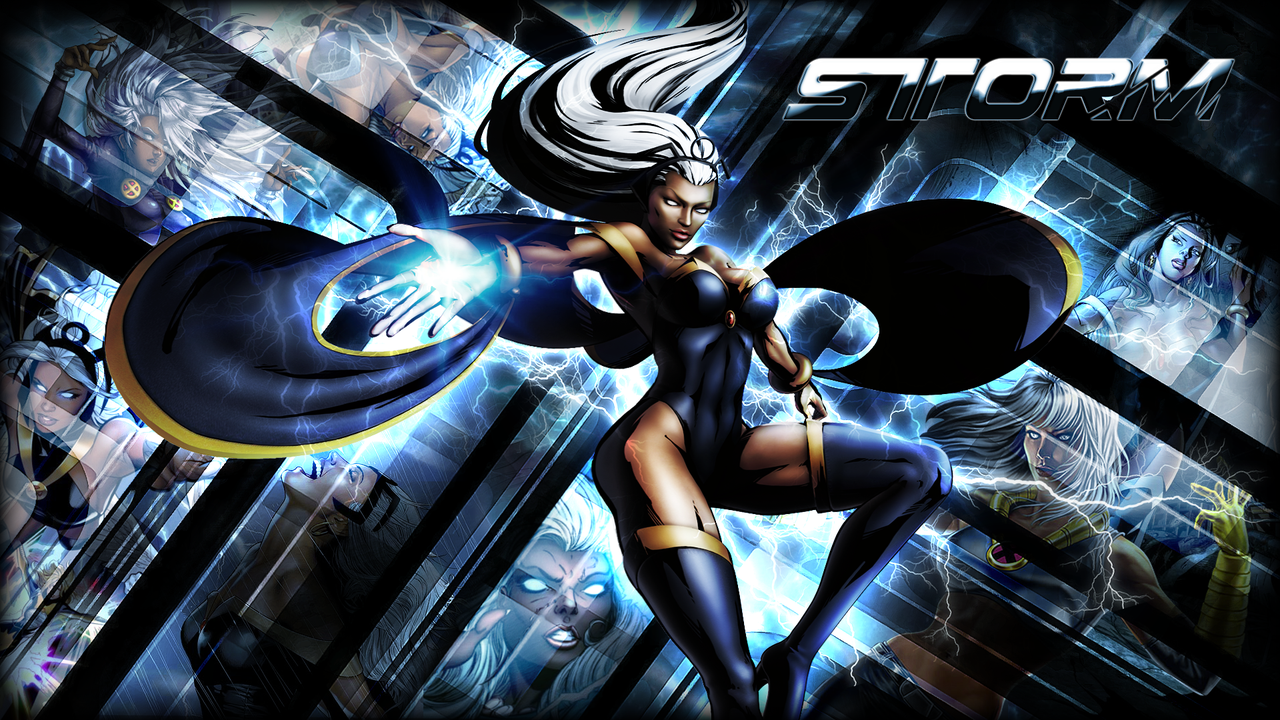 source: www.comicvine.com