Geographic Location of this wig: Africa
This is something that women of color still do today instinctively. If you go on Youtube & search  "How to make your own wigs from scratch" You will see thousands of videos on this particular subject. What is most impressive to me is that the majority of the African or African descent women are self taught in this craft. This is a form of art & I appreciate the time given to make something like this so incredibly beautiful.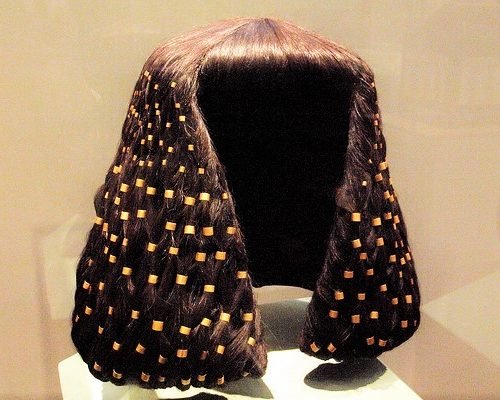 wig rings of Sithathoryunet (Egypt, 1887-1813 B.C.)
Credit Line:Purchase, Rogers Fund and Henry Walters Gift, 1916
Period:Middle Kingdom
Dynasty:Dynasty 12
Reign:reign of Senwosret II–Amenemhat III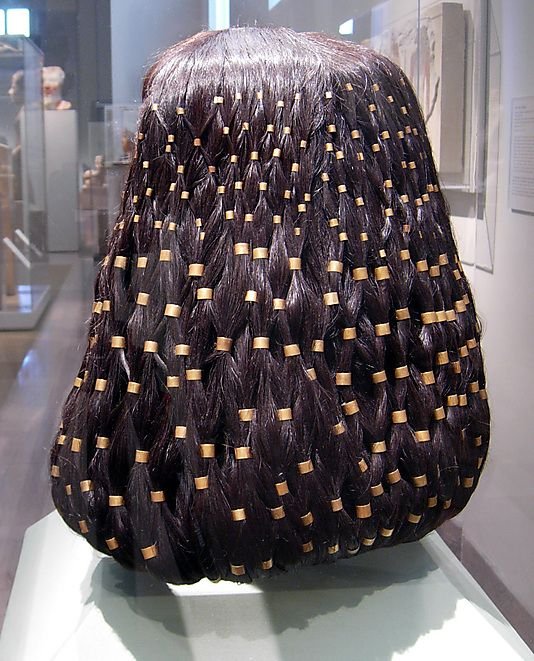 Date:ca. 1887–1813 B.C.
Geography:From Egypt, Fayum Entrance Area, Lahun, Tomb of Sithathoryunet (BSA Tomb 8), Egypt Exploration Society excavations, 1914
Medium:Gold
Hair ornaments made out of gold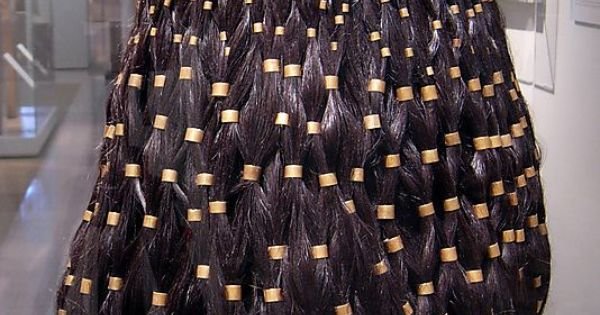 Two boxes in the jewelry niche of Sithathoryunet's tomb seem to have held her ceremonial wigs. The wooden boxes and hair had completely decomposed, but 1,251 gold rings in two sizes that had decorated one of the wigs were preserved. They have been placed on a modern wig in an arrangement suggested by a wooden head that the Metropolitan Museum excavated at Lisht, another Middle Kingdom royal cemetery. A gold crown and a pectoral with the name of Amenemhat III, both in the Egyptian Museum, Cairo, were packed in the same box with the ornamented wig.