"Tondo of the Two Brothers"  In the last decade, the genre of Roman painted portraiture that was first discovered in the cemeteries of Egypt's Fayum Oasis has inspired a series of important publications, conferences and international exhibitions.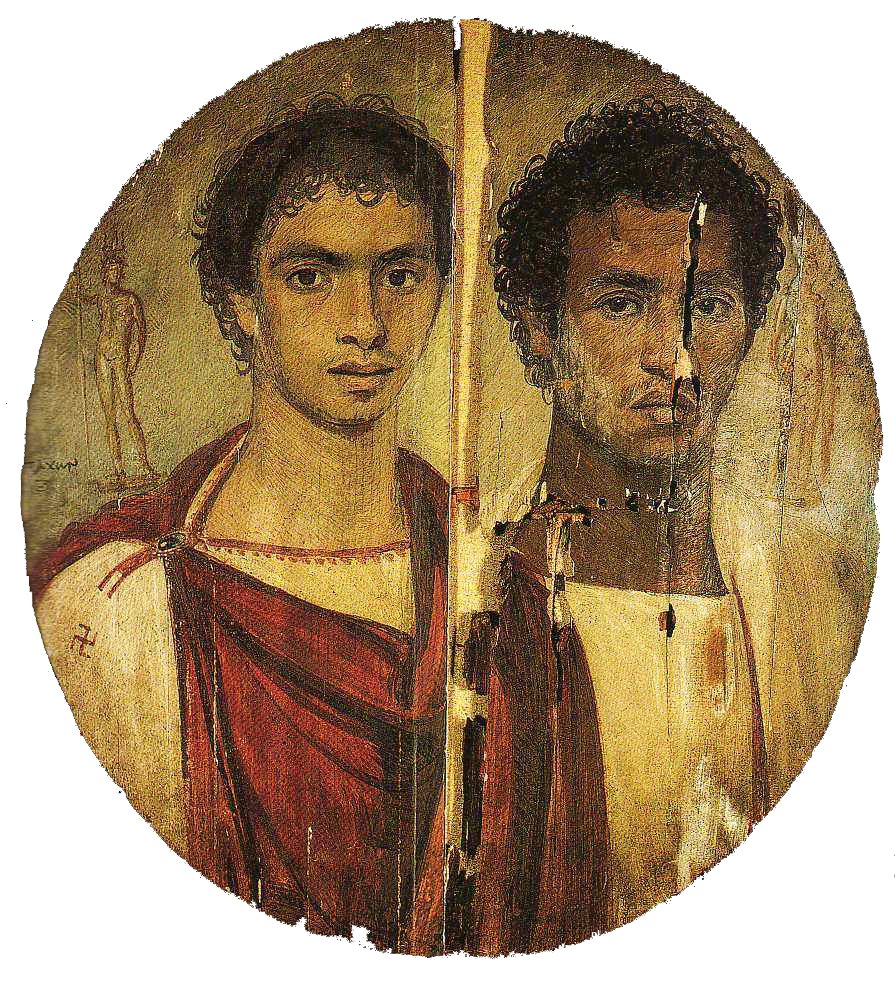 1 Primarily painted on wooden panels, these vivid likenesses are persistently termed Fayum portraits, despite the fact that they have been discovered in other regions of Egypt as well. They are best attested in funerary contexts, where the majority served as portraits inserted into Egyptian-style mummy wrappings. While nineteenth-century archaeologists and art dealers routinely excised these panel portraits from Roman mummies, current research seeks to redress such sins of the past by recontextualizing the compelling ancient faces. Scholars now give equal weight to their dual significance as heirs to native Pharaonic Egyptian funerary traditions and as a new mode of classically-inspired Roman provincial self-presentation.2
1 See especially E. Doxiadis, The Mysterious Fayum Portraits: Faces from Ancient Egypt, exhibition catalog, The British Museum (London 1995); L.H. Corcoran, Portrait Mummies from Roman Egypt (I-IV Centuries A.D.) with a Catalog of Portrait Mummies in Egyptian Museums (Chicago 1995); S. Walker and M. Bierbrier, Ancient Faces: Mummy Portraits from Roman Egypt (London 1997); M.L. Bierbrier (ed.), Portraits and Masks: Burial Customs in Roman Egypt (London 1997); Fayoum's Portraits, exhibition catalog, Mr. and Mrs. Mohammed Khalil Museum (Cairo 1997); M.-F. Aubert and R. Cortopassi, Portraits de l'Egypte romaine, exhibition catalog, Musee du Louvre (Paris 1998) and S. Walker (ed.), Ancient Faces: Mummy Portraits from Roman Egypt, exhibition catalog, The Metropolitan Museum of Art (New York 2000). 2 This paper grew out of an undergraduate course on Graeco-Roman Egypt as an ancient multicultural society which I taught at Kalamazoo College in Fall 1999. In the culminating assignment, students analyzed a Roman mummy portrait of their choice as an example of the artistic integration of Egyptian and Graeco-Roman traditions in funerary portraiture.
 A New Reading of the "Tondo of the Two
–image antinoopolis

Likeness and Presence: A History of the Image Before the Era