Social status
The patrons of the portraits apparently belonged to the affluent upper class of military personnel, civil servants and religious dignitaries. Not everyone could afford a mummy portrait; many mummies were found without one. Flinders Petrie states that only one or two per cent of the mummies he excavated were embellished with portraits. The rates for mummy portraits do not survive, but it can be assumed that the material caused higher costs than the labor, since in antiquity, painters were appreciated as craftsmen rather than as artists. The situation from the "Tomb of Aline" is interesting in this regard. It contained four mummies: those of Aline, of two children and of her husband. Unlike his wife and children, the latter was not equipped with a portrait but with a gilt three-dimensional mask. Perhaps plaster masks were preferred if they could be afforded.
It is not clear whether those depicted are of Egyptian, Greek or Roman origin, nor whether the portraits were commonly used by all ethnicities.
The name of some of those portrayed are known from inscriptions, they are of Egyptian, Greek and Roman origin. Hairstyles and clothing are always influenced by Roman fashion. Women and children are often depicted wearing valuable ornaments and fine garments, men often wearing specific and elaborate outfits. Greek inscriptions of names are relatively common, sometimes they include professions. It is not known whether such inscriptions always reflect reality, or whether they may state ideal conditions or aspirations rather than true conditions. One single inscription is known to definitely indicate the deceased's profession (a shipowner) correctly. The mummy of a woman named Hermione also included the term grammatike (γραμματική). For a long time, it was assumed that this indicated that she was a teacher by profession (for this reason, Flinders Petrie donated the portrait to Girton College, Cambridge, the first residential college for women in Britain), but today, it is assumed that the term indicates her level of education. Some portraits of men show sword-belts or even pommels, suggesting that they were members of the Roman military.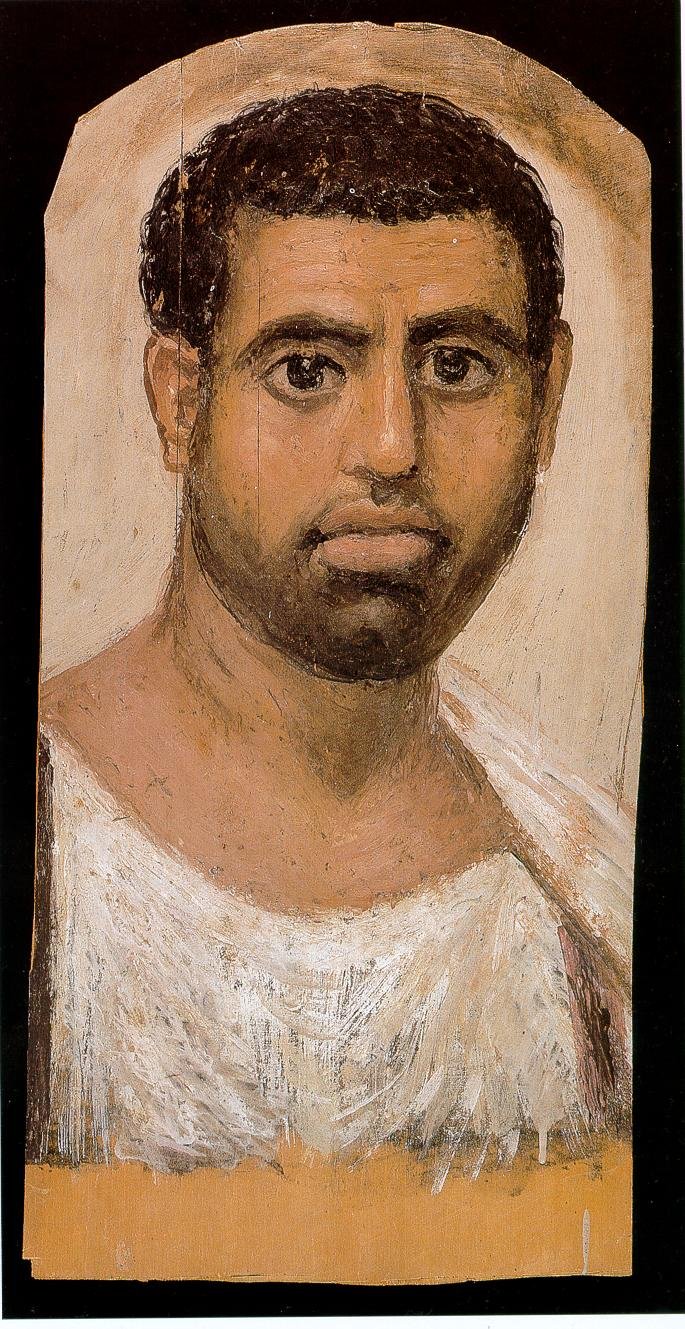 –forumbiodiversity
Clothing
Like the hairstyles, the clothing depicted also follows the general fashions of the Roman Empire, as known from statues and busts. Both men and women tend to wear a thin chiton as an undergarment. Above it, both sexes tend to wear a cloak, laid across the shoulders or wound around the torso. The males wear virtually exclusively white, while female clothing is often red or pink, but can also be yellow, white, blue or purple. The chiton often bears a decorative line (clavus), occasionally light red or light green, also sometimes gold, but normally in dark colours. Some painted mummy wrappings from Antinoopolis depict garments with long sleeves and very wide clavi. So far, not a single portrait has been definitely shown to depict the toga, a key symbol of Roman citizenship. It should, however, be kept in mind that Greek cloaks and togas are draped very similarly on depictions of the 1st and early 2nd centuries. In the late 2nd and 3rd centuries, togas should be distinguishable, but fail to occur.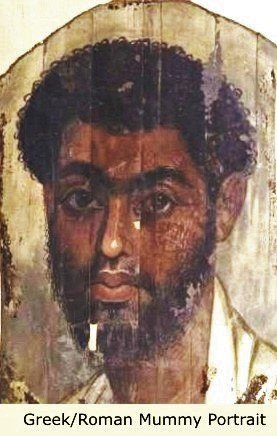 The mummy portraits have immense art-historical importance. Ancient sources indicate that panel painting (rather than wall painting), i.e. painting on wood or other mobile surfaces was held in high regard. But very few ancient panel paintings survive. One of the few examples besides the mummy portraits is the Severan Tondo, also from Egypt (around 200), which, like the mummy portraits, is believed to represent a provincial version of contemporary style. Some aspects of the mummy portraits, especially their frontal perspective and their concentration on key facial features, strongly resemble later icon painting. A direct link has been suggested, but it should be kept in mind that the mummy portraits represent only a small part of a much wider Graeco-Roman tradition, the whole of which later bore an influence on Late Antique and Byzantine Art. A pair of panel "icons" of Serapis and Isis of comparable date (3rd century) and style are in the Getty Museum at Malibu; as with the cult of Mithras, earlier examples of cult images were sculptures or pottery figurines, but from the 3rd century reliefs and then painted images are found.
–Wiki