Nationality: American
Ethnicity: West Indies/Caribbean. Her parents were both of multiracial Cuban descent.
She is 5'10 ft tall.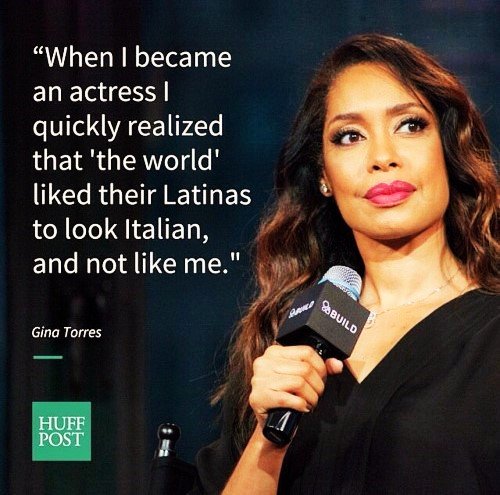 She is an American television and movie actress. She has appeared in many television series, including Hercules: The Legendary Journeys (as Nebula), Xena: Warrior Princess (as Cleopatra), the short-lived Cleopatra 2525, Alias (as Anna Espinosa), Firefly (as Zoe Washburne), Angel (as Jasmine), 24 (as Julia Miliken), Suits (as Jessica Pearson), and The Shield.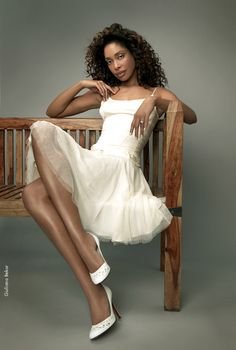 She starred in the independent film South of Pico as Carla, and reprised her Firefly role in its feature film sequel Serenity. Currently, she has a main role on the USA Network show Suits as Jessica Pearson. She and real-life husband Laurence Fishburne played a married couple on the NBC television series Hannibal.
Torres was born at the Flower Fifth Avenue Hospital in Manhattan, the youngest of three children. Her family lived briefly in Washington Heights before moving to The Bronx. Her parents were both of multiracial Cuban descent, and her father worked as a typesetter for La Prensa and The New York Daily News.
Torres, a mezzo-soprano, began singing at an early age and attended Fiorello H. LaGuardia High School of Music & Art and Performing Arts in New York City. She also trained in opera and jazz and performed in a gospel choir.
The Largest Island in the Caribbean

Cuba is located at the entrance to the gulf of Mexico. Its nearest neighbors are Haiti to the east, the Yucatan Peninsula (Mexico) to the west, Florida (United States) to the north and Jamaica to the south.
Cuba is 1200 km (745 miles) long.
It has more than 280 beaches, unspoiled keys, grottoes, caves, mountains, forests, savannas and swamps.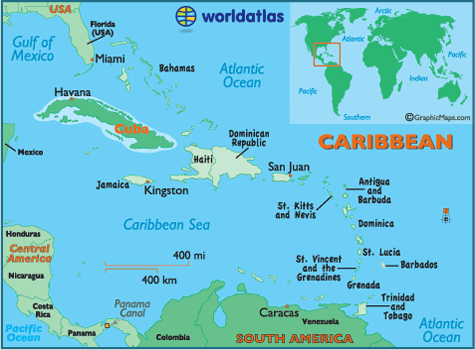 Population: Cuba's population of 11 million consists of descendants of Spaniards, Africans and Asians.
Capital: City of Havana, with almost 3 million inhabitants.
Language: Spanish is the official language. However, some English is spoken at almost all hotels and tourist destinations.
Culture: Cuba is rich in artistic expressions and creative people, and has contributed to world culture by way of outstanding writers, thinkers, dancers, musicians, painters, poets and singers. The Cuban cultural infrastructure consists of theaters, museums, art galleries and movie theaters where national and international art of all kinds are shown. Cuba hosts many major international events, such as the Ballet Festival, the biennial art exhibitions, folk music festivals, the New Latin American Film Festival, etc.
Religion: Cuba allows freedom of religion. Catholicism and Afro-Cuban rituals are the most prominent religions, although there are other tendencies and sects.
Source: About Cuba – Where is Cuba | WOW Cuba

Film
Year Title Role Notes
1996 Bed of Roses Francine
1996 The Substance of Fire Maitre d'
2003 The Matrix Reloaded Cas
2003 The Matrix Revolutions Cas
2004 Hair Show Marcella
2005 Fair Game Stacey
2005 Serenity Zoe Washburne
2006 Jam Lilac
2006 Five Fingers Aicha
2007 I Think I Love My Wife Brenda Cooper
2007 South of Pico Carla Silva
2009 Don't Let Me Drown Diana
2010 Justice League: Crisis on Two Earths Superwoman (voice)
2013 Mr. Sophistication Janice Waters
Television
Year Title Role Notes
1992 Unnatural Pursuits Silken Episode: "I Don't Do Cuddles"
1992 Law & Order Laura Elkin Episode: "Skin Deep"
1994 M.A.N.T.I.S. Dr. Amy Ellis Television movie (series pilot)
1995 Law & Order Charlene Episode: "Purple Heart"
1995 NYPD Blue Dominican Woman Episode: "E.R."
1995 One Life to Live Magdalena 12 episodes
1996 One Life to Live Nell 5 episodes
1996 Dark Angel LaMayne Television movie
1997 Profiler Michelle Brubaker Episode: "FTX: Field Training Exercise"
1997 The Gregory Hines Show Jeanette Episode: "Flirting with Disaster"
1997 Xena: Warrior Princess Cleopatra Episode: "The King of Assassins"
1997 The Underworld Unknown Television movie
1997–99 Hercules: The Legendary Journeys Nebula Recurring role, 8 episodes
1998 Hercules: The Legendary Journeys Beth Hymson, Casting Director Episode: "Yes, Virginia, There is a Hercules"
1998 La Femme Nikita Jenna Vogler Episode: "Open Heart"
1998 Encore! Encore! Opera Patron #3 Episode: "Pilot"
2000–01 Cleopatra 2525 Helen 'Hel' Carter Main role, 28 episodes

ALMA Award for Outstanding Lead Actress in a Drama Series
2001–02 Any Day Now Stacy Trenton 3 episodes
2001–06 Alias Anna Espinosa Recurring role, 6 episodes
2002–03 Firefly Zoe Washburne Main role, 14 episodes
2003 The Agency Dacia Banga Episode: "Absolute Bastard"
2003 Angel Jasmine 5 episodes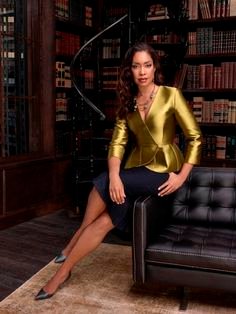 Nominated—Satellite Award for Best Supporting Actress – Series, Miniseries or Television Film
2003 The Guardian Sadie Harper 2 episodes
2003 The Law and Mr. Lee Vicki Lee Television movie
2004 CSI: Crime Scene Investigation Warden Hutton Episode: "XX"
2004 24 Julia Milliken Recurring role, 7 episodes
2004–06 Justice League Unlimited Vixen/Mari McCabe (voice) 5 episodes
2004 Gramercy Park Mrs. Hammond Television movie
2005 Soccer Moms Jamie Cane Television movie
2006 The Shield Sadie Kavanaugh 2 episodes
2006 Without a Trace Tyra Hughes Episode: "More Than This"
2006–07 Standoff Cheryl Carrera Main role, 18 episodes
2007 Dirty Sexy Money Princess Ama Episode: "The Nutcracker"
2008 Boston Legal A.D.A. Mary Franklin Episode: "The Gods Must Be Crazy"
2008 Bones Dr. Toni Ezralow Episode: "The Bone That Blew"
2008 Criminal Minds Det. Thea Salinas Episode: "Normal"
2008–09 Eli Stone Attorney Miller 2 episodes
2009 Dirty Sexy Money Princess Ama Episode: "The Facts"
2009 Pushing Daisies Lila Robinson Episode: "Water & Power"
2009 The Unit Sgt. Natasha Andrews Episode: "Best Laid Plans"
2009 Drop Dead Diva Diana Hall Episode: "Make Me a Match"
2009 FlashForward Felicia Wedeck 2 episodes
2009 Gossip Girl Gabriela Abrams 2 episodes
2009 Applause for Miss E Maggie Television movie
2009 Washington Field SA Jackie Palmer Television movie
2010 The Vampire Diaries Bree Episode: "Bloodlines"
2010 The Boondocks Ebony Brown (voice) Episode: "Lovely Ebony Brown"
2010 Huge Dr. Dorothy Rand Main role, 10 episodes
2011–13 Transformers: Prime Airachnid (voice) 12 episodes
2011–present Suits Jessica Pearson Main role, 60 episodes
Nominated—ALMA Award for Favorite Supporting Actress on Television
2013 Castle Penelope Foster Episode: "Reality Star Struck"
2013–15 Hannibal Phyllis "Bella" Crawford Recurring role, 5 episodes
Nominated—Saturn Award for Best Guest Starring Role on Television
2015 Revenge Natalie Waters 3 episodes
2015 Star Wars Rebels Ketsu Onyo (voice) Episode: "Blood Sisters"

Web series
Year Title Role Notes
2015 Con Man
Video games
Year Title Role
2005 The Matrix Online Niobe (voice)
2011 DC Universe Online Wonder Woman (voice)
2012 Transformers: Prime – The Game Airachnid (voice)
2014 Destiny Ikora Rey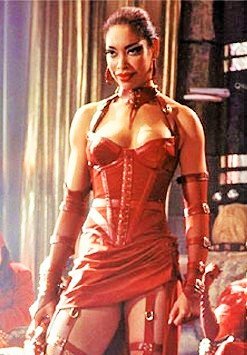 Theatre
Year Title Role
1993 Face Value Marci Williams