Nationality: American
Place of birth: Santo Domingo, Dominican Republic.
Anais (birth name Anais Martinez)
She won a Casandra Award (which is the Dominican version of the Grammy's) for "Most Outstanding Artist Located In Another Country".
  
She attended The Door academy in New York where study dance and singing with Juanita Williams, who is a gospel and jazz singer singer. During that time she went to karaoke bars to practice and to achieve live experience .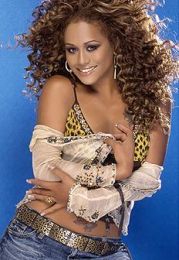 She was the winner of the second season ofObjetivo Fama, a Puerto Rican reality-show-contest that airs on Univision Puerto Rico in Puerto Rico and on the Telefutura network in the United States mainland, and is widely considered to be the most successful winner of Objetivo Fama.
Anaís performed the song "Como Tu Mujer" in a televised tribute to Mexican singer Marco Antonio Solís. The performance was hailed not only as the best performance of the night, but also as one of the best live performances she has ever done. A studio version of the song is available on the "Deluxe Edition" of her album. Solís was so impressed by the performance that he invited Anaís as a special guest and opening act for his concert in Madison Square Garden. Anais is also expected to record a song with Solis for her third upcoming production.
Anaís is stated on her personal twitter on December 6, 2011 that she has gone into the studio and is working on her new comeback single. She also mentioned in an interview that it will probably be in the genre of House music.