She is African and German American or Dutch
Paula's family lived across the street from the 20th Century Fox lot when she was growing up and she was a fan of films from her earliest years. Her mother, who also appreciated good films, was a schoolteacher, and her father was a lawyer.
Study film at the University of Southern California in a summer program, and won a 3-month assignment making documentaries for PBS. This led to her working as a production assistant for TV documentaries, and also for Howie Mandel's talk show. She progressed to actually producing documentary segments for "Medical Diaries" (2000) airing on Discovery Health Channel.
Met her husband, Robin Thicke, when she was 15 and he was 14 at a teen club in Los Angeles.
She is married to singer/songwriter Robin Thicke.
Featured on the cover of husband Robin Thicke's first album, "A Beautiful World".
Singer Robin Thicke wrote his 2006 song "Lost Without U" for her.
An article in Women's Health Magazine states that Patton was born to a White mother and a Black father. However Patton identifies herself as Black and said in an interview that she finds being called bi-racial offensive to her.
"I find [the term biracial] offensive. It's a way for people to separate themselves from African-Americans….a way of saying 'I'm better than that, I'm black because that's the way the world sees me."
Paula Patton's Husband, Son and actress/singer Gloria Loring her mother-in-law.  
Gloria Loring is the recording artist of the #1 hit song "Friends and Lovers", co-composer of television theme songs for "Diff'rent Strokes"(1978) and "The Facts of Life" (1979), an audience favorite from daytime TV's "Days of Our Lives" (1965), spokesperson for the Juvenile Diabetes Research Foundation, author of four books, inspirational speaker and one of the few artists to sing two nominated songs at the Academy Awards.
Ms. Loring has stated previously that Julian (grandson) looks more like her.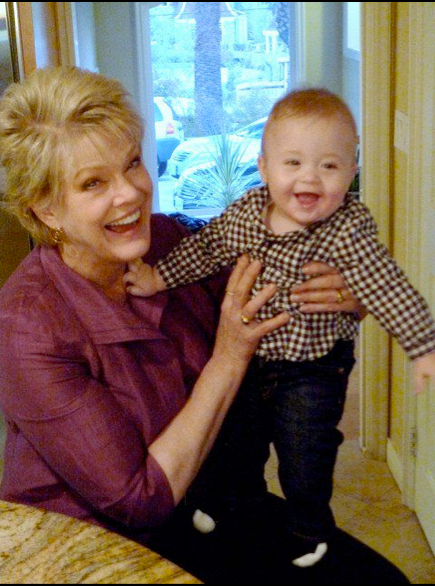 http://youtu.be/2PYR80GkBxs
Paula Patton sat down with Handler and talked about her career and family
"He's blond, he has blue eyes. It's crazy. Everybody's like, did you have anything to do with this? They think we like adopted a Russian child…and everyday I'm like he's gonna get blacker, no look," Patton said.
She was all smiles chatting with Handler, but it's a bit sad that she's mistaken for her son's nanny, as Handler was quick to point out.