Gilded silver mask of Nubian Queen Malakaye who wears a striated wig and broad collar.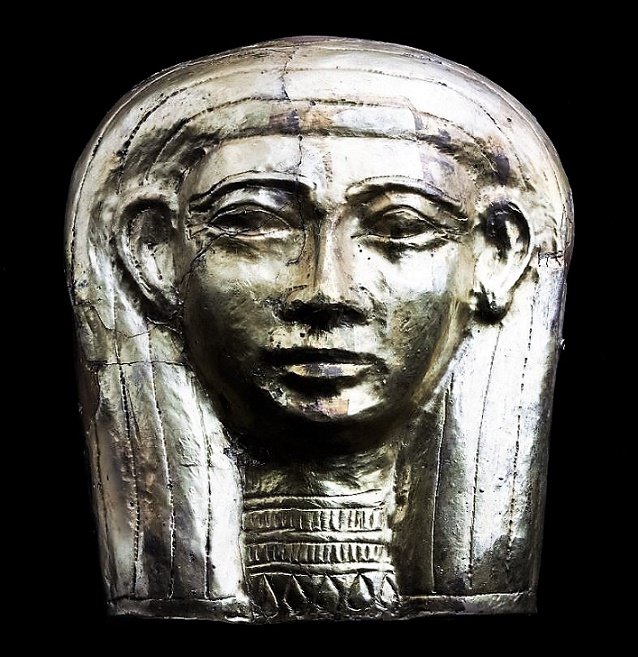 Findspot: Nubia (Sudan), Nuri, Pyramid 59.
Napatan Period, reign of Tanwetamani
664–653 B.C.
From Nuri, pyramid 59 (tomb of Quen Malakaye).
There are 200+ pyramids in Sudan. Most of the rulers were Nubian Queens.
1918: excavated by the Harvard University-Boston Museum of Fine Arts Expedition; assigned to the MFA in the division of finds by the government of Sudan. (Accession date: March 1, 1920)
Mask of Queen Malakaye | Museum of Fine Arts, Boston
The exhibition focuses on centuries-old royal ornaments, including both uniquely Nubian objects and foreign imports, which were prized for their materials, craftsmanship, symbolism, innovation and rarity. An incredible range of objects are on view, many of which are extremely rare and in pristine condition, such as the Hathor-headed crystal pendant (743–712 BC).
This work is the only example of a pendant featuring Hathor, goddess of love and motherhood, on a crystal orb, and was discovered in the tomb of a queen at el-Kurru, the burial place of the early rulers of the Napatan Period (the era between the mid-eighth and the late fourth centuries BC). Cylindrical amulet cases such as this were worn suspended from the neck, and were believed to have special powers. Found buried with the dead, some have contained sheets of papyrus or metal inscribed with magical texts.
'Gold and the Gods: Jewels of Ancient Nubia' at the Museum of Fine …
Map of Sudan