Featured in The Sunday Times on June 6th, 1999 newspaper article.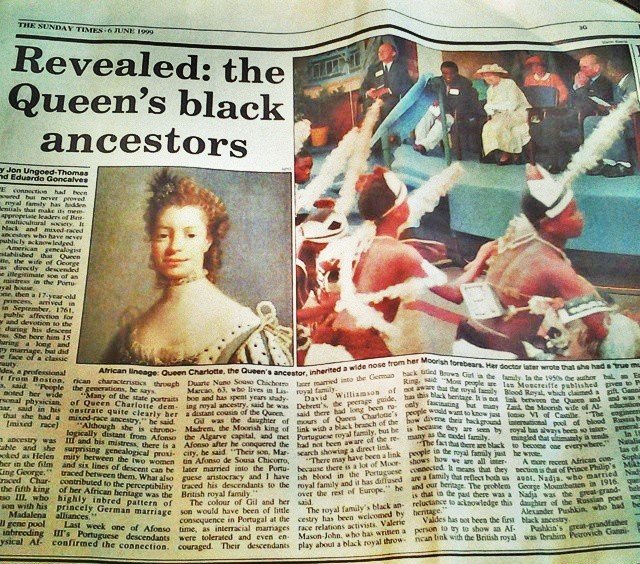 -D.Fizzman
The connection had been rumoured but never proved. The royal family has hidden credentials that make its members appropriate leaders of Britain's multicultural society. It has black and mixed-raced royal ancestors who have never been publicly acknowledged.
An American genealogist has established that Queen Charlotte, the wife of George III, was directly descended from the illegitimate son of an African mistress in the Portuguese royal house.
Charlotte, then a 17-year-old German princess, arrived in England in September, 1761, and won public affection for her loyalty and devotion to the king even during his descent into madness. She bore him 15 children during a long and mainly happy marriage, but did not have the face of a classic European beauty.
Mario Valdes, a professional genealogist from Boston, Massachusetts, said: "People in the court noted her wide nose. Her personal physician, Baron Stockmarr, said in his autobiography that she had a true > Read More  thesundaytimes.co.uk/sto/Migration/article168908
Another great link on this subject below
Queen Charlotte | FRONTLINE | PBS
Other theories on the Queens ethnicity
According to Valdes, Queen Charlotte's African contribution could have been inherited three to six times over from one ancestor nine generations removed, Margarida de Castro e Sousa, a 15th-century Portuguese noblewoman, who traced her ancestry to King Afonso III of Portugal (1210–1279) and one of his mistresses, Madragana (c. 1230–?). Critics of Valdes' theory point out that Margarita's and Madragana's distant perch in the queen's family tree – nine and 15 generations removed, respectively – makes any African ancestry that they bequeathed to Charlotte negligible in any event, Charlotte shared descent from Alfonso and Madragana with a large proportion of Europe's royalty and nobility.
Madragana has been described as Berber, an Afro-Asiatic ethnicity. Some researchers believe/thinks Madragana to have been a Mozarab: an Iberian Christian living in Spain when it was under Muslim control.
A little bio:
Queen Charlotte was Queen of Great Britain and Ireland from her marriage in 1761 until the union of the two kingdoms in 1801, after which she was Queen of the United Kingdom of Great Britain and Ireland until her death in 1818. She was also the Electress of Hanover in the Holy Roman Empire until the promotion of her husband to King of Hanover on 12 October 1814, after which she was also queen consort of Hanover.
Queen Charlotte was a patroness of the arts and an amateur botanist, who helped expand Kew Gardens. George III and Charlotte had 15 children, 13 of whom survived to adulthood. She was distressed by her husband's bouts of physical illness and insanity, which became permanent in later life and resulted in their eldest son being appointed Prince Regent in 1811.