Noémie Lenoir is a French model and actress of African and European descent.
They disagree .Karl said that's there is no racism in fashion. Noemie said the contrary. Then karl said she 's the proof there 's no racism because she 's famous.
Noemie argues that's she not black nor white, she"between the two" and that' actually biracial's the new trend.
Karl ask if it was hard. She didn't say that ,especially thanks to people like karl who've begun to involve black models in fashion.
Karl said:don't say black it's rude.
Noemie:brown if you prefer.
The gist of the interview is that coloured girls rarely make it big time as models in the fashion world. Karl Lagerfeld does not think it is racism but more a case of the culture and style of non whites not being geared to high fashion.
There have been a few successful black models like Naomi Campbell and Daria taken on by great couture houses and that have become stars, but on the whole white or mixed-race models are more successful. Chinese or Japanese, and Indian models are practically unknown for instance, and there are no great couture designers from those continents, a fact with which Noémie agrees. The black girls that have been taken on by great names in the fashion world have been picked because of their particular style. Noémie Lenoir , who is mixed-race, thinks there is definitely some prejudice in the fashion industry and states that, although she has an advantage since her complexion does not have the same flaws as white girls when they are ill and is consistent in photo shoots, she has felt that she was not held in the same consideration. She does not think using the word "black" is insulting, where as Karl does.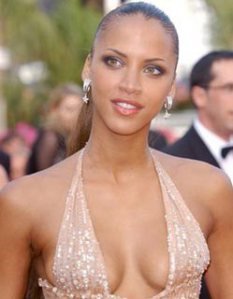 Although it has not been actually said to her in so many words that she was inferior because she is bi-racial, she has been made to feel it. When Karl said that there was not the same interest in high fashion amongst black people, she disagreed, saying that wealthy blacks and rappers did buy haute couture clothes, and more black women were buying names like Channel or Louis Vuiton. Karl stated that couturiers obviously went for names that were already famous like Claudia Shiffer, Kate Moss or Daria.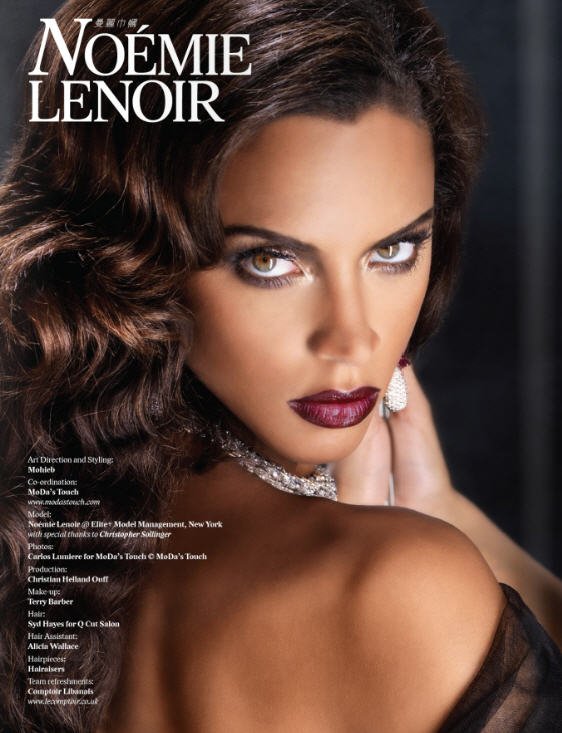 He does think that there is a degree of injustice in the proportion of white models being employed in relation to others, and that the fashion world is unjust by definition. The conclusion of the interview was that people would have to wait for the discovery of new stars like Iman or Naomi to see more black models on the famous catwalks.
To sum up the end, Karl makes the conclusion that there's not a lot of black models (nor chinese or japanese) because there's no black model who's sufficiently special to be a star today.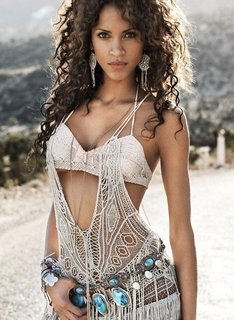 She is best known for appearing in top magazines such as Elle and Sports Illustrated, and modeling in advertisements for high fashion brands.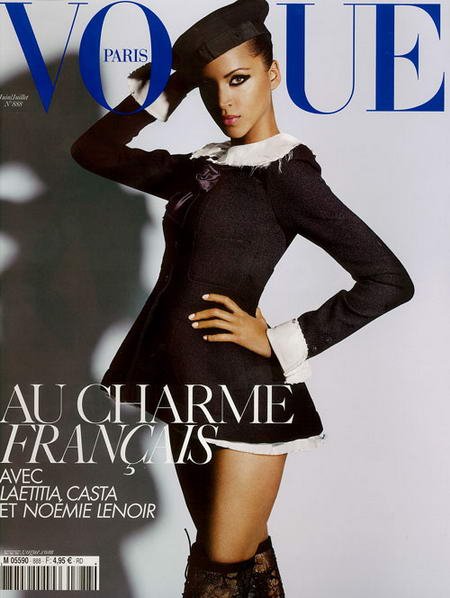 On May 9, 2010, Lenoir was found unconscious, after a suspected suicide attempt in a park near her Paris home, by a man walking his dog. She was rushed to hospital where large quantities of drugs and alcohol were found in her system. She spoke about the suicide attempt in a February 2011 interview with Britain's 
Guardian Weekend
 magazine, admitting she'd done 'something really, really stupid'. Some have referred to the incident as a case in a "series of suicidal tragedies" ongoing in the fashion industry at the time, along with the suicides of 
Ambrose Olsen
, 
Daul Kim
, 
Hayley Kohle
, and
Ruslana Korshunova
.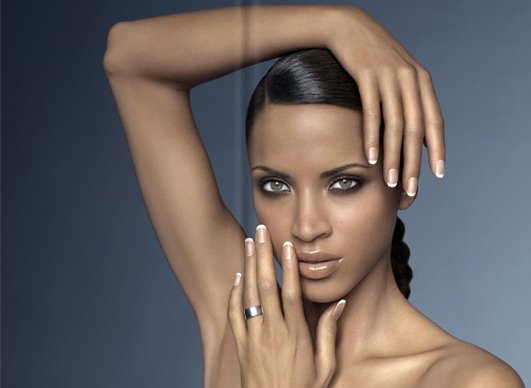 Personal Quotes:
[on her suicide attempt] I did something really, really stupid. I had been living in New York and I moved back to Paris, to try again with the father of my son. It was a big change. I wasn't so healthy in Paris . . . I couldn't find a gym, and exercise is important to me because I am very hyper. I came straight from New York to living in Claude's house, and I really wanted it to work, and it didn't work out. He hurt me . . . so I decided . . . I don't know how to say this. It was like a bad, bad depression, a very deep depression. I felt really alone. It wasn't just like, "I'm here, don't ignore me". Nothing like that. I really thought I wanted . . . I decided to. After my . . . after I tried to kill myself, when I woke up, I finally realized: Claude is not the man for me. And I am not the woman for him. I am too independent and he is too independent also.
I was working really hard. I knew I was lucky to have this work. I come from a really poor family, and when I started doing campaigns it changed everything for my family. I am not complaining, I had a beautiful childhood – we didn't have a lot of money, but there was always food on the table, and my parents saved money so that in the holidays we would all get in the car and drive to the mountains. I have amazing parents. They had worked hard all their lives for me, and when I started to make money I wanted to be able to take care of them.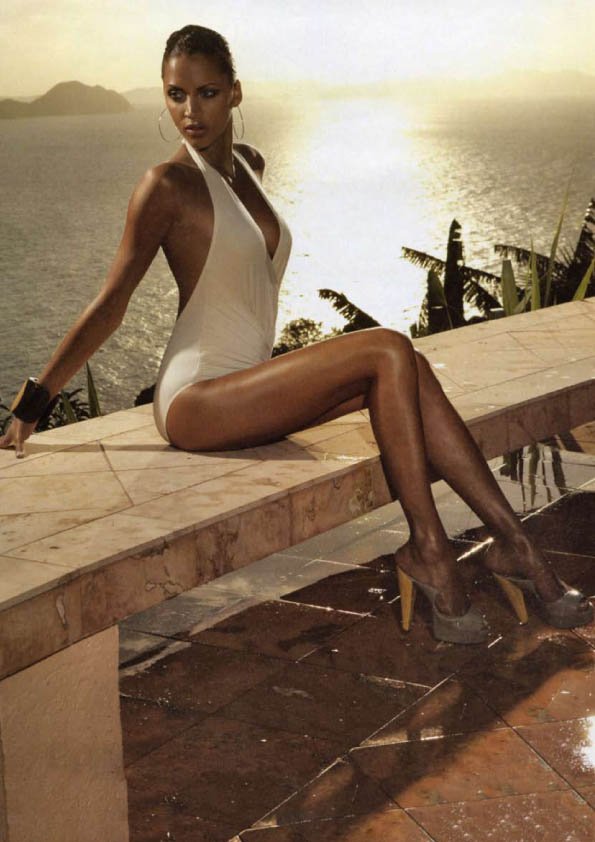 Personal Quotes:
People say, "How could she do it, how could she try and kill herself, didn't she think about her son?" But they don't understand. I love my son so much. But I didn't think I was good enough, I thought I was poison. Poison for me and poison for him. When I was depressed I felt like I was poisoning his life by being in it. I thought he would be better with his dad and my mum to look after him. I didn't realize I was hurting anyone, until I woke up in the hospital and saw my mum crying.
My son is living with me and he sees his dad a lot and he is happy, and he is doing really well at school. He is bilingual, and he is learning horse riding and Spanish. Everything is normal. I eat normally now. I used to be a bit crazy about what I ate, but now I eat what I want to eat. A croissant for breakfast, pasta for lunch, in the evening fish and salad.
[on her new boyfriend – a doctor] I met him through a friend. The normal way! Not in a club. [He is] a Jewish doctor who doesn't care about money. It is really different for me, because I love money, because I grew up with none, and because I have been supporting myself and my family since I was 17. But my boyfriend, he doesn't even have a big watch.
[on her refound faith] I think if you don't trust in yourself, it helps to trust in something else.