Nationality: Nigerian
Ethnicity: Nigerian, West African
She stands at 5'11Ft tall. Ms. Nicholas is well known in the fashion industry for her sultry runway walk, great legs with her poise, pillowy lips and perfect runway physique charming casting directors, designers and fashion denizens alike.
At the age of 16, Mayowa Nicholas won Elite Model Look Nigeria, and earned herself a spot amongst the final 15 at the world finals.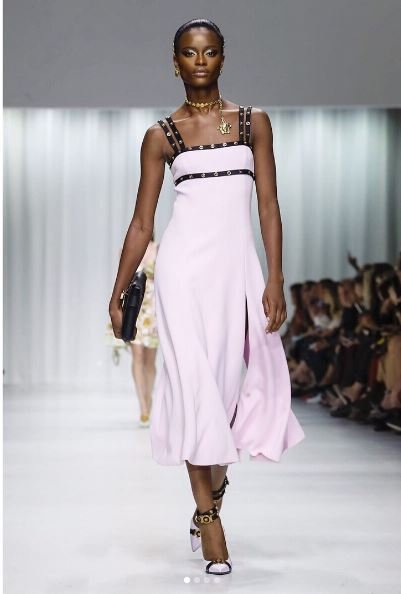 Ms. Nicholas walked for fashion week season in Milan and Paris, where she made a stellar début on the runways of brands including Balmain, Hermès, Kenzo, MSGM and Manish Arora.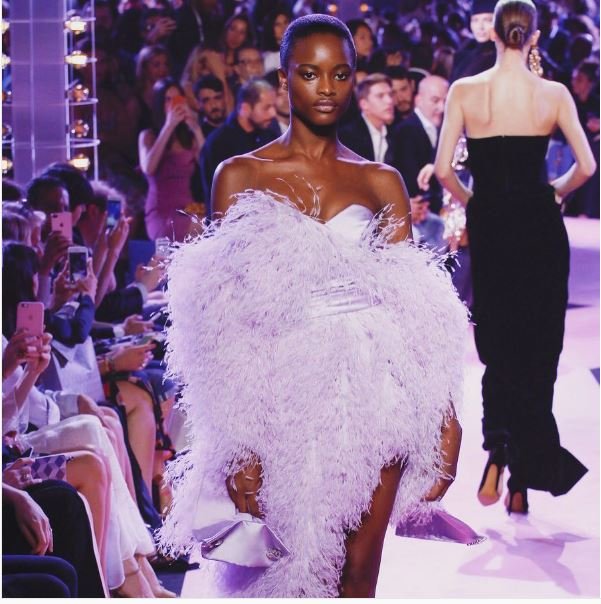 Ever since Oluchi Onweagba, Nigeria hadn't produced a model which walked the fashion week runways of globally renowned maisons.
How did you get in touch with the Elite Model Look Nigeria?
I was on my way to the hair salon in 2013, when I got approached by the contest's scouts, who gave me a flyer which stated the casting requirements, plus the time and date of the Elite Model Look casting. I didn't participate that year, since I didn't know much about modelling. In 2014 I decided to give it a try however, as I felt more prepared.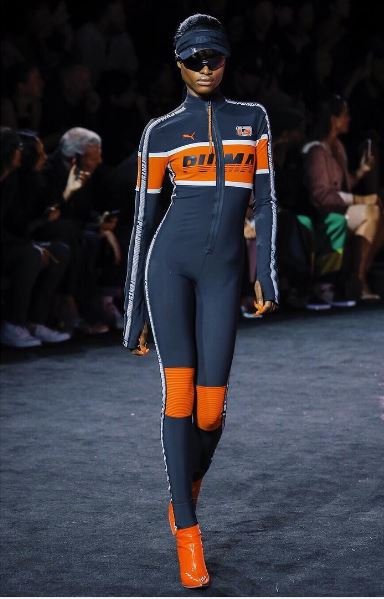 How would you describe your experience as a model in Europe so far?
My experience in Europe has been wonderful. I like meeting new people, knowing new places, and trying new things.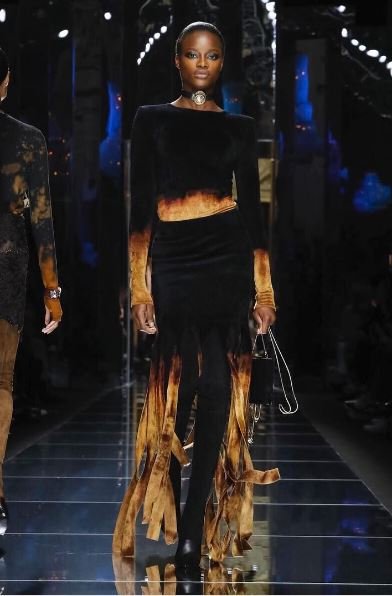 What did it feel like walking down the Parisian runway for the first time?
My first show in Paris was during the couture shows last month. I closed the Schiaparelli show and it felt like a dream come true.
How did you experience fashion week in Milan, versus that of Paris?
Both have been nice and stressful at the same time, but I love Paris fashion week the most. Although the weather in Milan is better.
What was it like working with Olivier Rousteing?
It was really an amazing opportunity to work with the world-renowned Olivier Rousteing. He's so creative, fun to be with and nice. I would love to work with him again.
What do you miss most about Lagos?
The one thing I miss most? The food. (laughs)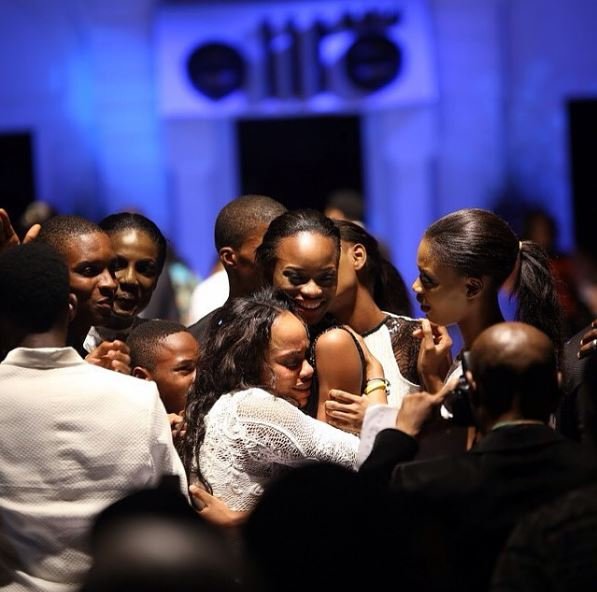 Nigerian model, Mayowa Nicholas has been unveiled as the face of Calvin Klein's new underwear campaign.
Back in 2016, she became the first Nigerian model to grace a Dolce & Gabbana campaign and she has walked runways for the likes of Hermes, Dior, Prada and Balmain.
Mayowa Nicholas would like to be "an icon." The Nigerian model is well on her way; she's currently a member of Models.com's "Hot List" and, since first getting scouted three years ago, has starred in campaigns for Miu Miu, Dolce & Gabbana, Saint Laurent, and H&M.
MY GREATEST ACHIEVEMENT:
I think it is just being where I am today—all the things I've accomplished in a short period of time, and being able to grow as a person through all of it.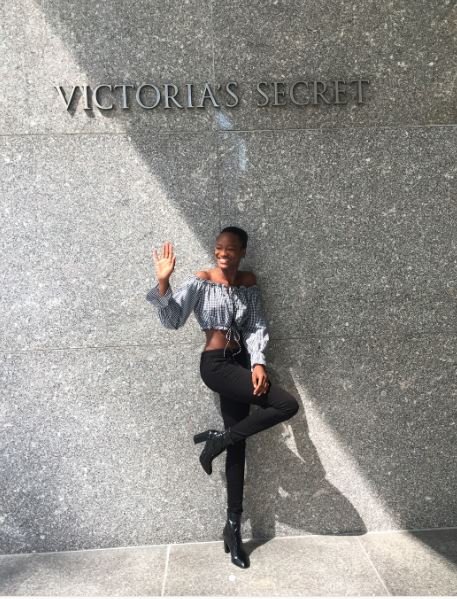 She's one of the models chosen to be in the 2017 Victoria Secret Fashion show this year.
THINGS I'LL BE REMEMBERED BY:
My personality.
MY IDEA OF HAPPINESS:
Going to the spa for a hot stone massage—it makes me so happy.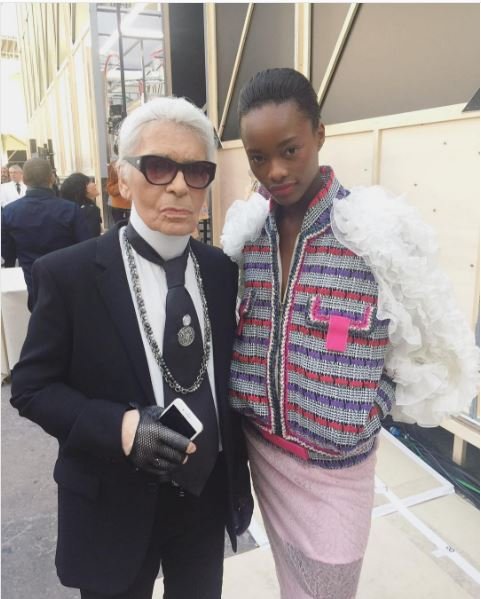 Quote:
"I would really love to work with Karl Lagerfeld and Edward Enninful. Working with those two has always been my dream. I would also like to walk for Prada, Miu Miu, Dior, Moschino, Roberto Cavalli and many more." – in 2015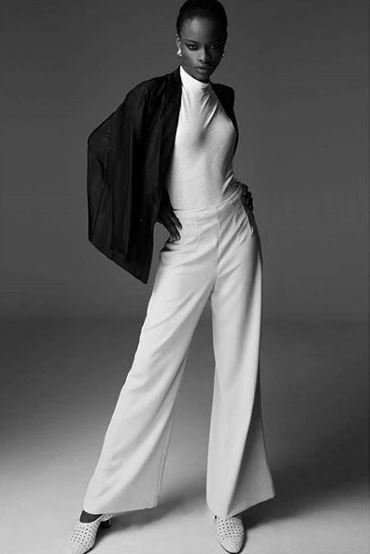 It was clear that this newcomer's star was on the rise back when she won Nigeria's round of Elite Model Look in 2014, but, with a seemingly never-ending procession of new models infiltrating the ranks each season, it takes more than just a pretty face to stand out in the crowd.
Nicholas stood out from the pack, not just to us – but also to top labels including Miu Miu, Dior, Dries Van Noten, Dolce & Gabbana, Missoni, Topshop Unique and Paul Smith.
"Not only does she have an little incredible walk, but an attitude to match; she is one of the most passionate, fun and loveable models in the industry. -says Josie Crawley at Elite London.
If you weren't modelling, what career would you pursue and why?
"I would be in college studying financial accounting to become a chartered accountant. I still plan on going back to college to study that course, because I love anything that has to do with calculations."
What kind of advice would you give to girls who are new to the industry?
"My advice to them is to be really focused and not be distracted by anything. Be determined and be happy about what you do, stay professional and enthusiastic, and don't forget to smile."
Is there a model's career that you admire and why?
"I love Joan Smalls, she's amazing; she fits in both high fashion and commercial so well, and is also one of the queens of social media. Her career is just goal after goal."