The Earth bulges slightly at the Equator; the "average" diameter of the Earth is 12,750 kilometres (7,922 mi), but the diameter at the Equator is about 43 kilometres (27 mi) greater than at the poles.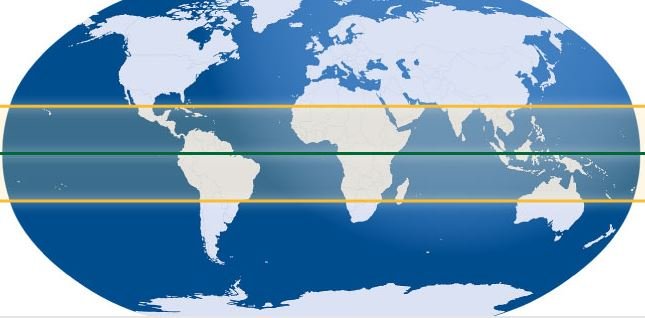 –activewild.com
Locations on the Equator experience the quickest sunrises and sunsets because the sun moves nearly perpendicular to the horizon for most of the year. The length of daylight (sunrise to sunset) is almost constant throughout the year; it is about 14 minutes longer than nighttime due to atmospheric refraction and the fact that sunrise is begun (or sunset is ended) as the upper edge, not the centre, of the Sun's disk crosses the horizon.
–Produced by PBS Digital Studios
Biodiversity, a contraction of "biological diversity," generally refers to the variety and variability of life on Earth. One of the most widely used definitions defines it in terms of the variability within species, between species, and between ecosystems. It is a measure of the variety of organisms present in different ecosystems. This can refer to genetic variation, ecosystem variation, or species variation (number of species) within an area, biome, or planet. Terrestrial biodiversity tends to be greater near the equator, which seems to be the result of the warm climate and high primary productivity. Biodiversity is not distributed evenly on Earth, and is richest in the tropics. These tropical forest ecosystems cover less than 10 per cent of earths surface, and contain about 90 percent of the worlds species. Marine biodiversity tends to be highest along coasts in the Western Pacific, where sea surface temperature is highest and in the mid-latitudinal band in all oceans. There are latitudinal gradients in species diversity. Biodiversity generally tends to cluster in hotspots, and has been increasing through time, but will be likely to slow in the future.