35 European countries participated in the Black Lives Matter/George Floyd movement.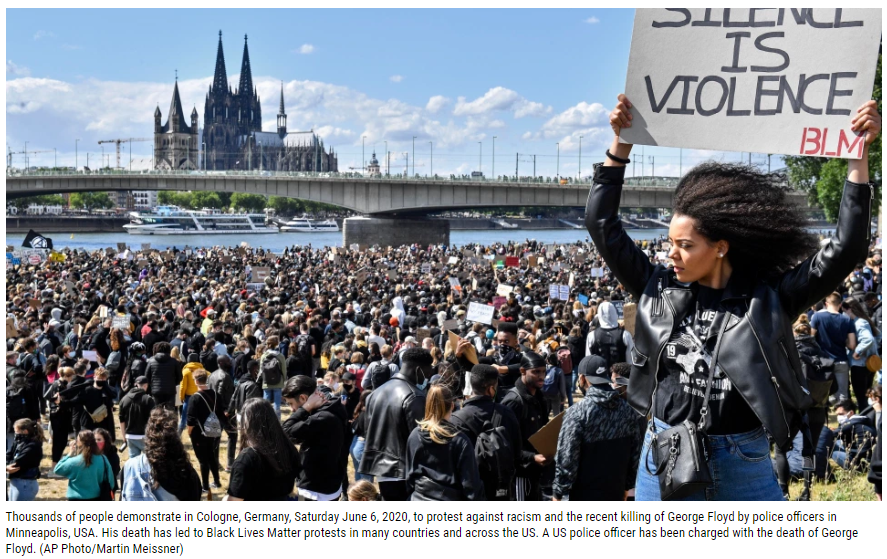 The countries that protested:
Andorra la Vella, Andorra; Yerevan, Armenia; Vienna, Austria; Brussels, Belgium; Ghent, Belgium; Liege, Belgium; Sofia, Bulgaria; Zagreb, Croatia; Nicosia, Cyprus; Prague, Czech Republic; Copenhagen, Denmark; Aarhus, Denmark; Oulu, Finland; Helsinki, Finland; Bordeaux, France; Paris, France; Nice, France; Berlin, Germany; Munich, Germany; Bonn, Germany; Bremen, Germany; Cologne, Germany; Dusseldorf, Germany; Frankfurt, Germany; Gottingen, Germany; Jena, Germany; Osnabruck, Germany; Athens, Greece; Budapest, Hungary; Thessaloniki, Greece; Reykjavík, Iceland; Dublin, Ireland; Milan, Douglas, Isle of Man; Italy; Rome, Italy; Verona, Italy; Pristina, Kosovo; Vilnius, Lithuania; Luxembourg City, Luxembourg; Valletta/Floriana, Malta; Podgorica, Montenegro; Amsterdam, Netherlands; Groningen, Netherlands; The Hague, Netherlands; Bergen, Norway; Kristiansand, Norway; Oslo, Norway; Tromso, Norway; Poznan, Poland; Warsaw, Poland; Lisbon, Portugal; Porto, Portugal; Coimbra, Portugal; Bucharest, Romania;  Belgrade, Serbia; Bratislava, Slovakia; Barcelona, Spain; Girona, Spain; Zaragoza, Spain; Stockholm, Sweden; Umea, Sweden; Malmo, Sweden; Geneva, Switzerland; Zurich, Switzerland; Istanbul, Turkey; Liverpool, United Kingdom; London, United Kingdom; Manchester, United Kingdom; Derry, United Kingdom; Belfast, United Kingdom; Birmingham, United Kingdom; Birmingham, United Kingdom; Sheffield, United Kingdom; Bournemouth, United Kingdom; Portsmouth, United Kingdom; Brighton, United Kingdom; New Alresford, United Kingdom; Cardiff, Wales; Budepest, Hungary and two people went to the US embassy in Moscow, Russia. 
Source:
Star Wars Actor John Boyega Speech in London, Britain. Hollywood heavyweights have assured Boyega he has their full support after he was widely reported as saying he did not know if he would "have a career" after speaking out.
Source:
cnn.com/2020/06/04/entertainment/john-boyega-support-protest-speech-intl-scli-gbr