What is a pendant ?
It's a piece of jewelry that hangs from a chain worn around the neck hanging downward.
This ancient gold ram's-head was made during the Kushite Period.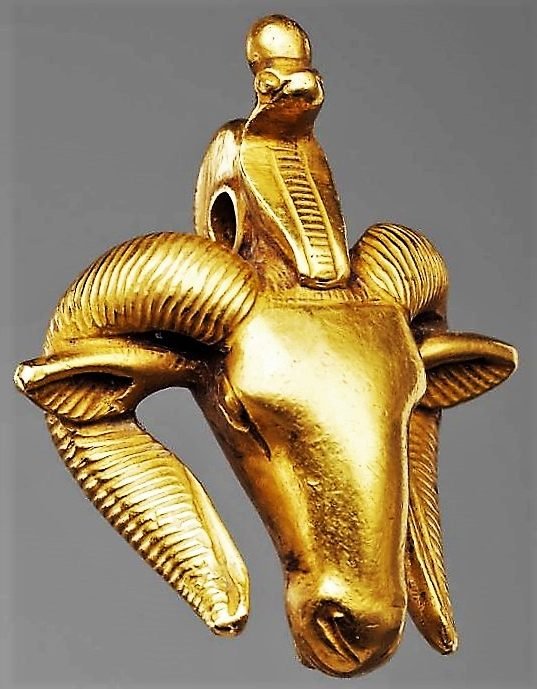 Representations show these pharaohs wearing a ram's-head amulet tied around the neck on a thick cord. Rams were associated with the god Amun, particularly in Nubia, where he was especially revered.
Nubia was home to some of Africa's earliest kingdoms. Known for rich deposits of gold, Nubia was also the gateway through which luxury products like incense, ivory, and ebony traveled from their source in sub-Saharan Africa to the civilizations of Egypt and the Mediterranean. – The History of Ancient Nubia | The Oriental Institute of the University
Ancient Gold Ram's-head:
Dynasty 25
Date: ca. 712–664 B.C.
study.com/academy/lesson/cultures-of-ancient-nubia
Different shades of Nubians 
African people from what is now the Sahara began to move toward the Nile in Nubia by around 5000 BC. They brought with them the art of making pottery. Originally herdsmen and hunters of large animals, they eventually became fishermen and farmers. Over time, new people moved into the region from the south, so that Nubia's population was often a diverse mix of African peoples. –The History of Ancient Nubia | The Oriental Institute of the University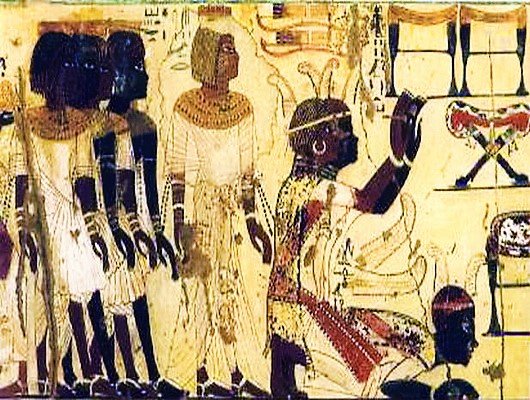 –Wiki Nubian Museum
study.com/academy/lesson/the-kingdom-of-kush-location-events-leaders
Nubia is a region along the Nile river located in what is today northern Sudan and southern Egypt. It was one of the earliest civilizations of ancient Northeastern Africa, with a history that can be traced from at least 2000 B.C. onward (through Nubian monuments and artifacts, as well as written records from Egypt and Rome), and was home to one of the African empires. There were a number of large Nubian kingdoms throughout the Postclassical Era, the last of which collapsed in 1504, when Nubia became divided between Egypt and the Sennar sultanate, resulting in the Arabization of much of the Nubian population. Nubia was again united within Ottoman Egypt in the 19th century, and within the Kingdom of Egypt from 1899 to 1956.
Map of the Nile River flowing north from Sudan to Egypt
Why does the Nile River flow north?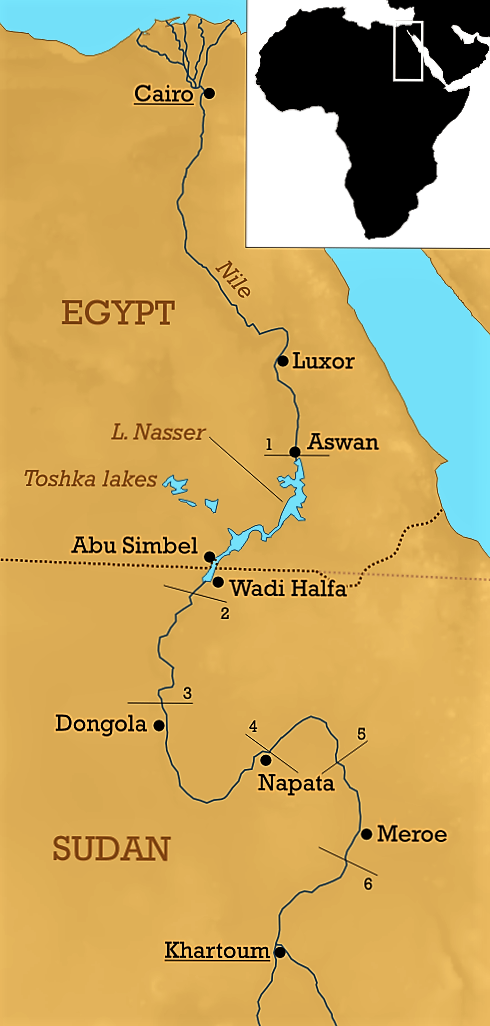 –Wiki
The name Nubia is derived from that of the Noba people, nomads who settled the area in the 4th century following the collapse of the kingdom of Meroë. The Noba spoke a Nilo-Saharan language, ancestral to Old Nubian. Old Nubian was mostly used in religious texts dating from the 8th and 15th centuries AD. Before the 4th century, and throughout classical antiquity, Nubia was known as Kush, or, in Classical Greek usage, included under the name Ethiopia (Aithiopia).
 Another Beautiful gold piece (winged goddess Isis) found in Sudan
This is also nice to wear around your neck-Sola
Another overview on the Kushite Empire