20 African apprentices graduate from China's Shaolin Temple …
Practicing martial arts, conducting physical exercises, sitting in Zen meditation and learning Chinese calligraphy, 20 apprentices from Africa have started their three-month training program at Shaolin Temple since early July.
The Shaolin Temple, built in the late 5th century and located in central China's Henan Province, is the birthplace of Zen Buddhism and the cradle of Chinese KungFu.
Watch short news reel on this subject
Africans attend the opening ceremony of a Shaolin kung fu training class at the Shaolin Temple in Dengfeng, Central China's Henan province, July 6, 2016.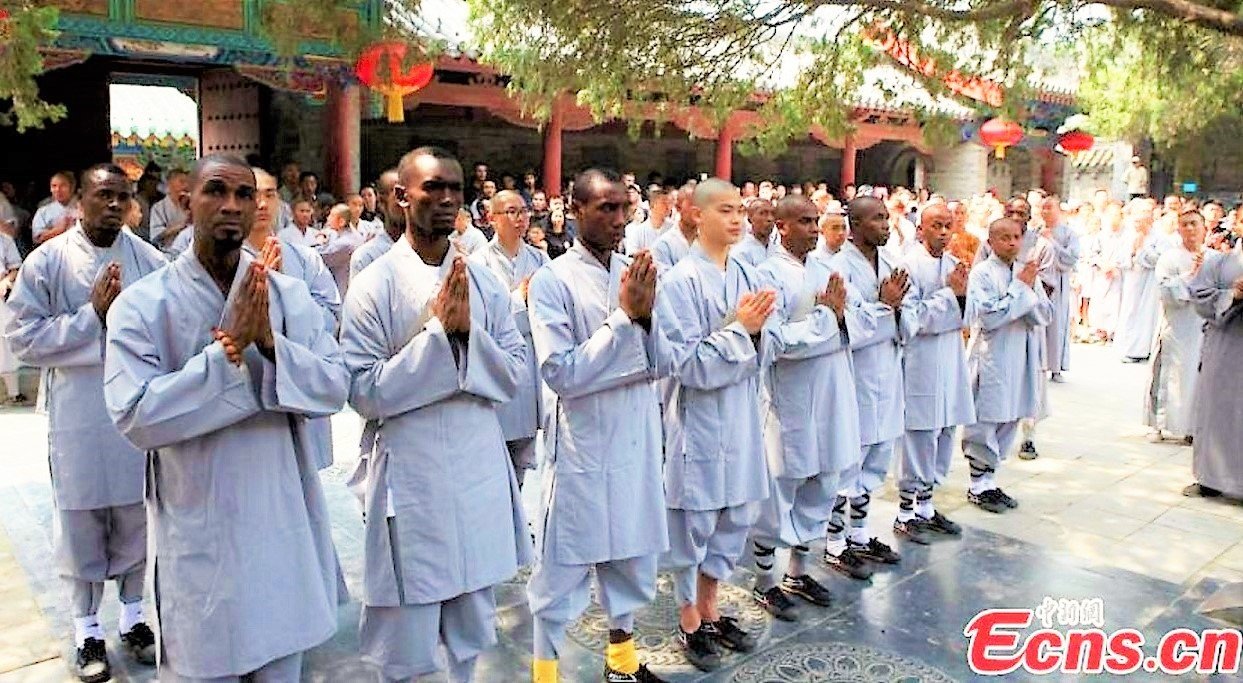 Twenty students from African countries including the Republic of Congo and Mauritius will take three months of training at the famed temple. [Photo provided by the Shaolin Temple].
Shaolin kung fu class welcomes 20 Africans – Chinadaily.com.cn
Learning Chinese calligraphy
Sitting in Zen meditation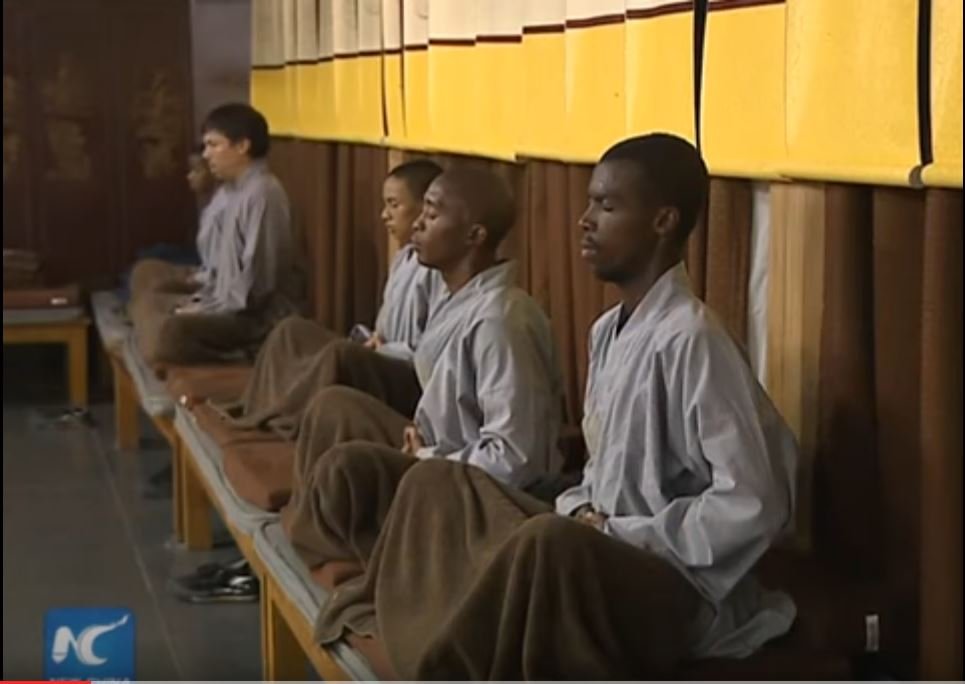 Conducting physical exercises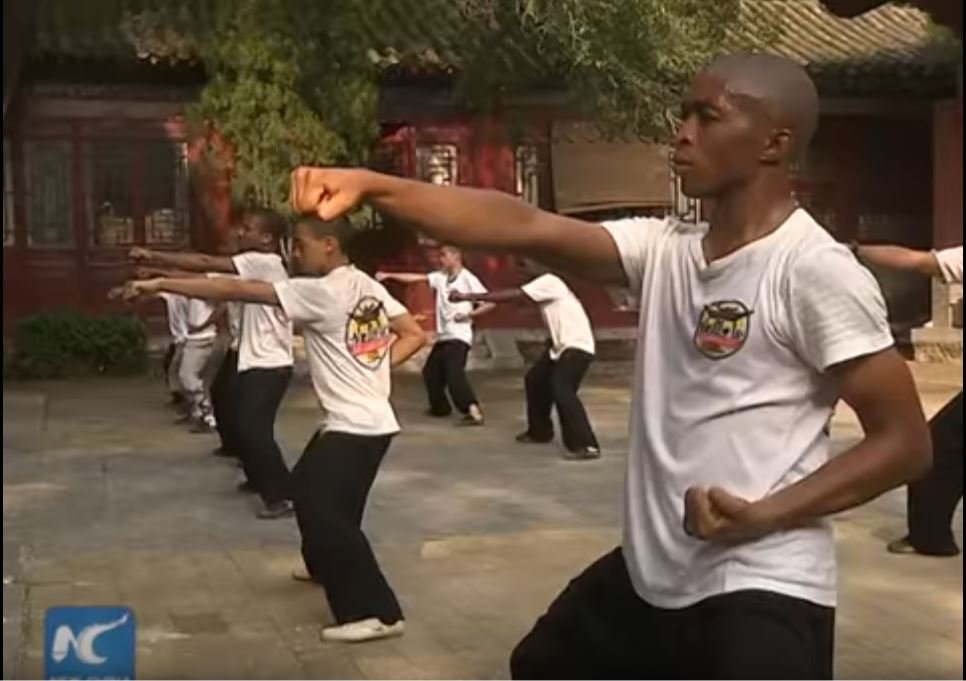 A group of African Kung Fu enthusiasts have been learning the traditional Chinese martial art at Shaolin Temple in central China's Henan Province over the last two years.
www.coastweek.com/3940-culture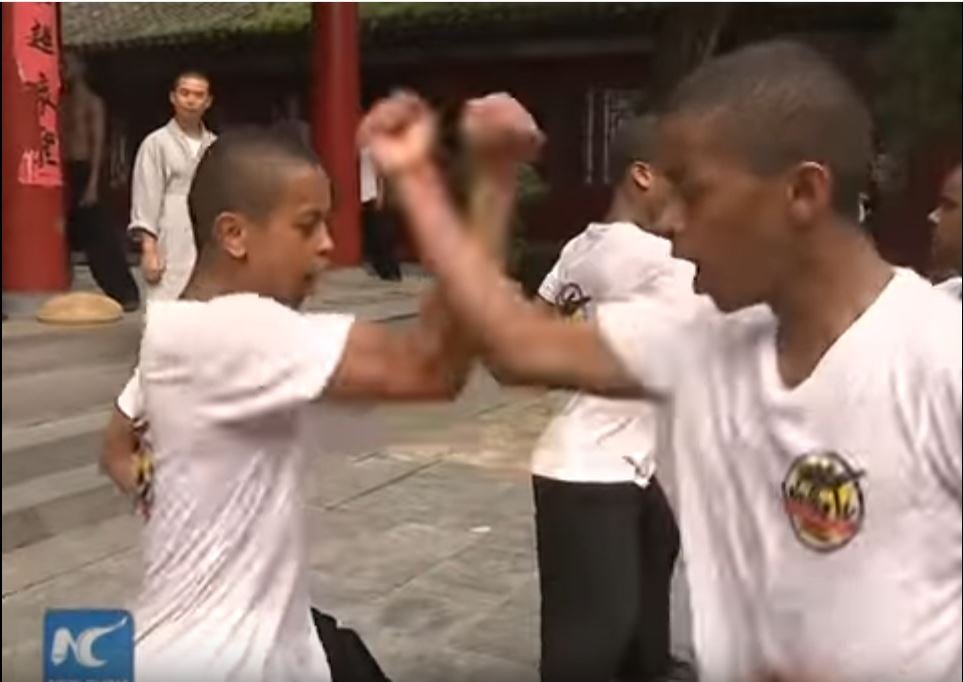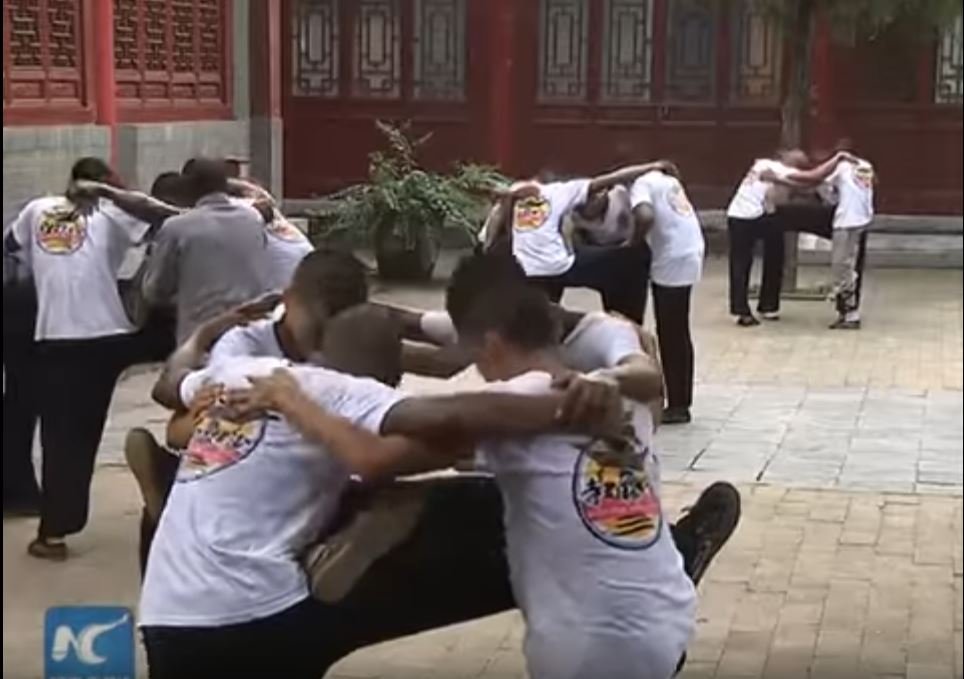 20 apprentices from Africa
Shaolin temple african class 2014 中非文化少林行
This documentary is in French with Chinese subtitles. Waiting on English Closed Caption.
If you are still interested, you should watch it for the traning & visuals.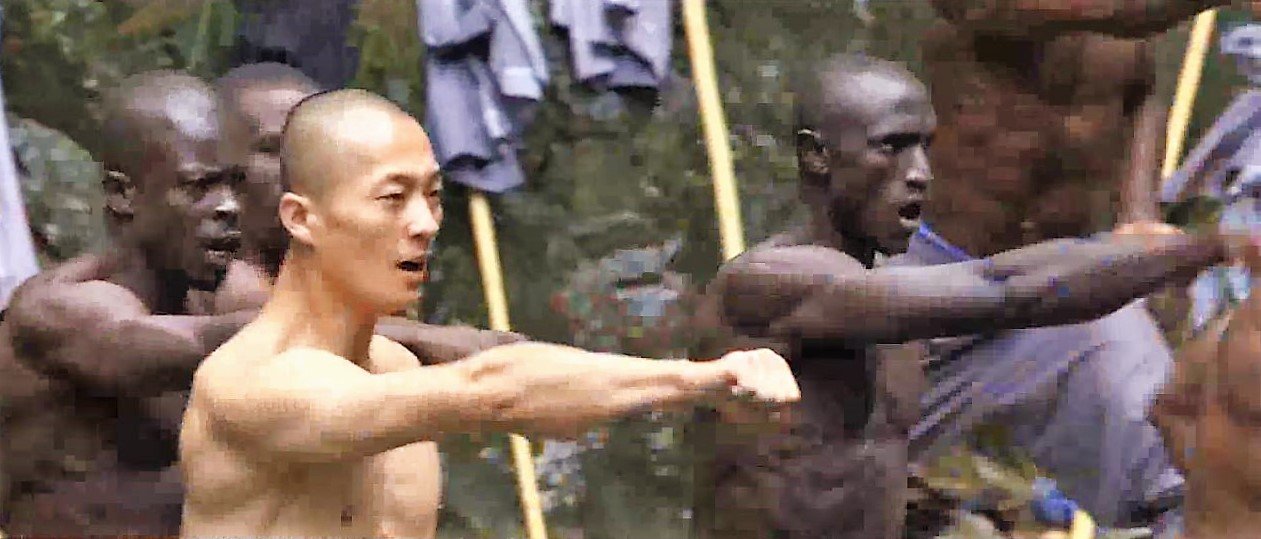 Quote:
An amazing experience, 20 candidates from African countries, came 3 months at Shaolin temple train like monks.
For people who want to make that kind of experience, contact the owner of this video (Shaolin temple african class 2014 中非文化少林行) for serious inquires. 
Shaolin's African Disciples – Page 2 – KungFuMagazine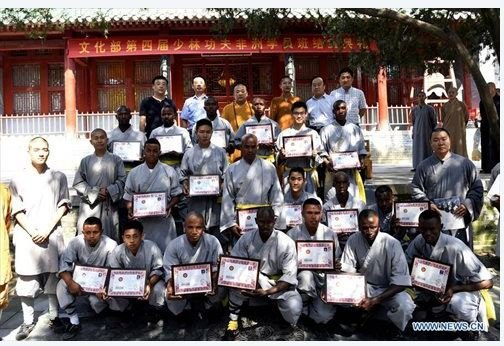 African apprentices pose for a group photo during the graduation ceremony at the Shaolin Temple on the Songshan Mountain in Dengfeng City, central China's Henan Province, Sept. 23, 2016. A total of twenty apprentices from Africa graduated here on Friday after three-month training programs on Kungfu and Shaolin culture. (Xinhua/Feng Dapeng)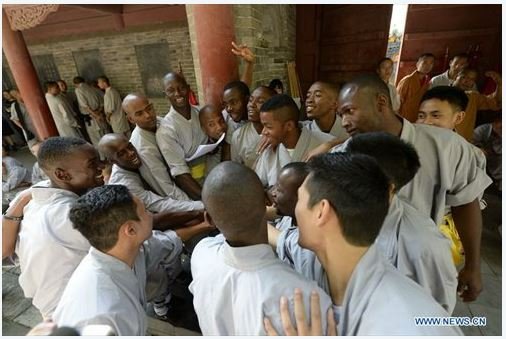 In this video companion piece to the documentary film, The Black Kungfu Experience, Shifu Shi Yan Ming — a master of Shaolin Kungfu — and his fellow devotee, Bokeem Woodbine, describe their dedication to their practice and philosophy.
–itvs.org/films/black-kungfu-experience
About the Film:
Meet kungfu's black pioneers and heroes who fluorished at the junction of African American and Asian cultures. The Black Kungfu Experience traces the rise of black kungfu in the United States in the 1960s and 1970s, and resonates in the contemporary martial arts scene in Washington D.C, Los Angeles, The Virgin Islands, Jamaica, and Hong Kong. Chinese and African American experiences evolve differently yet converge in unexpected ways; they challenge political and social persecution — from shadows of the Qing government's oppressive rule in China, and British colonialism in Hong Kong, to entrenched American racism — with the unique vehicle of kungfu.
The film focuses on how a group of African American pioneers became respected masters in a subculture dominated by Chinese and white men. Their stories illustrate how kungfu was — and still is — a unique crucible of the black experience, which is less about flash and style, kicks and punches, than it is about community, identity, and cross-cultural bridges.
Shifu Shi Yan Ming
On the History series Stan Lee's Superhumans
Shi Yan Ming is a 34th generation Shaolin warrior monk, teacher and actor, best known as the founder of the USA Shaolin Temple. Trained at the Shaolin Temple in Henan, People's Republic of China (PRC) since the age of five, Shi Yan Ming defected to the United States in 1992, before opening the USA Shaolin Temple in Manhattan, where he has taught hundreds of students, including numerous celebrities. He has made various media appearances in television, film and print, including National Geographic, PBS, History, Time magazine, and the 1999 American samurai action film, Ghost Dog: The Way of the Samurai.
Shi Yan Ming had a small role in the 1999 movie Ghost Dog: The Way of the Samurai, which was directed by one of his students, Jim Jarmusch. He has been profiled on PBS, and on the History series Stan Lee's Superhumans. In 2005, National Geographic filmed a documentary on him titled "Kung Fu Monk". He has also worked as a model, and the tourist bureau of his native village, Henan Province, put him on a billboard advertising their most famous native son. He is also depicted performing various styles of kung fu in four giant posters that show him that hang over the entrance to the modern Anhui Guoyang Chudian Branch of the Shaolin Wushu Center, near the Shaolin Temple.
Says Jarmusch, "I love his contradictions. He's so playful and yet he has the potential for incredible physical ferocity." The RZA, producer of and Shi's co-star in the urban kung fu film Z Chronicles, says of Shi, "When I looked at the dailies, he just exploded on the camera. "I'd say, 'Damn Shifu, you're a real live movie star.'"
Shi was among the monks profiled in the 1995 book The Real Shaolin Gongfu of China. In 2006 Rodale Books published Shi's own book, The Shaolin Workout: 28 Days to Transforming Your Body and Soul the Warrior's Way.
Shi has two children with his partner, Sophia Chang, a Korean-Canadian music promoter who represented Ol' Dirty Bastard, and the temple's then-manager, whom he met in 1995. Shi never took the Shaolin celibacy vows, as he entered the Shaolin Temple at the age of five. Explaining his eschewing of celibacy, Shi remarks, "I'm too handsome for that."